My Hands and Feet Were Amputated After Childbirth
It's been very hard to accept that this is who I am now.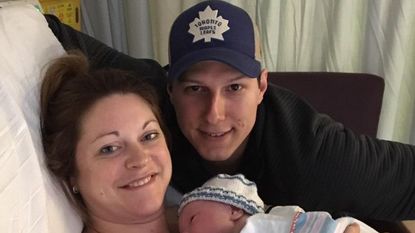 (Image credit: Go Fund Me)
Several days after her son, Myles, was born in March 2017, Lindsey Hubley, a 33-year-old from Halifax, Nova Scotia, who once worked in IT, was diagnosed with necrotizing fasciitis, a life-threatening bacterial skin infection that affects between 700 to 1,100 people each year in the United States, according to Centers for Disease Control and Prevention. The disease enters the body through open wounds such as the perineal tear Lindsey experienced during childbirth. It spreads quickly, producing toxins that restrict blood supply to bodily tissues so neither antibiotics nor the body's own defense mechanisms can reach and stop the infection, according to The National Organization for Rare Disorders.
Without immediate medical attention, the infection, which is marked by flu-like symptoms such fever, aches, and weakness, as well as pain, inflammation, and skin discoloration in infected areas, can quickly spread and causes tissue to die, potentially triggering septic shock, organ failure, and even death. Treatment involves removal of dead or infected tissue and, for some patients, entire limbs—as was the case for Lindsey, who returned to the hospital where she delivered her baby after her initial discharge, citing abdominal pain. After her infection was initially diagnosed as constipation, Lindsey was taken to a different hospital, where she has undergone 23 surgeries including a total hysterectomy, the amputation of both hands and both legs below the knee, infected-tissue removal, and skin graphing.
Seven months after giving birth, Lindsey is still in the hospital, but free of infection and hopeful that going to rehab, where she'll be fitted for prosthetics, will permit her to take care of her young son. On October 11, Lindsey, her fiancé, Mike Sampson, 34, and their son filed a lawsuit against Izaak Walton Killam (IWK) Health Centre, the Halifax hospital where Lindsey gave birth, and doctors there, alleging negligence. (The hospital declined to comment.)
Lindsey recently shared her story, as per the allegations in her lawsuit, not to scare women, but to encourage new moms to trust their intuition when it comes to their health.
RELATED STORY
I woke up in a hospital bed asking for my newborn son, Myles, over and over again, but he wasn't there.
I'd been in a medically-induced coma for two weeks—the first two of my baby's life— during which, as Mike and my doctors explained in due time, I'd undergone a total hysterectomy and numerous surgeries to remove infected tissue from inside my abdomen, my rectum, and my vagina.
Awake but on a very high dose of painkillers, I remember looking down at my hands and wondering why I was wearing black surgical gloves. Except I wasn't wearing any—my fingers, themselves, had turned completely black.
I later learned that an infection had caused blood clots to clog the veins carrying blood to my extremities, and my limbs were dying. Although the antibiotics were killing the infection, doctors determined in the weeks that followed that there was no chance I'd regain use of my hands or feet, and I'd need a quadruple amputation.
On top of my amputations, I'd eventually need more than 20 surgeries, including bone shaving to help my arms fit into prosthetics, and skin grafting to heal the deep third-degree burns that covered more than 70 percent of my body, another result of the infection, which causes skin to blister. My last one—at least for a while—is scheduled for this week.
It's been very hard to accept that this is who I am now. Of course, there are days when I'm down, wondering how this happened to me, and whether it's all a dream. But for the most part, I've managed to stay positive and be thankful that I'm still here to get to know the son I carried for nine months. After all, I came very close to not knowing him, and him not knowing me. And that would have been devastating.
Mike and I jumped up and down when we found out we were pregnant in June 2016. Ready to start a family, we got engaged the following month. Overall my pregnancy was great. I'd heard horror stories about giving birth, but I was calm going into it since Mike and I had taken birthing classes to prepare.
At 40 weeks, I went into labor that lasted for 36 hours and ended in the relatively smooth delivery of a healthy baby Myles.

When I was discharged from the hospital two nights later, I was excited to bring home Myles and start our family. But having just delivered a baby, I didn't know how my body was supposed to feel. At 4 a.m. during my first night home, I began shivering uncontrollably, with uncontrollable muscle contractions and abdominal pain that felt different from anything I'd experienced before. I called 911, but when the paramedics arrived, they said I could wait until the morning to go to the hospital since we'd just brought the baby home.
So a few hours later, we went to the hospital where I delivered Myles. I saw a doctor—who wasn't present during my delivery—who diagnosed me with constipation, prescribing prune juice and high-fiber foods before offering me an enema. I don't remember her checking my temperature or vitals like my heart rate or blood pressure— or being physically examined, even though I'd torn my perineal during labor.
Because I assumed the doctor could differentiate between typical post-delivery symptoms and a more serious problem, I didn't question the diagnosis—but wish I had.
When we got home from the hospital, I felt lethargic, but since I'd just had a baby, I assumed it was normal. I felt cramps in my abdomen but thought it was my body's response to breastfeeding, which can cause the uterus to contract. However, the next day, I laid down on the floor and I couldn't get back up. My mom, who was there to help with Myles, noticed my feet turning yellow and called 911.
This time, when paramedics arrived, they rushed me to the hospital for antibiotics. My legs and forearms were turning a bluish, grayish color, and I was terrified. But lying in the back of the ambulance, my biggest fear was how I'd feed my 2-day-old son now that we were separated.
After that, the last thing I recall is my fingers swelling—a symptom, I later learned, of necrotizing fasciitis. At the hospital, I removed my engagement ring and gave it to Mike for safekeeping. I remember nothing else until I woke up two weeks later and learned of my condition.
The following May, I had both of my hands amputated. I was happy when the time came since I could no longer move them—they'd become shriveled and mummified, which is to say the tissue had died. They were a gruesome reminder of what my body had been through.
Still, it took me quite some time to accept my hands were gone. I had my mom make me gloves to hide the bandaged ends of my arms and wore them for a week.
At the end of June, it was clear I would not regain use of my feet, which had decayed more slowly but in the same way as my hands. Going into surgery, I didn't know whether surgeons would be able to save my knees, which would enable me to use prosthetics to stand up and sit down without assistance. When I woke up from surgery, I was thankful to find both joints intact.
Because I was on pain medication, and my mind was foggy, I couldn't fully process what had happened. Now that I'm more healthy and less dependent on narcotics and pain medication, I've been more able both to grieve and come to terms with my new reality. For instance, while I looked forward to being able to hold, feed, and cuddle my own child with my own two hands, I won't be able to—and that's been the most difficult part.
Now that Myles is 7 months old, I'm finally on the mend, although I'm still in the hospital. My next step is rehab, where I'll learn how to change diapers, pick up Myles, feed him, play with him, and keep him safe.
I'll also learn to walk—specifically, down the aisle so Mike and I can finally get married, although we've yet to set a date. What we've been through has made our relationship so much stronger. He's been my rock, and I've been his.
When I'm ready to come home, Mike, who has been living with his parents to get help watching the baby, and I will find an accessible place to raise Myles.
Wherever we end up, I know he'll grow up familiar with and accepting of disability, less judgmental and more open-minded than he might have been had I not lost four limbs—and the same goes for me.
I'm told amputees need to be extra strong to get around using prosthetics. When I get there, I think I'll be the strongest I've ever been.
Elizabeth Narins is a Brooklyn, NY-based writer and a former senior editor at Cosmopolitan.com, where she wrote about fitness, health, and more. Follow her at @ejnarins.