News Anchor Told She "Looks Ridiculous" in Size 6 Dress Claps Back In Viral Video
"I'm not going anywhere, so if you don't like it, you have your options."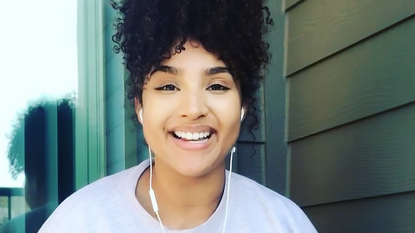 (Image credit: Facebook / Demetria Obilor)
Traffic anchor Demetria Obilor, 26, has been on Channel 8, WFAA-TV in Dallas, Texas, for just two weeks, but she's already attracting international audiences after her clap back to body-shaming went viral over the weekend.
Obilor's response was prompted by a viewer's critical Facebook comment about the anchor, who moved to Texas from Las Vegas for her new job in October: "Has anyone seen Channel 8's new morning traffic reporter?," wrote viewer Jan Shedd. "She's a size 16/18 woman in a size 6 dress and she looks ridiculous. I understand that when I watch Channel 8 I'm going to get biased reporting and political correctness, but clearly they have taken complete leave of their senses. I'm not going to watch Channel 8 anymore." Shedd's post appears to have been removed, and she did not immediately respond to a request for comment.
RELATED STORY
Jan's comment was shared above a photo of Obilor by @fabfreshandfly on Twitter and retweeted by @ChanceTheRapper, who has 6.3 million followers. "Don't be like Jan," he wrote in defense of Obilor, who doesn't know the rapper but is a fan.
When Obilor woke up from a nap on Friday, she learned her story had blown up. Although Demetria wears a size six or eight IRL, she wasn't personally insulted by Jan's mistake. "When you're on TV, people pick you apart, and you get used to it," she said of her thick skin. "But this isn't about me, this is about everyone. By flippantly guessing my size, she offended a lot of people on a lot of different levels. When I saw the outpouring of support from viewers, I felt like I had to speak out on it," she says.
So Obilor responded in a video and posted it across her social networks:
"You know, when you look a little different, people think it's okay to talk to you a little different, and I'm on TV, I can't clap back how I want to clap back all the time," Obilor said in the video of her impetus to speak out against body-shamers. "This is the way that I'm built, this is the way I was born, I'm not going anywhere, so if you don't like it, you have your options," she continues. "We don't have to put up with this, alright? And we're not going to."

Obilor's clap back didn't just resonate on Facebook, where it raked in more than 319,000 views so far. Its effects also rippled across Twitter and were felt on Instagram, where more than 4,000 people have commented with supportive comments like, "Don't let them dim your light!"
Thank you @DemetriaObilor for speaking out against body shaming - it's a sick part of our culture. You're absolutely gorgeous.November 4, 2017
See more
@DemetriaObilor you are a huge inspiration to our youth. Like my niece who loves her natural hair. It's women like you she looks up to. pic.twitter.com/Fk4zomIEH5November 6, 2017
See more
I'm here in D.C. watching traffic reports from Dallas because @DemetriaObilor ..I don't even care about our traffic😂😭 https://t.co/z41dSME674November 6, 2017
See more
Obilor's station even discussed the incident on air:
This isn't the first time Obilo, has dealt with body shaming. In May, when she was working as a traffic anchor in Las Vegas, she shared a letter from a viewer who said Obilor's hair looked like it smelled bad.
Here's one of the racist, hateful emails I've received for rocking my natural hair on TV. pic.twitter.com/oA8L6gYCywMay 25, 2017
See more
"It took me a while to post that, but I realized sharing can help other people," she said. "There's been a huge, recent shift of people starting to embrace diversity, and we can't accept discrimination."
Obilor hasn't received an apology from Shedd but she doesn't care. "I don't harbor any ill will toward that person, I just hope we can all use this as motivation and fuel to keep fighting for people to embrace those who look different," she says. "It's important for young girls growing up to see different figures and shapes and colors in the news, on TV, in magazines, and in movies.
"When you see yourself represented, you think, 'If they can do it, I can do it.' "
Elizabeth Narins is a Brooklyn, NY-based writer and a former senior editor at Cosmopolitan.com, where she wrote about fitness, health, and more. Follow her at @ejnarins.