This Woman Took Haunting Self-Portraits in Her Psychiatric Hospital to Show What Depression Really Looks Like
They're difficult to look at but prove a powerful point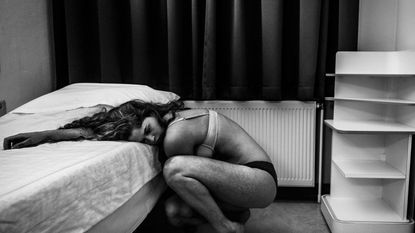 (Image credit: Copyright Laura Hospes)
21 year old photography student Laura Hospes has aspirations of having her art displayed in galleries one day, but that dream, she says was "cruelly pushed away" when she was recently hospitalized after a suicide attempt.
While she's recovering from depression, anxiety, and eating disorders, she's created an intimate photo series—UCP-UMCG—named after the psychiatric unit in the Netherlands that she's currently living in. Her self-portraits explore what it's like to be a "girl, me, who is on the verge of death. The emotions that I experienced in hospitalization were very overwhelming and intense and I hope you can see and feel that in my photos," she told Redbook.
She adds that she created this series to challenge the alienating notion that we should all pretend that our lives our perfect on social media.
"I feel a little rebellion about the fact that many people show only the perfect things in their life on Facebook. I want to show that difficult stories are also "allowed" and inspire people to share them too. I hope they also gain love and support back and feel less lonely again."
"While photographing I discovered it was such a relief. I was able to cry, to be angry, to be terrified and everything around those feelings which I was unable to show in real life."
"By sharing the photos, family and friends could see how I felt. Of course it was very difficult to see me having a hard time, but at least they knew how I felt. I was able to be myself and felt less lonely because of that."
"I also want to add that I'm not crazy. Nobody who ends up in a hospital is crazy. It can overcome everybody and it feels terrible to slowly lose control of your behavior. Think of that and think of the people around you who are not able to contact you because of their mental problems. They don't choose to be in this situation."
"Send them love and let them know you think about them. That is the most thankful message a hospitalized person can receive."
Celebrity news, beauty, fashion advice, and fascinating features, delivered straight to your inbox!
As deputy editor, Brie oversees OprahDaily.com's lifestyle content including beauty, style, health, and relationships. When she's not helping to answer your google queries, you can likely find her watching Christmas movies, no matter the season.