Sorry: Work Stress Is Just as Bad for You as Secondhand Smoke
Everyone just breathe.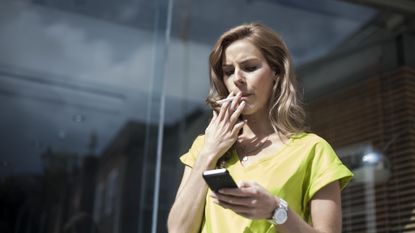 (Image credit: Getty Images)
It's far from breaking news that stress is bad for you, but new research from the Harvard Business School and Stanford University has outed exactly how damaging it can be to your body and mind, and it's not pretty: Workplace stress is just as harmful to your health as secondhand smoke.
In a meta-analysis of 228 studies, researchers looked at how 10 common workplace stressors—including long work hours, poor social support in the office and work-family conflict—affected four health outcomes: having a diagnosed condition, the perception of poor physical health, the perception of poor mental health, and, finally, death.
Those suffering from job insecurity are 50 percent more likely to rate their health as poor, which are the same odds reported by people exposed to secondhand smoke.
Additionally, similar to the effects of secondhand smoke, high job demands raise the odds of having a diagnosed illness by 35 percent, and long work hours increase odds of death by 20 percent. You read that right: 20 percent.
Because a lot of workplace stressors stem from company values and practices, reducing these odds will require employer intervention. But because it might take a while for your workplace to realize the importance and benefits of creating a low-stress work environment, here are five ways you can find better work-life balance.
How to Work Healthier, Not Harder
The next time you're feeling burnout in the workplace, remember your wellbeing comes first and there are many ways to keep your job from negatively affecting other parts of your life.
Marie Claire email subscribers get intel on fashion and beauty trends, hot-off-the-press celebrity news, and more. Sign up here.
When she's not keeping up with the latest health news, Tehrene is probably doing one of the following things: walking her fluffy little dog, Trixie, blogging about food and fitness at TehreneFirman.com, watching Law & Order: SVU, or getting her sweat on in Pilates or spinning. And if she's not doing any of the aforementioned activities, she's probably eating french fries.