From 56 Pounds to 221 Pounds: One Woman's Shocking, Inspiring Story of Struggling to Find Body Confidence
"I didn't know how to stop."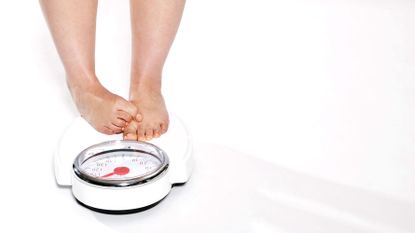 (Image credit: Archives)
Marie Claire newsletter
Celebrity news, beauty, fashion advice, and fascinating features, delivered straight to your inbox!
Thank you for signing up to . You will receive a verification email shortly.
There was a problem. Please refresh the page and try again.
Brittany Burgunder has lost and gained over 150 pounds while recovering from eating disorders at both ends of the harrowing spectrum. In her forthcoming book, Safety in Numbers: From 56 to 221 Pounds, My Battle with Eating Disorders, the young woman explores what it's like to live with anorexia, bulimia, binge eating, and exercise addiction.
As she shares on Elite Daily (opens in new tab), when her weight dropped to its lowest, she lost all mobility, faced liver failure, couldn't think or recognize people, went bald, needed blood transfusions, and had an almost zero chance of survival. In her attempts to recover, she yo-yoed back the other way, unable to stop bingeing on food because her body was so deprived.
She writes:
"I binged. After many years of controlling, resisting and depriving myself of food, I gave in. It was an exhilarating, wonderful and scary sensation. I didn't know how to stop. I was now 75 pounds and climbing. What I didn't realize was I had traded anorexia for bingeing."
When Brittany hit 221 pounds, she became bulimic, desperate to get "thin" again. It's a complicated, heartbreaking tale, but also an inspiring one: She soldiers on, and is attempting, through telling her story, to inspire others not to give up hope.
Watch this riveting video to get a glimpse of her journey:
If you or someone you know needs help, call the National Association of Anorexia Nervosa and Associated Disorders helpline at (630) 577-1330, or email them at anadhelp@anad.org (opens in new tab).
I write on Fox's THE GREAT NORTH. Before that, I wrote and edited for Cosmopolitan (opens in new tab) magazine and the Jezebel (opens in new tab) blog. My writing has also appeared in the New York Times, The New Yorker, Esquire, VICE, Marie Claire, McSweeney's, California Sunday, BUST, Elle, Village Voice, Harper's Bazaar, LA Weekly, Eater, Fast Company, Mic, Atlas Obscura, and more. I co-host/co-produce a comedy/storytelling (opens in new tab) show on the first Friday of every month at Stories in LA. I have a degree in Film and TV from NYU's Tisch School of the Arts.