A Lip Reader Reveals the First Thing Prince Harry Said to Meghan Markle When He First Saw Her Dress
I'M NOT CRYING.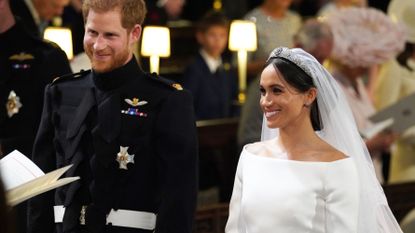 (Image credit: Getty Images)
The world couldn't possibly miss the cute little exchange between Prince Harry and Meghan Markle when the bride reached the groom at the alter.
Although anything, really, could have been said as Harry began to tear up (opens in new tab), here are the actual words the couple exchanged as Prince Charles handed Meghan off to her future husband, according to James Freeston, professional lip reader at 121Captions (opens in new tab):
At first, Harry addresses his dad with a prim and proper, "Thank you father." (Remember: Prince Charles did the couple a solid by walking the bride down the aisle — her own pops couldn't make it to the festivities due to a heart surgery earlier this week.)
Then, Prince Harry says to Meghan, "Are you OK? You look amazing."
And she does: The American actress turned royal wore a long-sleeve boatneck dress (opens in new tab)designed by Clare Waight Keller.
In response to her future husband's compliment, Meghan replies, "Thank you," then poses a question Freeston can't quite make out.
Apparently, the couple is on the same page since Harry replied, "Absolutely."
How adorable are these two?!
Elizabeth Narins is a Brooklyn, NY-based writer and a former senior editor at Cosmopolitan.com, where she wrote about fitness, health, and more. Follow her at @ejnarins.