5 Reasons Champagne Is Good for You
As if you needed another excuse to drink it.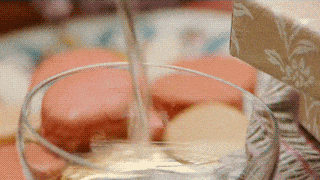 (Image credit: Giphy)
'Tis the season to drink champagne, and lots of it. But until now, we weren't aware that the bubbly we're drinking on the reg actually has a quite a few scientifically-proven health benefits. And to that, we say, Cheers! Take a look:
1. It's low-calorie.
While a glass of red or white wine contains (opens in new tab) between 135 and 200 calories, a glass of brut (dry) champagne clocks in at only 95. And the low-sugar version, called "low dosage (opens in new tab)," has a mere 65 calories per glass.
2. It prevents dementia and memory loss.
A study (opens in new tab) at the University of Reading determined that drinking one to three glasses of champagne each week can boost brain health. The study was done on rats, half of whom were served champagne every day for six weeks (nice life for a rat, right?). The rats were tasked with completing a maze (opens in new tab), and while the sober rats had an average success rate of 50 percent, the bubbly drinkers had a 70 percent success rate.
3. It's good for your skin.
"Champagne detoxifies the skin with antioxidants, and its lightening tartaric acid helps even out the skin tone," says (opens in new tab) dermatologist Marina Peredo. "For those with oily skin, its antibacterial properties [help with] breakouts."
4. It's a heart-healthy beverage.
In fact, it's just as good for your heart as red wine. Another University of Reading study (opens in new tab) concluded that "two glasses of champagne a day may be good for your heart and circulation and could reduce the risks of suffering from cardiovascular disease and stroke." Maybe they should rename the place Champagne University?
5. It may actually help you drink less in the long run.
Champagne and other effervescent drinks have been shown (opens in new tab) to make people drink slower and feel full more quickly. There's even a diet plan (opens in new tab) based around it. Score!
Follow Marie Claire on Facebook (opens in new tab) for the latest celeb news, beauty tips, fascinating reads, livestream video, and more.
Sam Dangremond is a Contributing Digital Editor at Town & Country, where he covers men's style, cocktails, travel, and the social scene.