The Flamingo Pose Is Summer's New Stance You Need to Know About
Insert the non-existent flamingo emoji.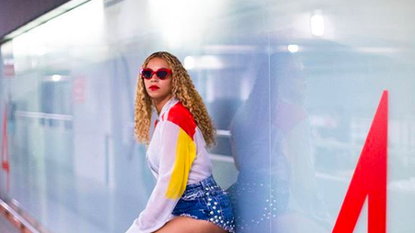 (Image credit: Instagram)
Remember the "Fish Gape" pose from 2015 (when you slightly separated your lips for every photo you ever took that year) that iconically replaced "Duck face" (when you pushed your pout forward, creating a curved-up duckbill effect) on your IG feed?
Then there was the "T. Rex selfie hand" of spring 2016—when your hand is in a claw-like position and rested on your face somewhere—and finally the "Bambi" pose (coined by my friend Julie Schott)—when you sit on your shins and rest your butt on the back of your feet)—that every celeb/influencer/model found themselves doing during summer '17?
Well, stand back up because, as a few scrolls on the 'gram will reveal, summer 2019 has a new stance and you're gonna need to practice your balance. Meet the "Flamingo" pose.
Much like "Google it" or "Postmates that," the term flamingo can also be used in verb form, since it refers to the act of keeping one's leg straight and bending the other into a slightly triangular shape. Why this pose? Perhaps it's more comfy to stand with one leg up? I've done it while standing next to my counter eating chips and guac, so I can say firsthand that it's not not comfortable. But it's definitely a super flattering pose in photos, in my opinion.
Regardless of the reasoning one does said stance, there are a ton of celebs doing the bend (your leg) and snap (a photo), hence this VERY IMPORTANT piece. Need proof? See below for peak flamingo, modeled by the one and only Queen B:
Oh, and Bey isn't the only person serving up this elegant pose, though. Allow me to serve you up some examples for dinner:
Kendall Jenner's Party Dress Flamingo (if you keep clicking you can see her get into flamingo position on vid):
Joan Smalls's Mirror Flamingo:
Shay Mitchell's Laid-Back Flamingo:
Kourtney and Khloé's Yacht Flamingo:
Jamie Chung's Full-On Lounge Flamingo:
Winnie Harlow's Glam Flamingo:
...the model even did a Fallon Flamingo:
The Kardashian-Jenner Family Flamingo:
The Influencer Flamingo:
Olivia Culpo's Fitness Flamingo:
Gigi Hadid's Fashun Flamingo:
Kristen Noel Crawley's Fly Flamingo:
...You get the picture. Basically, the flamingo is everywhere and the pose is flattering as all f*ck, so go forth and capture all the content this summer, pretty birds!
(Note: I realize there is a flamingo pose in yoga, but it's not as sexy, nor did I know that until I researched to see if anyone else has dubbed this very IG pose with this brilliantly colored animal's name, so pls don't @ me.)
For more stories like this, including celebrity news, beauty and fashion advice, savvy political commentary, and fascinating features, sign up for the Marie Claire newsletter.

Carly Cardellino was the beauty director at Cosmopolitan. If you follow her Instagram, then you know she'll try just about any beauty trend or treatment once (the pics of her purple hair are on IG to prove it). But her favorite part about being in beauty is finding the most effective products, and then sharing that intel with others—because who wants to spend money on stuff that doesn't work? No one, that's who. Her most recent discovery: De La Cruz Sulfur Ointment, which will change your blemish-clearing game! Hopefully through the beauty stories she writes—and the experiences she shares—you can see exactly why she's in this business.