Editors handpick every product that we feature. We may earn commission from the links on this page.
11 Best Treadmill Desks For Work
Walk off unwanted calories and meet deadlines simultaneously!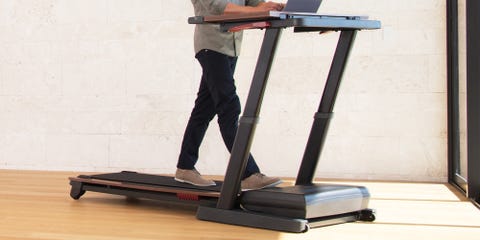 Spend most of your day at a desk? We feel your pain (literally). Let's make sitting while working a thing of the past! Sure, a standing desk is great for posture, but those won't help you get any closer to your goal of 10,000 steps every day. With a treadmill desk, you can walk (and burn calories) while you work! Make one of our picks your new workspace, whether at home or in the office, to increase your activity (and productivity) levels every day!
1
Goplus 2 in 1 Folding Treadmill
We love the versatility of this under-desk treadmill. Use it as is if you're planning to work, or pop up the riser on your lunch break to kick up the speed. The treadmill features built-in bluetooth speakers, so you won't even need headphones.
2
Willy 2 in 1 Folding Treadmill
Whether you want a treadmill desk for employees to share at the office, or just need something for the house that you can trust, the Willy 2 in 1 Folding Treadmill will do the job. The commercial-grade treadmill, designed to fit under your standing desk workstation, has a silent motor that won't drown out your meeting. Sure, it's pricey, but it's an incredibly sturdy pick that'll last.
3
Arozzi Arena Gaming Desk
If you already have an under-desk treadmill, or are just looking to handpick the perfect pair of desk and treadmill, then this adjustable standing desk will impress since it's crossbar-free. You can also change the height just by loosening some screws, making this a truly ergonomic standing desk. It's offered in different color options to match your office decor, too!
For those looking for a super-sleek treadmill that easily can slide under a couch after your workday is over, look no further than this option. It's extremely compact, yet still reaches speeds up to six miles per hour.
5
DigitalArts.ws Walk with Me Treadmill Desk Attachment
Already have a treadmill and don't want to spend a fortune converting your set-up? Then pick up the DigitalArts.ws Walk with Me Treadmill desk attachment. Instantly turning any machine into an all-in-one desk treadmill, this piece is easily secured with a set of sturdy clamps and long straps that fit most models. Best of all, it's available in an array of designs for a look that won't cramp your style.
6
Sunny Health & Fitness Folding Treadmill
Featuring a multifunctional LCD display that tracks your performance time, calories burned, speed, and distance, this compact pick from Sunny Health & Fitness is great for anyone looking for a killer workout that won't take up valuable real estate in your home. With 15 running presets, it's easy to get your run on, up to 10MPH! When you're done, fold up everything and conveniently store it away.
7
Kicode Under Desk Electric Treadmill
We love that this treadmill is ready to go, right out of the box. Slim enough to fit under almost any desk, it's also very quiet -- important for when you're having a stroll while on a conference call.
8
Goplus Under Desk Electric Treadmill
When compared to other models, the Goplus Under Desk Electric Treadmill is the most lightweight at 55.5 pounds. This (along with its slim body, compact size, and flexible portable wheels) makes it perfect for storing underneath your desk or sofa.
9
Goyouth 2 in 1 Under Desk Electric Treadmill
This model from Goyouth has a smaller walking platform of 15.75-inches by 41.34-inches, making it ideal for smaller office units that don't have space for the more heavy-duty options. Despite its smaller size, the 2 in 1 Under Desk Electric Treadmill doesn't lack in impressive features, boasting a 2.25 horsepower motor, an LED display, and bluetooth capability.
10
RHYTHM FUN Under Desk Treadmill
There's no need to sacrifice a wide walking belt with handle-less treadmill. This one gives you plenty of space to run, a bright LED display on the front end, and is so slim it fits under any desk and stores easily.
11
UMAY Portable Treadmill
With an under $400 price tag and a 4.3 rating on Amazon, the UMAY Portable Treadmill is the most high quality model for its price. The motor is virtually silent (which makes breaking a sweat while taking an important phone call more feasible) while its compact size (53.74-inches by 23.6-inches by 5.9-inches when folded) makes it easy to store.
This content is created and maintained by a third party, and imported onto this page to help users provide their email addresses. You may be able to find more information about this and similar content at piano.io