Editors handpick every product that we feature. We may earn commission from the links on this page.
6 Best Peloton Alternatives That Are Just as Good
You don't have to shell out nearly $2,000 to join the trendiest at-home workout.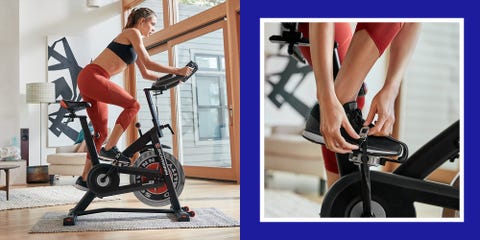 There's no question that Peloton took the crown as the hottest piece of exercise equipment in 2020. As people continue to avoid the gym and exercise studios, the at-home spin bike has become a must-have for people looking to safely get their sweat on. The downside? These bikes ain't cheap. If you're asking if there's a cheaper alternative to Peloton, the answer is yes and we did the research for you. Read on for six peloton alternatives — most at least half the price of the original — that don't sacrifice quality.
1
JOROTO Belt Drive Indoor Cycling Bike
For less than $500, members of the popular Facebook group Peloton Digital App Users rave about this option from Joroto. It's no-frills so you'll need to buy a separate cadence sensor, heart rate monitor, and weights to sync with Peloton's digital app, but even with the add-ons, you'll still get a smooth, studio-quality ride at less than half the cost of a Peloton.
2
Echelon EX3 Smart Connect Fitness Bike
This affordable option has nearly everything you need in an exercise bike. With 32 resistance levels, an adjustable device holder, a small footprint, and Bluetooth, the ride is only made better by the Echelon Fit app. Access live classes, on-demand classes, and off-bike exercises like Yoga and stretching.
3
Keiser M3i Indoor Cycle Bundle
We'll be honest, the Keiser M3i isn't much cheaper than a Peloton, but this bundle comes with a floor mat, media tray, stretch pads, a heart rate monitor, and an M Series Converter that makes this bike compatible with any external app making it the premier option for the rider that wants a top of the line bike without being locked into one app.
Another shining feature: Orange Theory Fitness fans may recognize the Keiser M3i as the same bike the popular fitness franchise uses in-studio. It also touts that it's adjustable to a wide variety of heights so riders from 4-foot-10 up to 7 feet tall can find the perfect fit for their ride.
4
Schwinn IC4 Indoor Cycling Bike
The Schwinn IC4 is not only our overall Peloton alternative pick, it's the bike I chose to buy myself after months of research.
The top feature of this bike is that it includes a cadence sensor and heart rate monitor that are built to be compatible with popular apps like Peloton's digital app and Zwift. I dock my iPad in the included tablet holder and have the same experience as a Peloton rider minus the leader board.
If you are open to sticking to one class streaming service, The MYX is your best bet. It's a bit pricier than our other picks, but still less than a Peloton and includes all the bells and whistles that offer a seamless ride experience.
The built-in touchscreen syncs with their on-demand service that offers new classes weekly, and it's cheaper than what you'd pay for Peloton's app service.
You can also opt for The MYX Plus, which comes with a stability mat, a six-piece kettlebell set, a foam roller, an exercise mat, and a resistance band.
6
Commercial S15i Studio Cycle
The biggest downfall of an indoor bike is that ... well, it's not a road bike. The Nordic Track Commercial S15i comes pretty close, though, with an adjustable incline feature that adds a challenge you normally only find outdoors to your ride.
On top of that, your purchase also comes with a 1-Year iFit Family membership that offers both indoor and outdoor workouts as well as its own leaderboard. Like The MYX, Nordic Track's screen isn't compatible with external apps, but the iFit platform offers many of the features compared to Peloton (if not more) .
This content is created and maintained by a third party, and imported onto this page to help users provide their email addresses. You may be able to find more information about this and similar content at piano.io