The Best of Boutique Fitness
If you're looking to get in shape for spring, look no further: We've rounded up and tested out the best boutique workouts around. These are the classes you need to try right now.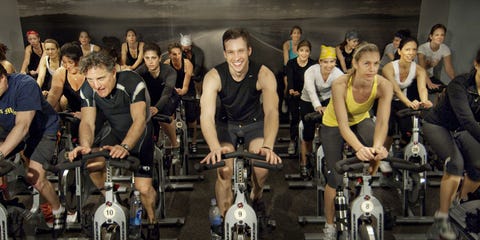 If you're looking to get in shape for spring, look no further: We've rounded up — and tested out — the best boutique workouts around. These are the classes you need to try right now.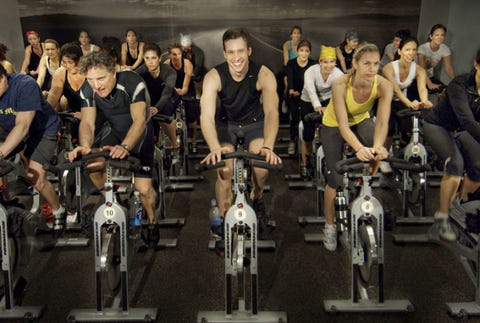 SoulCycle
What is SoulCycle?
It's a full-body spinning workout, but what really sets it apart is its community aspect, as well as its unique spiritual component. Then, there are the playlists. According to
Danny Kopel
— one of MC's personal favorite instructors — the way each class' soundtrack is put together and choreographed is almost an art. "SoulCycle is emotional and spiritual," Kopel explains. "When you leave, you feel like you've been taken on a journey."
What does it do?
Aside from being an excellent cardiovascular workout, riders are challenged to push themselves by increasing the bike's resistance and working from the core — namely the obliques and abdominals — to protect the joints. Each class also features an unexpected arm series with light weights and push-ups on the bike, designed to develop long, lean muscles.
How does it feel?
SoulCycle has built a reputation for having a cult-like following, and for good reason — it truly is as fun as they say. First-timers will notice their glutes and hamstrings tiring out (read: burning) a couple of songs into the 45 minute class, but the encouragement from the talented instructors and killer music make it much easier to keep going.
How can you get the workout at home?
Kopel suggests that whether you have access to a spin bike or a treadmill, put together a playlist of music that speaks to you and moves you — it will help you to power through the workout. Also, try to incorporate light weights if you can.
Classes start at $32. For more information and studio locations, visit www.soul-cycle.com.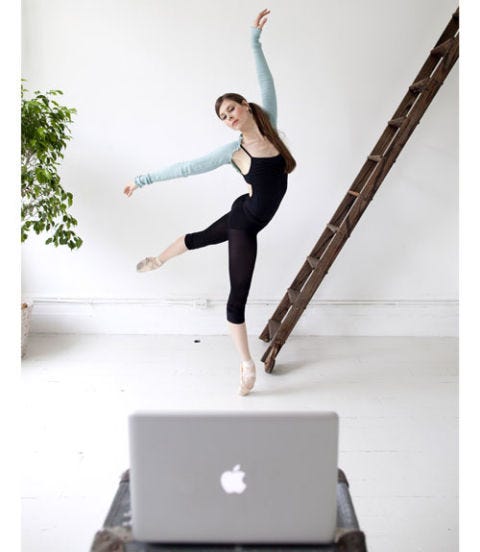 Courtesy of Ballet Beautiful
Ballet Beautiful
What is Ballet Beautiful?
A system of exercises and stretches developed by
Mary Helen Bowers
that's meant to sculpt, tone, and strengthen the body, as well as increase flexibility. "I think that every woman has the ability to transform her body," Bowers says. "What I do with Ballet Beautiful is make the body really long and lean — it's a lot of strengthening through your center and core and your back and upper body for beautiful posture." The classes incorporate both standing routines and mat work on the floor.
What does it do?
Bowers says that in just a matter of weeks, students start to see a change — they'll walk differently, feel more lifted, stand up straighter, and feel tighter. The exercises are tiny and very targeted while still bringing up the heart rate, which helps to achieve the sculpted look.
How does it feel?
While you're in class, it burns like crazy — you'll feel muscles working that you've never used before, especially through the glutes, hips, outer thighs, and deep through the abs.
How can you get the workout at home?
Simple! Bowers regularly live-streams the classes she holds in her NYC studio on balletbeautiful.com, and has a series of DVDs as well. When it comes to her most important principles, Bowers explains that stretching is extremely important, and when it comes to posture, keep your back long, your shoulders back, and pull in through your stomach.
For more information and to live-stream classes, visit www.balletbeautiful.com.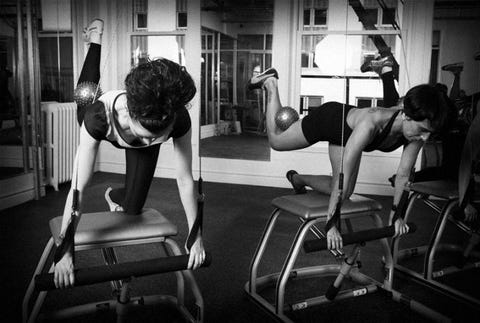 Chaise 23
What is Chaise 23?
Fusing together a background of aerobics from the '80s, Pilates, and Olympic lifting, this method takes place entirely on a chair that's equipped with a bungee system and resistance pedal. The workout was created by
Lauren Piskin
, who discovered the chair 11 years ago and has been modifying the workout ever since. A bungee system overhead combined with plyometrics lifts the heart rate while simultaneously working the muscles.
What does it do?
The tresses from overhead with the bungee system (that come in light, medium, and heavy) will give you sculpted arms that are far from bulky. The cardio and core exercises work toward a leaner look.
How does it feel?
You'll be sweating after, but for seasoned athletes, the soreness stops there.
How can you get the workout at home?
Take a bench or a chair and do legwork with a resistance band on a hook or anything tied to the ceiling. Engage the core for leg lifts in the front and sides as well as adductors and abductor leg moves.
Classes start at $30. For more information, visit www.chaise23.com.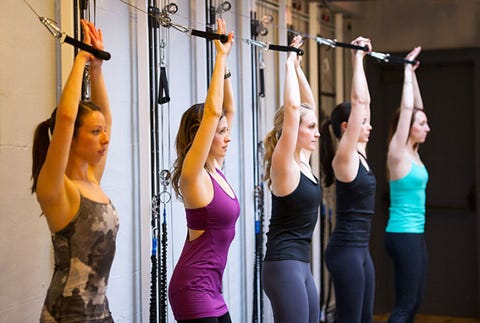 Refine Method
What is Refine Method?
Metabolic resistance training — a traditional form of resistance work using enough resistance and smart pacing to get your heart and lungs working while also strengthening your muscles.
What does it do?
Using a pully system, glides, kettlebells, and body weight, the system trains the entire body with different circuits, working in patterns so that muscles won't get over-developed.
How does it feel?
Refine has the passion of a boot camp with a touch of lightness so that near the end of each circuit — when you're just about to give up — you find yourself switching.
How can you get the workout at home?
Start with a stationary lunge for 30 to 40 seconds per leg, alternating with 30 seconds worth of pushups. If you find you can only get through one or two pushups, hold your plank. Start with one set, working your way up to three.
Classes start at $32. For more information and studio locations, visit www.refinemethod.com
.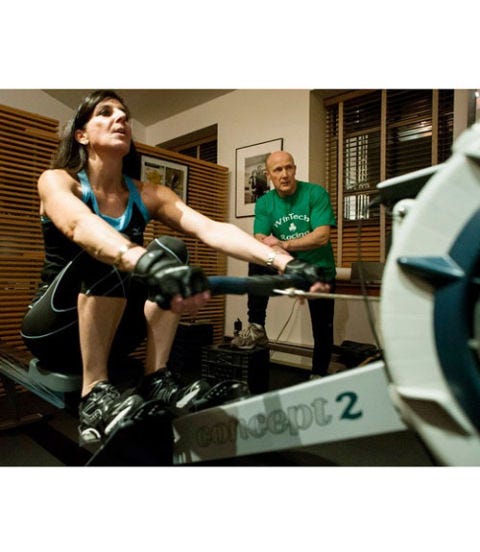 Indoorance Rowing
What is Indoorance Rowing?
Founded by
Mike Creamer
, it's a total-body indoor rowing workout with an added interactive aspect that gives students immediate feedback and tracks their progress. If you need more motivation you can row against a pace boat, with a friend, or even row live online with other rowers around the world.
What does it do?
The rhythmic motion of rowing works the entire body — the legs, back, arms, and core are all involved which makes it a high calorie burner, as well as a great cardiovascular workout. Plus, the virtual reality-type technology adds a unique element of fun.
How does it feel?
The rowing machine is special in that it's completely self-powered — your effort determines the resistance. It's very smooth and impact-free, but don't be fooled: you'll be winded before you know it. Also, be prepared to feel soreness in your arms and through your back the day after your session.
How can you get the workout at home?
Creamer suggests you try squats to simulate the alternating compression and extension of the legs and hips involved in rowing. Stand up straight with your feet hip-width apart. Raise your arms straight up to shoulder-level and keep them raised as you slowly sit back into a squat position where your thighs are parallel to the floor. You can also sit onto a low box or chair. Pull your arms down as you return to the standing position and repeat for 20 reps.
For more information, visit www.indoorance.com.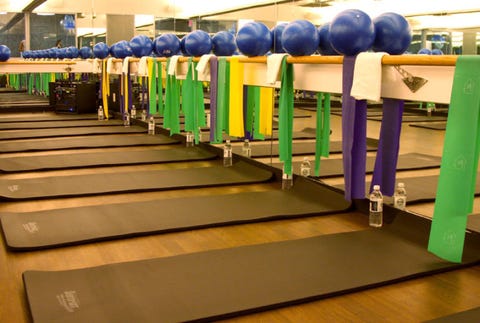 FlyBarre
What is FlyBarre?
According to master instructor
Kara Liotta
, it's a full body workout, based on the idea of high repetitions at low weights. It utilizes a number of tools — resistance bands, balls, small weights, and a ballet barre — as well as choreographed intervals that keep you energized and get your heart pumping. The soundtrack is pretty stellar, too!
What does it do?
Liotta says that the workout is designed to lengthen, tone, and sculpt. It builds strength, but aims to keep muscles carved and elongated instead of bulky. The dance-y, upbeat routines keep your heart pounding, and the hands-on instructors challenge you to hold each position for
just
a bit longer than you think you can.
How does it feel?
No matter what your fitness level, you'll likely feel fatigued pretty early on during your first FlyBarre class, thanks to the high number of reps and wide variety of intervals. You will certainly be sore for a day or two afterward — even in muscles you didn't know you had.
How can you get the workout at home?
To get sculpted arms, find your favorite 5 minute workout song and grab a set of light weights — Liotta suggests either 2 or 3 pounds. Stand with your feet slightly wider than your hips and a soft bend in your knees. Your chest should be lifted and your shoulders pressing down and away from your ears. Extend your arms long out to the sides of your body and begin small pulsing movements with just a slight bend in your elbows, palms facing the ceiling. Try to keep your arms fully extended away from your torso to create that lean, sculpted look. You can add variety by changing the position of your palms and wrists to work into different muscles of your arms.
Classes start at $30. For more information and studio locations, visit www.flywheelsports.com
.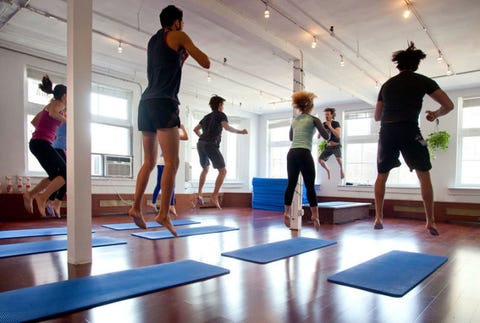 Courtesy of Circuit of Change
Circuit of Change Mind Body Bootcamp
What is Mind Body Bootcamp?
A class created by Manhattan's Circuit of Change founder
Brian Delmonico
that incorporates yoga, meditation, and interval training like boxing, kick-boxing, and plyometrics. The motto of the bootcamp is "Personal Growth Inspired by Movement."
What does it do?
The class prevents athletes from hitting a fitness plateau by keeping the muscles from memorizing moves. Delmonico focuses on pranayama ujjayi, a deep breathing technique through the nose, that helps athletes relax throughout the class and during meditation.
How does it feel?
At first it feels like a pleasant yoga class with occasional bursts of exercise, but the intensity shocks your muscles with kicks, punches, running and ab exercises that leave you sweating, sore, and dying to come back.
How can you get the workout at home?
Take five minutes of silent meditation sitting up with a straight spine before moving to downward dog for ten breaths. Then take a set of standing jumps for thirty seconds, transitioning onto your back for 30 seconds of bicycle crunches where the knee touches the opposite elbow.
For pricing options and more information, visit circuitofchange.com.
ModelFIT
What is ModelFit?
It's the group fitness answer to personal trainer
Justin Gelband
's main gig — helping supermodels get into tip-top shape (seriously: his client list includes half of the Victoria's Secret Angels). "It's about letting people understand what they are, who they are, how they can work their own bodies," Gelband explained. "We want to get the best body we can for
you
."
What does it do?
Justin builds programs for his clients based on their body types, and in the group setting, no two students are given the same exercise during the rotation. His main objective is to strengthen each individual's weak areas by using slow, deliberate movements to let the sensories in your brain connect to the rest of your body. This attention to targeting problem areas is what helps to tone the muscles and achieve a lean look.
How does it feel?
The careful movements that cover every major muscle group will have your core and limbs trembling during class, but without too much soreness in the days that follow.
How can you get the workout at home?
Gelband swears by stretching — especially using resistance bands — as well as using light weights and your own body weight as resistance. Keeping in line with his "it's all about you" philosophy, he suggests that students pick out a cardio workout that they like to do — and that they'll commit to doing. "Get an exercise video, go for a walk with your friends, or find a class nearby your house that makes you feel good about yourself inside," Gelband advises.
For rates and more information, visit www.modelfit.com.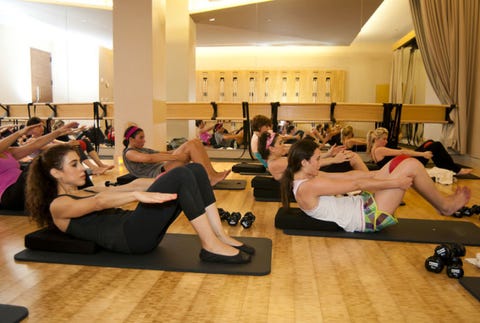 Figure 4
What is Figure 4?
A ballet-based barre method created by
Kate Albarelli
, whose background in ballet and degree in dance and kinesiology helped her incorporate heart health and fat-burning exercises into the class — unlike many other barre methods that barely increase the heart rate.
What does it do?
Named after the common ballet stretch "Figure 4" that targets the four major parts of the body — abs, arms, glutes, and thighs — the double entendre speaks to what the class will do for your body. Albarelli's method targets each zone, burning fat held underneath the muscle so the muscle will lie flatter on the bone, creating a longer and more toned look.
How does it feel?
The intensity of the class works your muscles to failure — the point where you might have to take a few breaks the first time and will feel fatigued for hours after the class. The biggest bonus? Body awareness will have you sitting up straighter.
How can you get the workout at home?
Lie on your left side, extend the left arm long and place a pillow on top of your left shoulder so your head is cushioned. Bring your knees up in front of your hips, so that your legs are at a 90-degree angle, like you're sitting in a pseudo-chair. Keeping the legs at 90 degrees, lift and lower the right leg to hip level. Keep the hips stacked and place your back against a wall if you must in order to keep the back straight. Pulse up and down twenty times on each leg.
For pricing and more information, visit www.pureyoga.com
.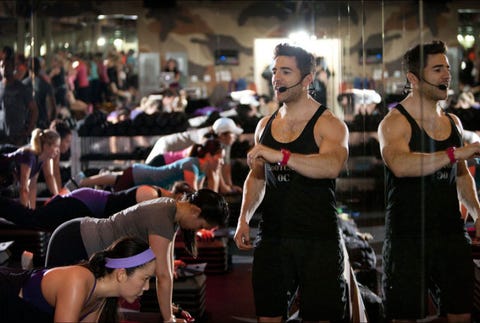 Courtesy of Barry's Bootcamp
Barry's Bootcamp
What is Barry's Bootcamp?
Barry's Bootcamp is a one-stop shop. In one hour, you get cardio, free weights, resistance training, and body-weight exercises, and are personally pushed like you've never been before. Each week, the days are broken into different targeted muscle groups so you never overdo it. The red lights and music make it like a club atmosphere — and the Saturday night class even comes equipped with a live DJ, glow sticks, and shots of antioxidant juice.
What does it do?
There are no drill sergeants, no whistles, and no yelling. You burn between 800-1,000 calories in one class and get your choice of working with all sizes of free weights to help you achieve your personal goals. The high intensity interval training on the treadmill torches calories with sets of sprints, incline jogs, sideways shuffles and even backwards runs.
How does it feel?
After the first class, you'll be extremely sore from pushing your body to a new level — a level you
never
thought you'd get to. But the endorphins give you a mood boost worth the burn.
How can you get the workout at home?
Barry's Bootcamp DVD Boxset is a great way to get the class experience while at home and break down the days for you just like a week at Barry's Bootcamp.
For studio locations and pricing, visit www.barrysbootcamp.com.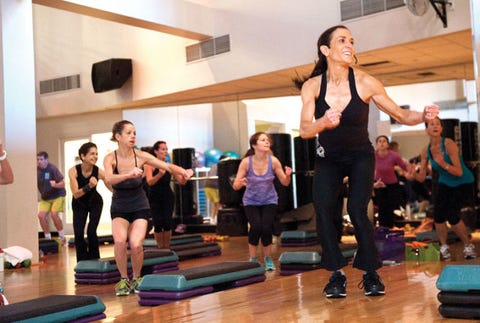 Aspen Ascent
What is Aspen Ascent? Creator Stephanie Levinson skied in Aspen for 12 years and noticed how sore fellow skiers would be. "Sometimes they'd ruin their own ski vacations because their legs were spent," she says. So she came up with a conditioning class and Sports Club LA began a joint venture with the Aspen Snowmass Ski Company that caters to how athletes actually train, hitting the major parts of the body skiers use with cardio, agility, turning, jumping, lateral moves, and balance. What does it do? The class strengthens the muscles that skiers actually use with specific attention to hamstrings and quads. One big move is lunges, both stationary and on slide discs, in order to strengthen the muscles around the knee that are the most vulnerable on a skiers body. The first part of the class focuses on agility and cardio, the second part on lunges and leg strength, and the third part hones in on core strength necessary for all athletes. How does it feel? One class leaves you feeling like you just left the slopes. But be sure to skip the post-workout hot chocolate! How can you get the workout at home? Stand on a bench or a box in skiers tuck position (as if you are getting ready to exit the chair lift). Keep the arms bent at a 90 degree angle at your side to simulate holding ski poles and begin to straddle the bench stepping down with the right foot, then left foot. Jump both feet back up to the top of the bench at the same time, keeping your tuck position. Repeat for 30 seconds alternating starting legs.
This content is created and maintained by a third party, and imported onto this page to help users provide their email addresses. You may be able to find more information about this and similar content at piano.io