Obama Wants More Women in Power Because Men "Seem to Be Having Some Problems"
That might be the understatement of the year.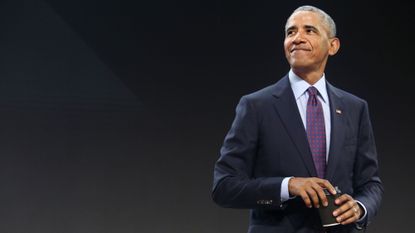 (Image credit: Yana Paskova/Getty Images)
Marie Claire newsletter
Celebrity news, beauty, fashion advice, and fascinating features, delivered straight to your inbox!
Thank you for signing up to . You will receive a verification email shortly.
There was a problem. Please refresh the page and try again.
It can't be easy for Obama to watch the legacy he tried to create on matters like climate change and healthcare being ripped apart by Trump's tiny tweeting hands.
Though the former POTUS has tried not to tear into his successor too publicly, he has made thinly veiled jabs at his leadership like his tweet following Trump's failure to condemn the Charlottesville violence earlier this year. (opens in new tab)
Now he's made another diplomatic comment, this time aimed at all the men in power hell-bent on taking us to the brink of nuclear war.
Speaking at a private event in Paris, the former president commented that women should be promoted to positions of power as men, "seem to be having some problems these days." (opens in new tab)
When questioned about the qualities that are needed for leadership Obama said, "Not to generalize, but women seem to have a better capacity than men do, partly because of their socialization."
He added, "How can I make the people around me better? How do I empower them... How do I build a team where everyone's pulling together to get something done?"
It comes after Obama advised Trump about social media when speaking in India last week, following Trump's retweeting of far-right group Britain First.
A few days ago Mr Obama urged the 45th President to "think before you tweet," following his widely condemned decision to share far-right videos posted by Britain First. (opens in new tab)
Obama is clearly taking cues from his former photographer (opens in new tab) on having something great to say every time Trump messes up.