Anal Bleaching, G-Spot Enhancement, and the Lengths Some Women Will Go for the Ever-More-Perfect Body
Apparently it's not enough anymore for your face to be your focus.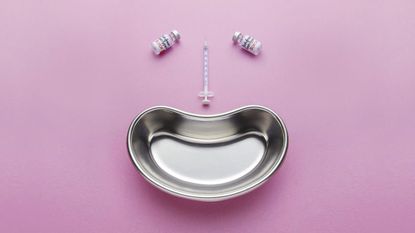 (Image credit: Getty)
I was in L.A. recently with a group of friends, devouring pommes frites and red wine, when someone blurted out, "You know, Suzanne had this horrible reaction when she had her anus bleached and had to go to the emergency room." Yes, I know, I'm speechless, too (mostly because my mother-in-law will read this). I assumed this ritual was for dealing with a parasite. But no—Suzanne was given the treatment as a gift from the movie star who employed her. Me? I'm good with a facial, thank you very much.
Apparently, plenty of women want to go past the now-ordinary breast enhancement and pubic electrolysis to a place few have heretofore dared to go in the name of beauty. Much to my ignorance, bleaching one's anus (I guess to bring it back to its budlike, puckish pink) has become an obsession far beyond the young jet set and the detail-oriented gay community. These days, anal-bleaching creams can be purchased as easily as cough drops. Let's see...next Mother's Day, should I go with the balloon bouquet or a gift certificate for total rectal beauty?
There's more. Turns out Botox has come a long way since giving you a frozen face and eye sockets that look like they were hollowed out with a melon baller. Now you can Botox your bum. Why exercise if you can simply inject poison into your cellulite? The only downside is your butt won't be able to really express itself anymore.
Our fixation on youth has reached new lows. Thanks to Brazilian waxes, everything is exposed and scrutinized. Back in the '70s, liberated women used to squat over hand mirrors and have a look at their nether regions; these days they bring photos of porn stars to their plastic surgeons and say, "Make me look like this."
"Vaginal rejuvenation" is now a fixture on the Web (I was looking at hybrid cars). Vaginal plastic surgery is a fast-growing specialty. Labia too big, not symmetrical, or just not pretty? Thankfully, for $3,000 to $7,000, you can tweak them, plump them, or remake them (just be prepared to lie in bed with a bag of frozen peas on your crotch for several days after). You can also get a twofer called the "Toronto Trim," which involves the reduction of the labia and slight unhooding of the clitoris. I can't tell if this is about aesthetics or women fed up with partners who are unable to find it.
Then there is the "new virginity" treatment called hymenoplasty, in demand by some women in Islamic cultures for whom virginity is more precious than oil. American women of all faiths are now flocking to the procedure and giving their men something different from the usual DVD or cashmere sweater. I wonder, does the gift of hymen come with a renewed naivete and shyness? Is part of the game the woman's pretending that it really is the first time? (Will she cry, like I did?)
G-spot enhancement is also taking off; apparently, you can expand and sensitize the area by injecting it with hyaluronic acid or collagen. The payoff? A constant state of arousal lasting between three and six months. Imagine the happy soccer moms not screaming at you in the parking lot for once.
Of course, if "pelvic relaxation" is your problem, there's now laser surgery to tighten and reconstruct vaginal muscles — in other words, a "puss-lift." If science has found a way to turn an outie belly button into an innie, why not relocate your genitals? Hell, why not just put them on your head?
With the country nearing an election and global tension running high, it's a great time to have your nipples enlarged, tattoo a new lipline, and fix those imperfect labia, damn it. The good news is, you can also hire a "mummysitter" — a woman who comes and cares for you after your procedures. She'll heat up the Lean Cuisine, bring home the Sex and the City box set, and change the nasty gauze. Yes, you'll be in extreme pain, but thanks to your enhanced G-spot, you'll be grinning all the way!
This article appeared in the print edition of Marie Claire.
Follow Marie Claire on Facebook for the latest celeb news, beauty tips, fascinating reads, livestream video, and more.
Marie Claire email subscribers get intel on fashion and beauty trends, hot-off-the-press celebrity news, and more. Sign up here.