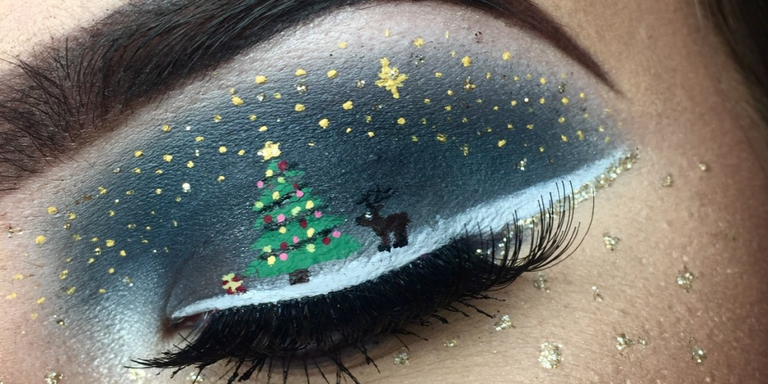 If you're going to do the most, it might as well be in the name of Christmas, right? From twinkly-scenery-painted lids to candy cane eyeliner flicks, these holiday-inspired eye makeup looks are unapologetically festive and impressively executed.
After getting inspired by an illustration she spotted on Pinterest, @nasiabelli accented the flick of a cat eye with gorgeous ombré shadow, green glitter detail, and a little elf hanging on an ornament.
2
Nightmare Before Christmas Eyeliner
@nasiabelli was back at it again collaborating with fellow MUA @ovthelunareclipse on a The Nightmare Before Christmas-inspired eye featuring a silhouette of Jack Skellington over a wash of yellow sky along the outer eye.
@cakefacedali used a slew of liquid liners to create a full-on Christmas scene, which included a trimmed tree, reindeer, snow, and stars, on a smoky eye.
The candy cane liner trend inspired a million iterations, but @sillywittlesarah's sharp, red-and-white-stripe flick is our favorite.
If you're not trying to get too painterly, fasten on some gold, tinsel-inspired false lashes for an instantly gilded look.
@hannarig_ didn't just stop at a candy-cane-striped cat eye, but elevated the look even further with Christmas-light-wrapped helix liner.