Road to Beauty Day 1: Salons, Sun, and Saturday Nights in Rio
Created by Marie Claire in partnership with Dove Follow the five L'équipée women as they travel Brazil on their motorbikes to discover what beauty means around the world.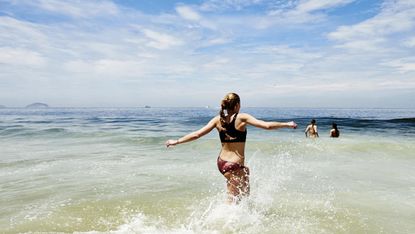 (Image credit: Ludovic Ismael)
Weekend: Rio de Janeiro

It was a special day for the L'équipée girls. Before they began their bike trip across Brazil, the group made two mandatory stops: A quick swim at the beach and a feijoada lunch at Casa da Feijoada. Then, they had their first experience as a Brazilian woman: They spent their Saturday afternoon at the beauty salon.
With a passion for the divas from the 1920s, 30s, 40s and 50s, hairdresser Evânio Alves welcomed the girls to his home, where he looks after all his customers. He had photos of iconic actresses like Marlene Dietrich, Lauren Bacall and Elizabeth Taylor scattered across his walls. But what does it really mean to be a diva?
"They do not exist anymore," he says. "In the digital age, celebrities are more reachable than ever and fame does not last for longer than five minutes. A diva has to be surrounded by mystery; she must live in certain isolation."
The girls' next stop was Lapa, where, on Saturday nights, streets get packed with people awaiting to dance in one of the neighborhood's many clubs. The experience wouldn't have been complete if they hadn't dared to try a few Samba de Gafieira steps!
Sunday began with a surprise. The girls ended up in the neighborhood of Leme, where they met a female beach volleyball team. The L'équipée took the opportunity to discover how Brazilian women live and what they like.
After asking to join the game, they met Danielle, Amanda and Mel. The girls bonded over their love of long hair and L'équipée girls discovered that many of the girls in Rio love using extensions.
The girls couldn't stay for long in Leme because they had to meet the coordinators of the Meninas Black Power blog. The project was conceived in 2011 by historian Elida Aquino, 31, with the aim of strengthening black women's self-esteem. It was in this meeting that L'équipée girls first confronted one of the country's grey sides: Racism. During the three-hour conversation they had with Élida, they were convinced, more than ever, of the extreme importance of cherishing the different types of female beauty - not only in Brazil, but also in France.
Keep following the L'équipée girls' quest to discover what beauty means around the world at the Road to Beauty.