Editors handpick every product that we feature. We may earn commission from the links on this page.
Sephora Collection Just Launched Clean Makeup—and It's $20 and Under
The new products include a foundation and an eyeshadow palette.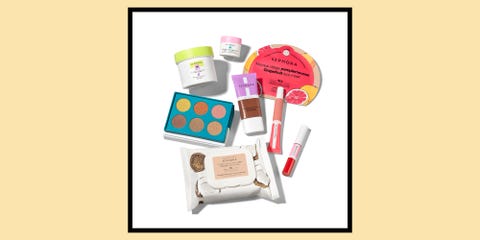 Sephora is back with a new installment of clean products, and this time it's makeup—clean beauty enthusiasts, rejoice! The retailer has added the products to its Sephora Collection line, which offers a range of products under $20. Which means—you guessed it—all of the clean makeup is under $20, and includes a hydrating foundation, a liquid lip mousse, a glossy lip oil, and a shimmering eyeshadow palette.
"After the Spring 2019 introduction of Sephora Collection's first clean skincare products, which included an eye cream, two moisturizers and a cleanser, we saw a gap in the market for affordable clean color products," says Sephora Collection National Artist Helen Phillips. "Just 1.5 years later, Sephora Collection is excited to introduce our first clean color products offering shoppers quality and affordable choices, all under $20."
As if its affordability weren't enticing enough, the products are designed to cut down on environmental waste with minimal packaging. "We really wanted this line to be eco-conscious so we reduced unnecessary packaging, reduced the use of virgin plastic, and used paper sourced from sustainably managed forests printed with vegetable inks," added Phillips.
1
This Ultra-Hydrating Foundation
Glowing Skin Foundation
Sephora Collection
sephora.com
$20.00
If you're in search of a buildable foundation, try this moisturizing formula that comes in 20 different shades. "The Glowing Skin Foundation has matcha tea which helps with hydration, and Vitamin C, which helps with radiance," says Phillips. The beauty of this foundation is that it feels super lightweight and is super easy to apply.
2
This Moisturizing Matte Lip Mousse
Liquid Lip Mousse
Sephora Collection
$15.00
Looking for a bold matte lip minus the dry and sticky finish? Go for this pigmented number. "The Liquid Lip Mousse has rosehip oil which hydrates and blurs the lips lines," says Phillips. What I love most about this product is its staying power and the color payoff. This mattifying lip mousse glides on so effortlessly and didn't budge.
3
This Oil-Infused Lip Gloss
Glossy Lip Oil
Sephora Collection
sephora.com
$12.00
Here's a gloss that your hair won't cling to. What attracted me to this product is that it felt just as moisturizing as a lip balm but still had a nice shine and subtle lip tint. "The Glossy Lip Oil has watermelon seed oil which hydrates, and we even have a shade called Watermelon," added Phillips.
4
This Glistening Eyeshadow Palette
Bouncy Eyeshadow Palette
Sephora Collection
sephora.com
$8.00
Behold, my favorite product from the collection! Hear me out: This palette has a shimmering finish, but not the iridescent or glittery pigment you might be thinking of. It's more like subtle highlight—like, just enough to give the inner corners of my eyes a pop. "The Bouncy Eyeshadow Palette has the most unique formula, I've never seen anything like it come to market! It doesn't have any pigment, just pearl, so it truly looks like a shiny second skin—like wet lids without the sticky feeling," explains Phillips.
This content is created and maintained by a third party, and imported onto this page to help users provide their email addresses. You may be able to find more information about this and similar content at piano.io