16 Reasons Your Makeup Looks Outdated
The '90s were epic but not for modern makeup inspiration.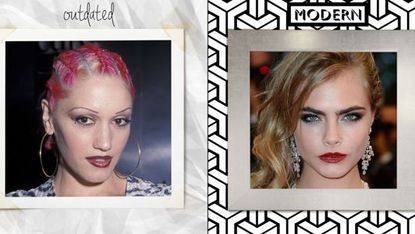 (Image credit: Archives)
Marie Claire Newsletter
Celebrity news, beauty, fashion advice, and fascinating features, delivered straight to your inbox!
Thank you for signing up to Marie Claire. You will receive a verification email shortly.
There was a problem. Please refresh the page and try again.
Celebrity makeup artist Carl Ray, who is Michelle Obama's personal makeup artist, shares tips for updating your makeup look if, for some reason, you're stuck in the '90s.
1. You're still using a thick, full-coverage foundation. This is a very '90s look. It's too heavy and makes you look like you're wearing a mask. It's great for theater, some red carpet events, and newscasters, but for everyday wear, you'll look more up-to-date in a BB cream or tinted moisturizer that cancels out redness while letting your natural skin shine through. If you have freckles and they show through your foundation, you know it's not too thick.
2. You pair light foundation with a mauve-brown lip. Twenty years ago, the pale-skin-brown-lip combo was the height of cool. Instead, try warming up your face with a little bronzer, so you don't look like you're in the cast of Vampire Diaries, and swiping a deep berry color over your lips.
3. You dust your entire face with setting powder. Applying a layer of setting powder all over your skin makes it look flat. The only area you really need to powder is your T-zone, the oiliest area on your face.
4. You highlight the inner corner of your eye with too much frosty shimmer. Topping the inner "V" corner of your eye is very much still on trend, but the colors used to highlight that area are subtler now. For daily wear, just use a concealer that's one shade lighter to make that spot pop, or a champagne-colored highlighter in a shade that matches your skin tone.
(If you're fair, try something opalescent like Smashbox Halo Highlighting Wand in "Pearl," $32, Smashbox. If you're olive-toned, opt for a true champagne shade, like Hourglass Cosmetics Ambient Lighting Powder in "Luminous Light," $45, Hourglass Cosmetics. If you have caramel skin, try a golden-based formula, like Benefit Cosmetics Sun Beam, $26, Benefit Cosmetics. If your skin is dark, try a bronze highlighter, like Illamasqua Gleam Cream in "Supernatural," $26, Sephora.)
5. You blend blue (or any colored eye shadow) from your lashline to your brow bone. This look screams '80s. Modernize colored shadow by sweeping jewel-toned shadows from your lashline to your crease, but not past it.
6. You've been wearing the same brown liner since middle school. Try accentuating brown eyes with a purple or green liner, green eyes with an aubergine formula, blue eyes with a deep bronze or gray, and hazel eyes with a copper or pink liner — or really any shade, since hazel eyes go with everything.
7. You still overpluck your brows. Thin brows were big decades ago, but now bushy brows are trendy. If you need to clean up your arches by plucking a few stray hairs, try shaping your brows near natural light so you can see exactly what you're doing. Otherwise, just groom them with a brow mascara, combing the hairs up and out toward the tail.
If you overplucked in your adolescence and need to fill in a few spots, use a pencil and small strokes to draw in hairs. You can also apply a powder that's one shade lighter to your arches, making sure to lightly hit the skin beneath your brows for full coverage.
8. You're still contouring your face heavily, when you should really be shading it. Adding a touch of contour to your face isn't a bad thing, but overdoing it is so over. For a modern look, run your bronzer brush over a little bit of matte bronzer, suck in your cheeks, then run the bristles vertically along the hollow of your cheekbones. Blend completely, then add blush.
9. You apply too much blush and resemble Raggedy Ann. You don't want the focus to be completely at the apples of your cheeks or you'll look like a clown. Instead, apply it from your hairline at your temples and work your way down to the apples of your cheeks. If you're using a cream blush, use your ring finger to apply it the same way.
10. You outline your lips with a dark brown liner and layer a light lipstick over it. Instead, try lining your lips with a nude or colored lip pencil, and then apply a matching lipstick shade to blend it perfectly. Try Dolce & Gabbana Precision Lip Liner.
[image id='f78ff5f3-ad09-4b98-9891-0aa8a8fe7084' mediaId='807f1e08-8c40-4ee8-a3f3-baf6a4257784' loc='C'][/image]
11. You're still wearing frosted lipstick. Instead, try a nude lip color with a soft pink finish that enhances your natural lip color. Try Flower Kiss Stick Velvet Lip Color in "So Gladiola." If you want to add shimmer, go with a sheer rather than opaque formula.
12. You self-tan until you're orange. Today's formulas are much more refined and leave you with a natural-looking glow. Toss your old formula and try the lightest formula option by a brand like Jergens.
13. You combine a cat-eye with heavy, matte foundation. Matte foundation + a cat-eye = a very retro look. Instead, try pairing your cat-eye with dewy skin. Looking fresh-faced, especially with a cat-eye, is always the way to go, unless you're Dita Von Teese and retro is your thang.
14. Your smoky eye is only one tone. Multidimensional smoky eyes that use more than one shade of shadow are more modern. Opt for a quad that has all the colors you need for a flawless finish, like Chanel Les 4 Ombres Multi-Effect Quadra Eyeshadow in "Tissè Rivoli."
15. You're wearing too many colors on your face at once. Wearing more than two colors at a time can be very distracting, not to mention very '80s. Instead, choose a pop of color for the eye or lip (or both), and combine it with an otherwise neutral face with a barely there touch of blush.
16. You're lining your waterline with white eye liner. White is out, nude is in. Nude liner works the same way white liner does to brighten your eyes, but it's less noticeable since it blends in with your skin.
Related Links:

30 Pro Makeup Tips You've Never Heard Before


5 Beauty Tips to Make You Look Less Tired


Red-Carpet Ready 101: Pro Tips

Via Cosmo
Celebrity news, beauty, fashion advice, and fascinating features, delivered straight to your inbox!
Carly Cardellino was the beauty director at Cosmopolitan. If you follow her Instagram, then you know she'll try just about any beauty trend or treatment once (the pics of her purple hair are on IG to prove it). But her favorite part about being in beauty is finding the most effective products, and then sharing that intel with others—because who wants to spend money on stuff that doesn't work? No one, that's who. Her most recent discovery: De La Cruz Sulfur Ointment, which will change your blemish-clearing game! Hopefully through the beauty stories she writes—and the experiences she shares—you can see exactly why she's in this business.