How to Age Like a Celebrity
Learn the secrets that help make these over-40 women look better than their much-younger counterparts.
Steve Granitz/Getty Images
Learn the anti-aging beauty secrets that help make these over-40 women look better than their much-younger counterparts.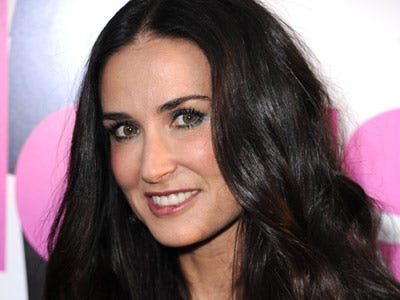 Steve Granitz/Getty Images
Demi Moore
Age: 47
Clean House: The actress, who once admitted to using Austrian leeches to "detoxify" her blood (um, whaaat?), recently tried the Master Cleanse — a diet that includes drinking a maple syrup, lemon water, and cayenne pepper cocktail — with her husband, Ashton Kutcher, who is 15 years her junior. "This is for health," she says.
Her Beauty Secret: "I moisturize, moisturize, moisturize," says Moore. "No matter how late it is, when I get home, I take the time to clean and moisturize my face. I'm a big believer in that if you focus on good skin care, you really won't need a lot of makeup."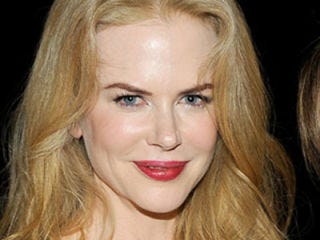 Frazer Harrison/Getty Images
Nicole Kidman
Age: 43
On a Safe Skin Mission: The Australian actress, who once had skin cancer on her leg, has diligently kept her porcelain skin safe from sun damage. "It is the worst thing in terms of aging, so I wear a lot of sunscreen, and I never go in the sun," she reveals. So, how has she not gotten a gig playing a vampire yet?
Her Beauty Secret: When it comes to her long locks, Kidman prefers cleansing in her favorite drinks. "If you've got red hair, try washing it in cranberry juice," she says. "And, if you're blonde, a champagne rinse can work wonders."
Vanessa Williams
Age: 47
Just Dance: The former Ugly Betty star is a Pilates devotee and loves salsa dancing. "I started in '97 as training for a movie I did called Dance With Me," she says. "I go out and salsa with friends, especially in the summertime. Now that's incredible card!"
Her Beauty Secret: She admits to dabbling in Botox and schedules shots every three months. "I use it very sparingly," she says. "I want to look natural. I get it so I look serene." Yes, there's nothing so serene as a injecting diluted toxin into your forehead.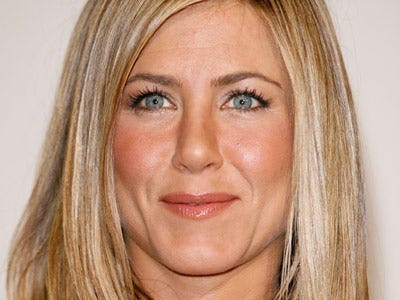 Jennifer Aniston
Age:
41
To the Mat:
The former
Friends
star has been known to work out with her
personal yoga trainer
, Mandy Ingber, up to five times a week to stay fit. "Practice a little bit each day," she says.
Her Beauty Secret:
Best known for having "The Rachel" haircut, Aniston defies age with her famous layered locks. Plus, those California sun-kissed highlights open up her eyes and lighten her whole look. To the same point, not changing your haircut since, say, 1994 doesn't hurt.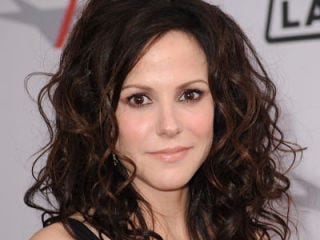 Mary-Louise Parker
Age:
45
Good Genes:
"I quit smoking, and I don't drink very often," the
Weeds
actress says of ridding herself of past bad habits. "But my mother has great skin, she's never even had a facial, and she's 85." So, Mary-Loo, what constitutes drinking "often?"
Her Beauty Secret:
She swears by anti-aging products, like the Regenerating Serum, from holistic skin care brand
Dr. Hauschka
. "They're natural, and I can use their stuff on my kids even," she says.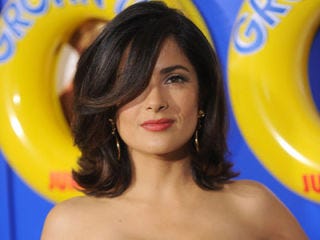 Stephen Lovekin/Getty Images
Salma Hayek
Age: 43
Color Therapy: The Mexican-born actress prefers to dress in shades that aren't too simple. "I identify with enigmatic colors," she says. "I don't want to be blue, I don't want to be green. I just want to be myself." Color us puzzled.
Her Beauty Secret: Hayek, whose grandmother was a cosmetologist, loves scented beauty products. "Make yourself smell nice," she advises. "I even wear perfume sometimes when I'm alone."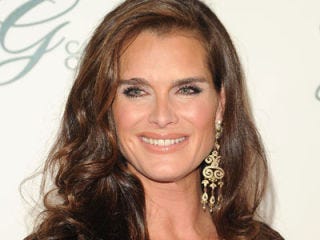 Andrew H Walker/WireImage
Brooke Shields
Age:
45
Prescribed Product:
The model-turned-actress raves about her longer, thicker eyelashes, thanks to
Latisse
, a prescription treatment aimed at growing lashes (for which she's — coincidence! — the spokesperson). I was part of the trial because I was a bit skeptical," she admits, adding that she used to rely on falsies. "I get to live with them now!"
Her Beauty Secret:
Her nightly ritual includes slathering on
Creme de la Mer
moisturizing cream, which costs $130 per ounce. "I like the thickness and richness of La Mer," she says. "And a small jar lasts at least a year."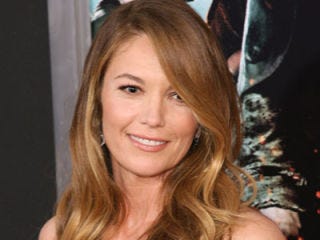 Diane Lane
Age: 45
Being Flexible: The actress — who routinely arrives at events sans makeup (the horror!) — loves the stretching involved in yoga workouts. "I do it whenever I can," she says. "Flexibility is probably more important to me than strength or stamina. You also have to be flexible in your own life."
Her Beauty Secret: The star has undergone acupuncture facelifts, in which ultra-fine needles are inserted in the face to reduce sagging, make skin more resilient, and remove laugh lines. Yeah, we'd stop laughing too if we were forced to experience that.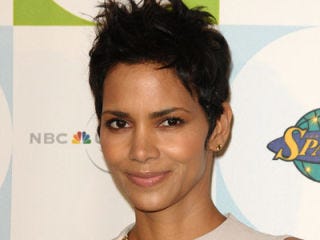 Halle Berry
Age:
43
Morning Routine:
The star uses triple fruit acid cleaners to exfoliate her skin and rubs pure Vitamin C on her face, all before moisturizing. Delicious.
Her Beauty Secret:
Berry has one master facialist to thank for her flawless face. She gets $235 red carpet-ready facials — which she reveals is her "biggest beauty indulgence" — from Christopher Warren at
Kinara Spa
. "Looking good is about having a good base," she says. "It's about taking care of your skin."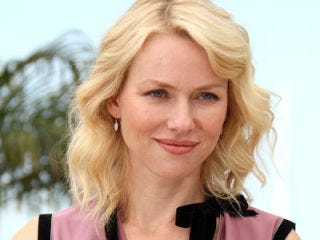 Jean Baptiste Lacroix/FilmMagic
Naomi Watts
Age: 41
Return to Nature: The Australian actress (she's BFF with Kidman — they roll in packs) tries to get out and relax. "I love being outside with trees and water, lying down somewhere or walking," she says. "I do transcendental meditation, which keeps me calm and steady."
Her Beauty Secret:: The zenned-out star drinks plenty of water and gets a facial every six to eight weeks. Otherwise, the natural blonde tries to stay ... natural. "My mom always said, 'Don't dye your hair. It's like getting tattoos — once you start, you won't stop,'" Watts confides. "She's right!"
This content is created and maintained by a third party, and imported onto this page to help users provide their email addresses. You may be able to find more information about this and similar content at piano.io