20 Celebrities Reveal Their Worst On-Screen Kisses
One actor even compares his co-star's tongue to 'kitty cat litter.'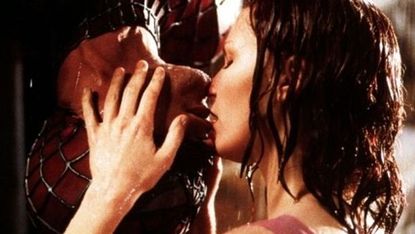 (Image credit: Archives)
Marie Claire newsletter
Celebrity news, beauty, fashion advice, and fascinating features, delivered straight to your inbox!
Thank you for signing up to . You will receive a verification email shortly.
There was a problem. Please refresh the page and try again.
Movie stars' careers are, essentially, a never-ending game of spin the bottle. With each new role they secure, they let Hollywood's top casting directors give them a new love interest to flirt with, fall for, and eventually kiss. And while there are plenty of kisses that really are as intense and romantic as they seem on screen, there are bound to be those that are more uncomfortable and sloppy than they are sweet or passionate. Here, a number of the celebrities who suffered from these not-so-great kisses share their horror stories.
1. Tobey Maguire and Kirsten Dunst's upside-down Spider-Man smooch was the kiss that launched a thousand parodies, from Saturday Night Live to The O.C.. But turns out the reality behind the iconic scene was less romantic than it seemed in cinemas. "I was hanging upside down, it was really late at night, it was raining, and the whole time I had rainwater running up my nose. Then, when Kirsten rolled back the wet mask, she cut off the air completely," Maguire told Parade in 2007.
2. Shailene Woodley's low-maintenance, earthy tendencies are infamous. And apparently, they impact her on-screen life as well as her off. Just before a embrace with Miles Teller in The Spectacular Now, Woodley chowed down on Chinese dirt supplements, which Teller calls a pouch of dirt. He says that it "smelled like crap." Can't imagine that it tasted much better.
4. No one blames a woman who goes slack-jawed at the sight of eternal Hollywood hunk Brad Pitt. But a teenage Kirsten Dunst\'s reaction to kissing Pitt during the 1994 flick Interview With a Vampire strayed from the swoons that typically follow his name. "Everyone at the time as like, \'you\'re so lucky you kissed Brad Pitt,\' but I thought it was disgusting," she said to Bullett magazine about the lip lock.
3. Kisses weren\'t always sweet for How I Met Your Mother\'s legendary lovebirds Marshall and Lily. Alyson Hannigan originally refused to kiss her on-screen husband, Jason Segel, because he smelled and tasted like smoke. Turned out to be a blessing for Segel (not to mention for Marshall and Lily fans), as Hannigan\'s attitude forced him to quit the habit.
5. Screen siren Marilyn Monroe has sparked many a male fantasy for decades. For her Some Like It Hot co-star Tony Curtis, though, the experience wasn't all it was cracked up to be—allegedly, he said that smooching Monroe felt like kissing Hitler. However, the validity of this quote has been called into question—by Curtis himself, calling it nonsense.
6. Seeing the romance between Hermione Granger and Ron Weasley blossom on screen was a moment anticipated by Harry Potter maniacs ever since things started heating up between the two on page. Emma Watson, on the other hand, was so eager to get the awaited scene over with that she ended up "pouncing" on Rupert Grint, she said in an interview with MTV News (opens in new tab)
7. You'd think rom com queen Kate Hudson would have the art of the rom com kiss down pat. Not so, her former co-star Dane Cook told Andy Cohen during a recent appearance on Watch What Happens Live. "Did a movie with her—My Best Friend's Girl—and I think she purposely ate a feast of onions right before the scene. I had to burn her on that one."
8. Harrison Ford has a stacked film pedigree, but that hasn't made him a master of the silver screen lip lock, says Helen Mirren. And she has support in that belief, saying that she's discussed Ford's faux pas with other actresses, who were similarly unimpressed. She told BBC Radio that Ford is "The nicest, sweetest guy you could want to meet. But he can't kiss—he finds it impossible to kiss on screen."
9. Turns out Tom Cruise's dedication to scientology isn't the only thing about him that might turn a woman off. Thandie Newton, who he had an on-screen dalliance with in Mission Impossible, said: "Kissing Tom Cruise was slightly icky and sort of wet."
10. Just the idea of kissing Robert Pattinson sets millions of tween hearts aflutter. During his on-screen romance with Reese Witherspoon in Water for Elephants, Pattinson developed a nasty cold, complete with a dripping nose. When asked about the snot-filled experience, Witherspoon simply said "It wasn't appealing; it wasn't pleasant." Via MTV News (opens in new tab)
11. Jennifer Lawrence's Oscar win for Silver Linings Playbook didn't come without sacrifice. Her co-star Bradley Cooper revealed that after the two locked lips for the camera, she told him he was a "wet kisser." Cooper responded to this jab on The Graham Norton Show in 2013: "You don't want to hear that. It was not a compliment." His sloppy smooches can't too much of a turnoff, as J.Law and Cooper are set to make their yet another film appearance together early next year.
Related: Meet the Woman Responsible for the "First Kiss" Video (opens in new tab)
12. According to Josh Hutcherson, however, J.Law has a dribble problem of her own to take care of. During an interview about the then-upcoming release of The Hunger Games: Catching Fire, he claimed that the tributes locking lips was a little "slobbery."
13. A little slobber is nothing for Hutcherson, who mastered the art of the awkward on-screen kiss at an early age. His first (ever!) kiss occurred when he was 11 years old in the film Little Manhattan. "It was horrible," He told Seventeen magazine. "I had a crew of, like, 50 people standing around watching me and it was the most non-real, non-intimate that I could possibly have for my first kiss I think."
14. Aussie actors Nicole Kidman and Hugh Jackman's turn in Baz Luhrmann's epic Australia required a lot of on-screen passion. While the two ended up getting things right eventually, it took some preparation. "It's never particularly comfortable making out with someone in front of 70 people," Jackman said. "That's really not something that turns me on." Via Match.com (opens in new tab)
15. In her early days as a Disney darling, Selena Gomez made a guest appearance on The Suite Life of Zack & Cody, where she shared a not so suite lip lock with Dylan Sprouse. "I actually leaned in to kiss him and I had my eyes closed a little too early and I ended up missing, like, half of his lips," she said in an interview with Tiger Beat (opens in new tab) (RIP.) "It ended up being the most awkward kiss in the world."
16. Those who have stayed strong to Team Jen can take comfort in the fact that despite Angelina Jolie's cemented status as one of the industry's most beautiful leading ladies, she may be lacking in the kissing department. James McAvoy, her on-screen flame in the film Wanted, dished on their embrace. "I can tell you what it was like to kiss her on a film set: awkward, sweaty and not very nice." Via InTouch (opens in new tab)
17. Women have collectively been fantasizing about planting one on Leonardo DiCaprio since 1997. But according to actress Virginie Leydoyen, who played Leo's love interest in The Beach, we're better off without. "I think Leonardo is a nice guy, but I wouldn't want him as a lover," she said. "There [was] no honest passion. No real sensitivity in our love scenes. In our underwater love scenes all I could think of was not drowning. I can't even remember his kiss." Ouch.
18. According to Helena Bonham Carter, locking lips with Woody Allen isn't just unpleasant, but it's quite a chore. Of their 1995 kiss in Aphrodite, she says: "He tells you up front certain ways of kissing he does not want. No exchange of liquid is permitted. It can be a bit offensive because he makes no effort at all. It's like kissing the Berlin Wall."
19. Throughout her tenure in the Pirates of the Caribbean franchise, Keira Knightley locked lips with both Orlando Bloom and Johnny Depp (why she didn't sign on for the fourth Pirates movie is a mystery.) When asked who had the better smooch, Knightley told InStyle magazine "Johnny Depp certainly wasn't bad." No accolades for Orlando's kisses in sight.
20. Steve Carrell is better known for his comedy chops than his romantic prowess, and it turns out there's a reason. When asked about his kiss with Carrell in Get Smart, Dwayne Johnson compared his tongue to cat litter. "I just see Steve Carell's lips. So the bottom of a cat's paw—the soft supple part underneath—that's what Steve Carell's lips are like. But his tongue is like kitty cat litter. That's the physical experience." All in good fun, to be sure, but nevertheless, unappealing.
Via
Related Links:

The 10 Most Romantic On-Screen Kisses (opens in new tab)


Emma Stone and Andrew Garfield Kissing is Disturbingly Amazing (opens in new tab)


Rita Volk Opens Up About Kissing Her Co-Star (opens in new tab)


20 Strangers Kissing for the First Time is Not as Odd as You Think (VIDEO) (opens in new tab)

Image courtesy of Columbia Pictures
I'm an Associate Editor at the Business of Fashion, where I edit and write stories about the fashion and beauty industries. Previously, I was the brand editor at Adweek, where I was the lead editor for Adweek's brand and retail coverage. Before my switch to business journalism, I was a writer/reporter at PEOPLE.com, where I wrote news posts, galleries and articles for PEOPLE magazine's website. My work has been published on TheAtlantic.com, ELLE.com, MarieClaire.com, PEOPLE.com, GoodHousekeeping.com and in Every Day with Rachael Ray. It has been syndicated by Cosmopolitan.com, TIME.com, TravelandLeisure.com and GoodHousekeeping.com, among other publications. Previously, I've worked at VOGUE.com, ELLE.com, and MarieClaire.com.