Ben Affleck Criticized for Making Inappropriate Joke About Hollywood Sex Scandal
Gal Gadot's awkward laugh says it all.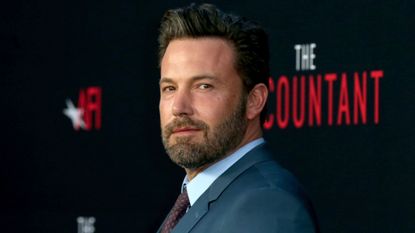 (Image credit: Archives)
Amid the sexual harassment allegations surrounding several high-profile members of the film industry, Affleck has come under fire—yet again—from fans, after appearing to make a joke about ongoing allegations.
During a recent interview to promote his new film Justice League with his co-stars, the group were asked who they'd choose to join their superhero team, to which Superman actor Henry Cavill suggested Supergirl, while his co-stars put forward magician-turned-hero Zantanna as a contender.
Following an inappropriate reference to the character's fishnet tights by Affleck, Ray Fisher (who plays Cyborg), added: "I think it would create a different dynamic."
In response, Affleck chimed in to comment: "Are you following the news at all?"
While the actor laughed awkwardly at his own joke, his co-stars remained silent (other than Gal Gadot who seemingly laughed at Affleck, rather than at the quip), until Fisher continued his answer.
Unsurprisingly, Affleck's about serious sexual misconduct allegations in the film industry didn't sit well with fans.
One Twitter user posted: "Oh my god was he joking about all the cases of rape and harassment that are being revealed???"
Everyone saying Gadot chuckled, that is the tight "hehe" smile women all learn early on to hide the internal rage at having to work with this man for eternity.November 15, 2017
See more
Another messaged: "Ben Affleck casually making a joke about the sexual assault allegations in Hollywood is like Next level trash and I wish Ezra [Miller] would've clocked him since he was sitting the closest to him."
The Argo director's comment comes a month after he spoke out against Harvey Weinstein in the wake of the ongoing sexual harassment scandal surrounding the film producer.
In his statement posted on Facebook, Affleck wrote: "I am saddened and angry that a man who I worked with used his position of power to intimidate, sexually harass and manipulate many women over decades."
A week later, friend and colleague Matt Damon revealed that both he and Affleck were aware of Weinstein's harassment Affleck's ex-girlfriend Gwyneth Paltrow.
The 43-year-old was also forced to apologize to former TRL presenter Hilarie Burton after footage emerged of him behaving inappropriately with the star.
Katie O'Malley is the Deputy Digital Editor, at ELLE UK. On a daily basis you'll find her managing all digital workflow, editing site, video and social media content, liaising with commercial and sales teams on new partnerships and deals, implementing new digital strategies and compiling endless data traffic, SEO and ecomm reports. Since joining in 2016, Katie has written features on everything from sex addiction, and the use of tear gas during protests to virtual cuddling, 'friendship fade' and access to contraception post Brexit. Her list of interviewees over the years include those with Oprah Winfrey, Benedict Cumberbatch, Reese Witherspoon, Emma Stone, Zoe Kravitz etc.