America Ferrara Is Pregnant and She Announced It in the Most Adorable Way
Mas besos!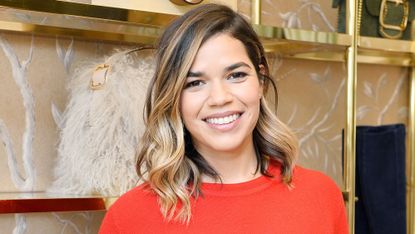 (Image credit: Getty Images)
America Ferrara is pregnant! Your favorite sister of the traveling pants has confirmed that she and husband Ryan Piers Williams are expecting their first child together.
America shared the news on Instagram with a photo of her and Ryan holding a "Más besos (por favor)" onesie, along with the caption, "We're welcoming one more face to kiss in 2018! Wishing you #MásBesos in the New Year! #babybesos #HappyNewYear."
Ryan reposted the image with the caption, "Making room for new and beautiful things to come in 2018!#happynewyear."
Happy New Year to America, Ryan, and their soon-to-be tiny bebe!
I write on Fox's THE GREAT NORTH. Before that, I wrote and edited for Cosmopolitan magazine and the Jezebel blog. My writing has also appeared in the New York Times, The New Yorker, Esquire, VICE, Marie Claire, McSweeney's, California Sunday, BUST, Elle, Village Voice, Harper's Bazaar, LA Weekly, Eater, Fast Company, Mic, Atlas Obscura, and more. I co-host/co-produce a comedy/storytelling show on the first Friday of every month at Stories in LA. I have a degree in Film and TV from NYU's Tisch School of the Arts.