Ewan McGregor's Wife Eve Responds to Speech in Which He Thanked Her *and* His New Girlfriend
The awkward moment took place at last weekend's Golden Globes.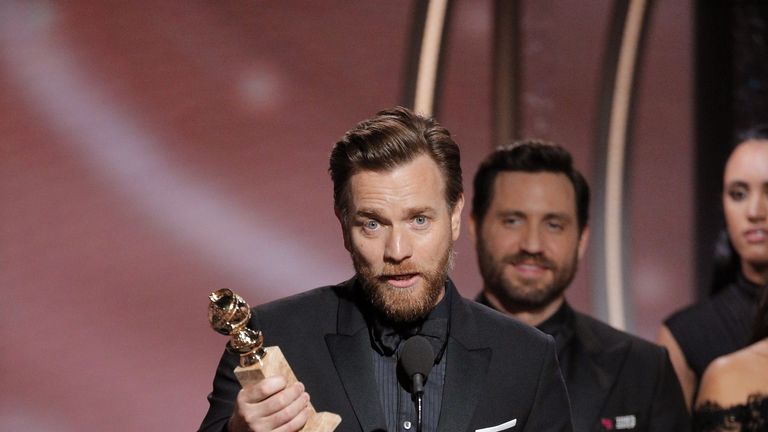 (Image credit: Getty Images)
Ewan McGregor is a brave man. Last Sunday, while accepting his Golden Globe, he thanked both his wife and his girlfriend in his acceptance speech.
The 46-year-old won the Best Actor in a Limited Series award for playing twins Emmit and Ray Stussy in Fargo Season 3. And he decided it would be a good idea to give a shout-out to his estranged wife, Eve Mavrakis, *and* his new girlfriend, and Fargo co-star, Mary Elizabeth Winstead.
In his speech, McGregor said, "I want to take a moment to just say thank you to Eve, who always stood by me for 22 years, and our four children, Clara, Esther, Jamyan and Anouk."
He then went on to mention his 33-year-old girlfriend, who plays his character Ray's girlfriend, Nikki Swango, in Fargo. He said, "I've always loved being an actor, and I got amazing actors to hang out with, and there wouldn't have been any Emmit without David Thewlis and Michael Stuhlbard and Carrie Coon."
And he concluded his speech with this sweet tribute: "And there wouldn't have been any Ray without Mary Elizabeth Winstead."
Viewers recoiled in awkwardness as he acknowledged both women in his life, and people on Twitter couldn't help but comment, calling it "gutsy" and "ballsy" to mention both women.
Now, Mavrakis has spoken briefly to reporters about how it made her feel. When approached about the subject this week near her home in Brentwood, LA, Mavrakis said, "No, I did not like his speech."
The Mirror reports that following reporters' questions as to why, she replied, "For the same reasons you are here asking me about it. I am not going to say any more."
In a picture posted to Instagram on New Year's Day, Eve made a point that her family no longer appeared to include McGregor:
"This will be our Christmas/New Year card. Happy 2018! I am so thankful for my loving, caring girls," Mavrakis wrote.
The former couple's eldest daughter, Clara, posted the same photo, also alluding to Ewan's elimination from the family, since he left his wife for 33-year-old actress Mary Elizabeth Winstead. She wrote, "My lil family of women 🌹 thank you @evemcgregor123 we owe it all to you."
News that McGregor was separating from Mavrakis came in October when photos of him kissing Winstead started doing the rounds.
Anna Lewis is the News Editor at Delish UK, which means she's always either writing about food, cooking food or eating food. Anna is in charge of Delish UK's epic food news output, ensuring you're always up-to-date with the latest product launches, food trends, and restaurant news. She specialises in Slimming World recipes, but she'll eat just about anything – ideally gherkins or ice-cream sandwiches (but not together).