The Queen Reveals That Princess Charlotte Is the Dominant Kid at Home
Even though she's younger than George.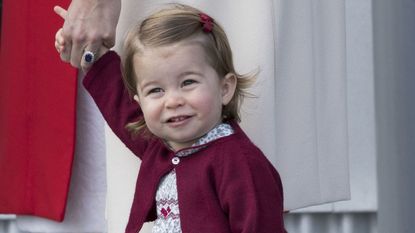 (Image credit: Getty images)
Princess Charlotte is still fully in charge in the Cambridge household, as the Queen has just reaffirmed during a royal engagement in Sandringham.
Today, Her Majesty was presenting a young pupil named Emily Clay from a local primary school on her Norfolk estate with a signed bible as part of a religious studies award.
When the Monarch asked the 10-year-old student whether she "looked after" her little sister, who was also attending the ceremony, Emily's mother Ellen Clay joked that it was the other way around.
The Queen couldn't help but remark that it was much the same with Queen Charlotte, 2, and her big brother Prince George, 4.
"She [the Queen] asked if Emily looked after Hadleigh and I said it was more the other way round," proud mother Ms. Clay said of her encounter with the monarch (via the Mail Online).
"She said it was like that with Princess Charlotte and Prince George."
Emily's father Mr. Clay added: "The Queen was implying that Charlotte keeps an eye out for George rather than the other way around."
"It is often the case that a younger child is more confident. It is second child syndrome."
Last year, the Duchess of Cambridge had disclosed that Charlotte, who recently started her first day at Nursery in London's South Kensington, happily rules the roost at home, and isn't afraid to take charge of George.
Samantha Burge, who had met Kate at a war memorial unveiling in March last year, relayed their conversation to People: "She [Kate] said that Charlotte is growing up really fast. She is the one in charge. We have both got 2-year-olds and they are ruling the roost. It was a bit of a mummy chat. [She said] they are both becoming really good friends, George and Charlotte."
As Kate and Prince William are expecting their third child in April, it's all good practice for the soon-to-be big sister Charlotte.
Naomi Gordon is news writer mainly covering entertainment news with a focus on celebrity interviews and television.