Everything You Need to Know About This Weekend's Royal Wedding
A prince (and Grace Kelly's grandson) married an Italian aristocrat in Monaco today.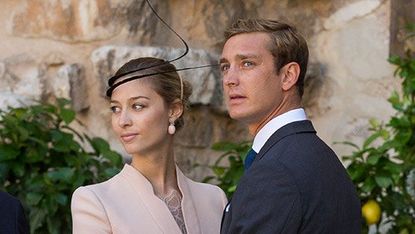 (Image credit: Archives)
Update, 7/25: Pierre Casiraghi and Beatrice Borromeo officially tied the knot this morning in an intimate civil ceremony. The bride arrived for her big day in a vintage white Bentley before exchanging 'I do's' at Monaco's Pink Palace. Joining them were Casiraghi's uncle, Prince Albert, and his mother, Princess Caroline—both children of the iconic Grace Kelly—in addition to his siblings, Andrea and Charlotte.
According to People (opens in new tab), the nuptials took place in the Salon des Glaces at the Pink Palace and was performed by the principality's Justice Minister Philippe Narmino. The guest list (opens in new tab) for the ceremony was limited to close friends and family, totaling only 70 attendees. For the reception, however, the newlywed couple opened up the celebration to upwards of 500 guests for an informal Monégasque party, hosted by Prince Albert in the palace gardens.
Original Post, 7/24:There's truly nothing better than a royal wedding (except, perhaps, a royal baby): The dresses are big, the guests are fancy, and the cake just tastes better (we'd assume) and probably has no calories, is made of gold, and gets delivered to guests by magical peacocks. The best! So, good news: There's a big ol' royal wedding happening this weekend! HOORAY! Here, everything you need to know about the shmancy nuptials so you can start celebrating appropriately:
WHO: Pierre Casiraghi and Beatrice Borromeo
The Groom: Pierre Casiraghi
Casiraghi is the son of Princess Caroline of Monaco and the grandson of Grace Kelly and Prince Rainier. He's seventh in line for the Monégasque throne, and according to Wikipedia (opens in new tab), is fluent in French, Italian, and English (with a bit of German in there for good measure), and plays the saxophone. People reports that Casiraghi will attend the party portion of this weekend's events "dressed as a horseman from France's Camargue marshes." Festive!
The Bride: Beatrice Borromeo
Borromeo comes from some pretty fancy lineage too. She's the daughter of Italian aristocrats—her father is a count—whose family tree includes an actual cardinal saint. (NBD.) The Milanese family has also owned numerous islands in Lago Maggiore in Northern Italy since the 17th century, including the one where the couple will hold their wedding reception next weekend. (Did we already say NBD?) Borromeo herself is a journalist who got her law degree in Italy before attending Columbia University's Graduate School of Journalism in New York City. She's a television personality in Italy and apparently a supporter of fascinators:
Plus, she already has princess-worthy style:
The Guests: 700 of the couple's nearest and dearest
People reports the laid-back party following the couple's civil ceremony will be attended by a cool 700 guests, including the groom's aunt and uncle, Princess Charlene and Prince Albert, brother, Andrea, and sister, Charlotte.
WHAT: A Civil Ceremony and Laid-Back Garden Party
The civil ceremony: According to People, the deed will be done in Monaco, "in the Pink Palace's Salon des Glaces, the formal gold-leafed reception room reserved for the reigning sovereign's official family functions." The ceremony itself will only last about 20 minutes, after which the newlyweds will descend to the palace's gardens where the cavagnetu, a.k.a. an informal Monégasque garden picnic, will be waiting.
The Laid-Back Garden Party: "It's going to be a summer garden party, a finger-foods-for-lunch thing," Prince Albert told People. "With buffet tables and drinks, there'll be places for guests to sit, but it's going to be mostly informal." There will also be music, dancing, pétanque, and embarrassing toasts. The dress code is "cocktail attire" (which, can you even IMAGINE the pressure...what qualifies as royal cocktail attire?!).
WHERE: Monaco...for starters
The Civil Ceremony: You guys, pay attention, we just talked about this! Monaco, Grimaldi Palace, gardens, remember? Incidentally the gardens were redesigned by Casiraghi's grandmother, Grace Kelly, so there's some extra Hollywood caché there. "It was an old greenhouse area when [Kelly] married," a source tells People, "and because [Albert's father Prince] Rainier worked in the palace during summer, Grace decided to convert it, make it more like homes she knew in America where people enjoyed a patio lifestyle." There's also a zoo on the grounds, so people can hang with the family's collection of monkeys and birds if they get bored.
The PARTY Party: This is a royal wedding, you didn't think they'd settle for finger food and bocce, did you? Next Saturday the real party begins at the bride's parents' place: The Borromean Islands in Italy's Lake Maggiore. There, Pierre and Beatrice will have a bigger, religious ceremony, and probably a blowout reception. Because, PRIVATE ISLAND, PEOPLE. The Borromeo Palace on Isola Bella is where the party will reportedly take place and it's nice. Like, really nice. Like, it looks like this:
Yeah.
Security will be tight (royals!) with "a ring of security surrounding the island," a source told Page Six. (opens in new tab)
WHY: LOVE!
Love: I mean, look at these two. They've been dating since 2008 and are just so darn attractive. (Also, this will be one epic wedding hashtag.)
HOW: $$$
$$$: Just so much #royal $$$.
Sally is the Editor in Chief of Marie Claire where she oversees coverage of all the things the Marie Claire reader wants to know about, including politics, beauty, fashion, and celebs. Holmes has been with Marie Claire for five years, overseeing all content for the brand's website and social platforms. She joined Marie Claire from ELLE.com, where she worked for four years, first as Senior Editor running all news content and finally as Executive Editor. Before that, Sally was at NYMag.com's the Cut and graduated with an English major from Boston College.