Serena Williams Battles to (More) Greatness at the U.S. Open
She's only five wins away from taking all this year's Grand Slam tennis titles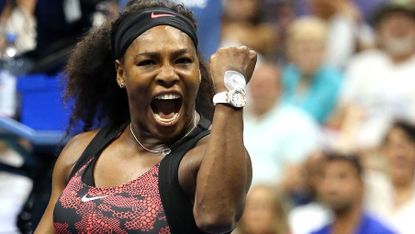 (Image credit: Archives)
"Keep it going. #onamission," Serena Williams tweeted on Friday, hours before taking on neon-orange-haired Bethanie Mattek-Sands in round 3 of the U.S. Open. The match comes two days after Williams narrowly avoided an upset in a 7-6, 6-3 error-filled match against 23-year-old Dutch qualifier Kiki Bertens in round 2. But she pulled through, and continues her mission toward becoming the first woman to win all four Grand Slam tennis tournaments in a single year. She would (or will, since we're talking Serena) be the first to pull off the accomplishment since Steffi Graf in 1988.
Her first round was quite the opposite of the second, as Williams was on the court for only 30 minutes and didn't drop a singe game against Vitalia Diatchenko. Despite the shakiness in round two, and only five games short of taking the Grand Slam, Williams has little fear of Mattek-Sands when they face off Friday night.
"Knowing that she's capable of having big wins kind of relaxes me because I know she's going to come out and I know what to expect. She's going to give 300 percent. She's a huge fighter," Williams told the New York Times.
In the meantime, writers compare her to past greats, her influence on wider culture, and, inevitably, her legacy. We'll just keep watching in awe.