Chelsea Clinton Gives Birth to Her Second Child, a Baby Boy
You're going to LOVE his name.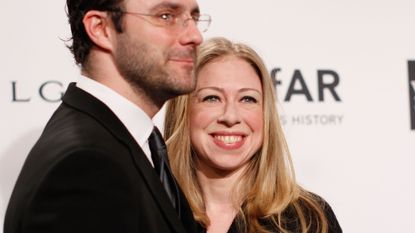 (Image credit: Getty Images)
Update 6/9: Proud grandparents Hillary and Bill Clinton have shared their joy over Chelsea and Marc's new baby on social media. Bill was particularly happy as little baby Aidan was born just one day before Father's Day. See how they welcomed the newest member of the family:
What a joy being with our new grandson, Aidan. So grateful. -H pic.twitter.com/0687tOERezJune 19, 2016
See more
Aidan has made two dads very happy this Father's Day. Hillary and I are thrilled for Marc and Chelsea! pic.twitter.com/vPuwDA3LvrJune 19, 2016
See more
Original: Congratulations are in order for Chelsea Clinton and her growing family! The daughter of former president Bill Clinton and current Democratic candidate Hillary Clinton welcomed a baby boy with husband Marc Mezvinsky on Saturday, announcing the happy news on Twitter:

"Marc and I are overwhelmed with gratitude and love as we celebrate the birth of our son, Aidan Clinton Mezvinsky," she wrote.
Marc and I are overwhelmed with gratitude and love as we celebrate the birth of our son, Aidan Clinton Mezvinsky.June 18, 2016
See more
This is Clinton and Mezvinsky's second child. Their first is daughter Charlotte Clinton Mezvinsky, born in September 2014.
[twitter ]https://twitter.com/ChelseaClinton/status/679329485339017216[/twitter]
This also makes Bill and Hillary Clinton grandparents twice over. They, too, expressed their excitement over the newest addition to the family in a joint statement.
"We are overjoyed to be grandparents again with the arrival of our grandson Aidan Clinton Mezvinsky, born on Saturday, June 18, 2016. We are all over the moon as Chelsea and Marc welcome Charlotte's little brother to the world and grateful for our many blessings. Chelsea and Aidan are both doing well and enjoying this very special time together."
Statement from @HillaryClinton & @billclinton on the birth of their second grandchild pic.twitter.com/s4vZ7DZrorJune 18, 2016
See more
Hillary Clinton has been especially vocal about the joys of being a grandmother. "Until it happened to me, I just could not understand the impact," she said earlier this month. "It is truly like falling in love all over again. There is nothing like it… It has for me been an absolutely life changing experience."
It's proving to be a very big year for the Clinton-Mezvinsky family!
I am an experienced editor, writer, and creative strategist, specializing in fashion, beauty, and lifestyle content for digital media outlets, as well as video and social platforms. While I currently operate as a freelance contributor/consultant, with such clients as The Zoe Report, my 10+-year background in the industry was cultivated at the dot-coms of elite publications, including Harper's BAZAAR, ELLE, and Marie Claire.