10 Rumored Feuds Between Co-Stars
Dreams. Crushed.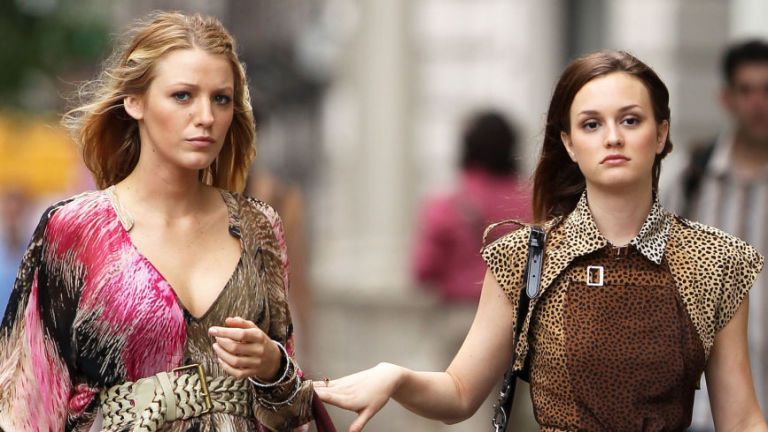 (Image credit: Getty Images)
The whole point of watching a TV show or movie is to get yourself so wrapped up in the characters that you believe everything about them and their lives is real, right??? (Otherwise, I wouldn't get into heated arguments over who Rory Gilmore's boyfriend should be.) But even when co-stars present themselves as super close on the big screen, it doesn't necessarily mean they're hanging out IRL. Read on to discover 10 actors and actresses who were rumored to be feuding on (and off) set.
1. Lea Michele and Naya Rivera
These Glee stars have inspired some epic rumors, including one that Naya was fired from the set per Lea's request. (Definitely not true, BTW. (opens in new tab)) Lea brushed off the allegations when asked about it on David Letterman, but when Glee star Chris Colfer was asked about the feud on Watch What Happens Live (opens in new tab), he simply said, "Ask them. I'm so tired of Glee rumors."
2. Ryan Gosling and Rachel McAdams
This one is extra confusing considering the two dated and shared this amazing kiss at the MTV Movie Awards:
But Nick Cassavetes, the director of The Notebook, revealed that the two were not very amicable on set, according to VH1 (opens in new tab). Cassavetes said:
Maybe I'm not supposed to tell this story, but they were really not getting along one day on set. Really not. And Ryan came to me, and there's 150 people standing in this big scene, and he says, "Nick come here." And he's doing a scene with Rachel and he says, "Would you take her out of here and bring in another actress to read off camera with me?" I said, "What?" He says, "I can't. I can't do it with her. I'm just not getting anything from this." We went into a room with a producer; they started screaming and yelling at each other. I walked out. At that point I was smoking cigarettes. I smoked a cigarette and everybody came out like, "All right let's do this."
3. Chad Michael Murray and Sophia Bush
It's no secret that these two met on the set of One Tree Hill, got married, and then separated five months later (opens in new tab). Even though the two split, they had to go on working with each other (opens in new tab) (which is pretty much the worst way to get over an ex). Years later, when Sophia was on Bravo's Watch What Happens Live (opens in new tab), she was asked whether the two still talk. She responded by saying, "My mother once said to me that if you don't have anything nice to say, not to say anything at all."
4. Blake Lively and Leighton Meester
They had the most ridiculous on-again-off-again relationship as the characters Serena Van Der Woodsen and Blair Waldorf on Gossip Girl—and there was always talk that the two didn't get along IRL either. When Cosmopolitan (opens in new tab) asked Leighton whether the two were friends or frenemies, she said that the two don't hang out together but denied any outright animosity. So that's that! xoxo.
5. Patrick Swayze and Jennifer Grey
NOBODY PUTS BABY IN A CORNER! Unless you're Patrick Swayze writing about Jennifer Grey in your autobiography. The two had major chemistry in Dirty Dancing, but Patrick revealed (opens in new tab) that he didn't always love working with Jennifer:
We did have a few moments of friction when we were tired or after a long day of shooting. [Grey] seemed particularly emotional, sometimes bursting into tears if someone criticized her. Other times, she slipped into silly moods, forcing us to do scenes over and over again when she'd start laughing... I didn't have a whole lot of patience for doing multiple retakes.
Watch Patrick share even more about their relationship:
6. Janet Hubert and Will Smith
Janet Hubert, better known as Aunt Vivian on Fresh Prince of Bel-Air, has continued to feud with Will Smith all the way up until this year. Janet left the show after three seasons, and according to E! News (opens in new tab), Will Smith spoke about the feud on a radio show in 1993, saying:
I can say straight up that Janet Hubert wanted the show to be The Aunt Viv of Bel-Air Show because I know she is going to dog me in the press. She has basically gone from a quarter of a million dollars a year to nothing. She's mad now but she's been mad all along. She said once, "I've been in the business for 10 years and this snotty-nosed punk comes along and gets a show." No matter what, to her I'm just the Antichrist.
Earlier this year, Janet Hubert made a video in response to Jada Pinkett Smith's comments (opens in new tab) about the lack of diversity at the Oscars. In her video, Janet also called out Will for not helping her and the rest of the Fresh Prince cast secure a raise back in the day. Skip to 1:55 in the video below, and watch her explain what happened:
7. Sarah Jessica Parker and Kim Cattrall
These two Sex and the City co-stars were supposedly feuding during the years they played Carrie Bradshaw and Samantha Jones, respectively. In the June 2010 issue of (opens in new tab)Marie Claire (opens in new tab), Sarah Jessica commented on the rumors, saying, "When you're on set, you're working 90-hour weeks, you're never home, you're exhausted. There are times when all of us have been sensitive, and sometimes feelings get hurt. But I don't have any regrets about how I've treated people."
8. Nicki Minaj and Mariah Carey
These two American Idol judges might not have been co-stars per se, but the two definitely caused some drama on the show (or were used by producers to create the illusion of drama). The women were videotaped arguing during AI auditions, and Nicki ended up saying (opens in new tab), "I told them, I'm not fucking putting up with her fucking highness over there." There was more fighting and eventually an explanation from Nicki on Ellen:
9. Nicollette Sheridan and Teri Hatcher
According to E! News, (opens in new tab) Marc Cherry, the creator of Desperate Housewives, testified in court that he had to intervene in a fight between the two actresses. Marc also said that Nicollette referred to Teri as "the meanest woman in the world." Maybe not exactly what you want to hear from your co-star...
10. Ariana Grande and Jennette McCurdy
Remember Sam and Cat, the Nickelodeon show that was basically the hybrid of iCarly and Victorious? Well once the show started to end, rumors spread that things weren't so great between the two main stars, Ariana and Jennette. Then The Hollywood Reporter (opens in new tab) said that "Nickelodeon Cancels Sam & Cat After Behind-the-Scenes Drama." So vague, yet so suggestive. Jennette cleared up some of the rumors in an interview with E! News (opens in new tab), saying the two "butted heads at times but in a very sisterly way."
Follow Marie Claire on Facebook (opens in new tab) for the latest celeb news, beauty tips, fascinating reads, livestream video, and more.
Madison is a staff writer at ELLE.com, covering news, politics, and culture. When she's not on the internet, you can most likely find her taking a nap or eating banana bread.