Nick Jonas's Body Language Around Fiancée Priyanka Chopra and Ex Olivia Culpo Looks Way Too Similar
A body-language expert investigates.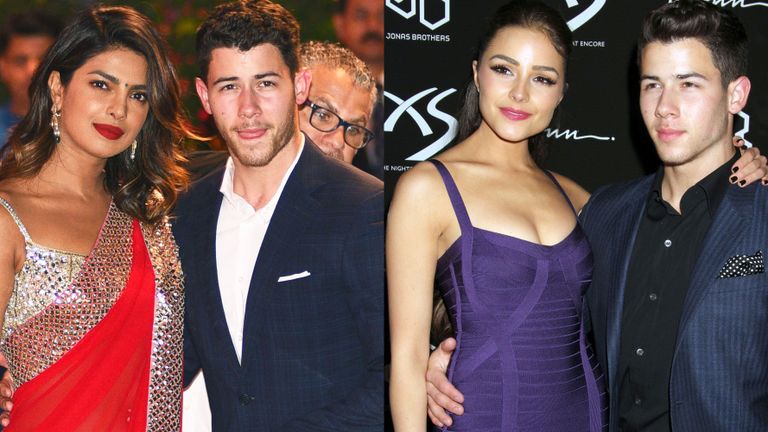 (Image credit: Getty Images)
You know what they say about love—"they" being Justin Bieber, Ariana Grande, and Emily Ratajkowski, all of whom recently committed to marriage after short dating stints: "When you know, you know."
Although Nick Jonas and Priyanka Chopra just joined the we've-only-been-dating-for-a-hot-sec-and-now-we're-engaged club, Nick might not be as decisive as other stars who've been quick to commit, according to body-language expert Blanca Cobb. That's because, after comparing his interactions with his new fiancée and ex-girlfriend, Olivia Culpo, he looks just as into both women, she says.
Nick, 25, has been linked to quite a few partners, but his longest and most serious girlfriend was Olivia, the now-26-year-old model and beauty queen he was seeing when he first removed his purity ring. The duo began dating in 2013 and lasted through spring 2015. Although Olivia allegedly expected an on-screen engagement in January 2015, their relationship ultimately reportedly fizzled due to the difficulty of their long-distance arrangement, although "they still love[d] and care[d] about each other and only want the best for one another," E! News reported.
Nick and actor Priyanka, 36, made their first public appearance on a friend date to the Met Gala in May 2017. Rumors of their romantic involvement swirled in May 2018, two months before Nick shut down a Tiffany's down to buy her an engagement ring.
To determine whether his new bond with Priyanka is as strong as the relationship he shared with Olivia, which lasted much longer, look no further than the photos below:
Nick Puts His Arm Around Olivia
Above, Nick and Olivia make intense eye contact with their bodies turned toward and pressed against each other. They're not just standing close—Nick wraps his arm around Olivia's waist, pulling her in. "It shows he's really feeling it. You never want to get too close to someone who you're not emotionally close to," Cobb says.
Nick Puts His Arm Around Priyanka
Neither Nick nor Priyanka look desperate to ravish each other à la Olivia and Nick above: There are at least a couple inches of space between their bodies. "He's making up for it by pointing his feet and torso and dropping his right shoulder just a hair to get closer to her," Cobb says of Nick. And actually, both Nick and Priyanka subtly angle their bodies toward one another—a good sign, since mimicking one another suggests that a couple is in sync.
As for their facial expressions? No, they don't look thrilled to have their photo taken at this moment. However, "their facial expressions are mirror images of each other, so there's an emotional connection there," Cobb says.
She also points out the comfort that's evident in this photo: Look at both Priyanka and Nick's hands, and you'll see absolutely no tension in their fingers. "I definitely think they have a connection here," Cobb reiterates.
Nick and Olivia Maintain Physical Contact
Above, Olivia is reaching out to Nick who, by the looks of his feet pointing in different directions, appears to be conflicted about his next move. Because touch is one way to maintain your connection and provide or receive support, according to Cobb, Olivia, who looks way more comfortable with an easy smile and no tension in her face, is really stepping it up to ground Nick during an awkward moment.

Despite his stance, Nick's hands look relaxed. Could Olivia be keeping him calm here? "Touch is a good sign, and it doesn't look like he's pulling away," Cobb says.
Nick and Priyanka Maintain Physical Contact
Here, Nick is being chivalrous by walking a step behind Priyanka, all without letting her go. "It's like he's guarding her from behind," Cobb says, noting the way Nick plants his hand on Priyanka's left hip. "The hip hold is pretty intimate—you have to have a bond with someone, and be attracted to them, to touch such a private body part," she says. "You don't do it with just anybody, but someone you feel close to."
Meanwhile, Priyanka appears to be reaching behind her to make even more skin-to-skin contact, possibly reaching for Nick's hand. "If she is reaching for him, it's a way to express, 'We've got this, we're in this together, and I want to make sure you're back there,'" Cobb says, applauding the way this couple appears to use physical connection to feel better in what appears to be a crowd. "It's a silent way to say, 'I love you.'"
Nick and Olivia Interlock Fingers
"They are mirror images of each other," Cobb says, repeating an earlier sentiment she applied to Nick and Priyanka. There's no doubt whether the description applies: Olivia and Nick both lead with their right legs, their strides are similarly spaced, and they display polite smiles while gazing down. They also interlace their fingers, which enables each partner to cover more skin surface area. "There's a level of closeness here," Cobb says.
Nick and Priyanka *Also* Interlock Fingers!
"These are very similar," Cobb says of the photo of Nick holding hands with Priyanka and the one of him hanging onto Olivia. "In both, he's leading, he's holding items in his outside hand so nothing serves as a blocker, and while it's hard to see with Priyanka, their fingers are interlocking."
The biggest differences, she says, involves their stride—"it's about to be off, since his right foot is lifting up while hers is still on the ground"—and their facial expressions: "She has a little more of a smile, while he looks more serious," Cobb says. "But this doesn't always tell you much about a couple's connection, and it's no big deal if two people respond differently to the same situation, like flashes from lots of cameras."
"Their body language is similar," Cobb says of interactions between Nick and his old and new partners. "I'm not seeing any huge red flags for him and Olivia—there's love and affection in all the photos of them. Sometimes, problems that drive partners away are more internal than external. It's not always clear cut."
If one thing is for sure, Nick's baseline behavior with women he cares for is consistent. Clearly!
Elizabeth Narins is a Brooklyn, NY-based writer and a former senior editor at Cosmopolitan.com, where she wrote about fitness, health, and more. Follow her at @ejnarins.