Kendall Jenner Just Posted Some Very BDSM-y Pictures on Instagram
Kendall Jenner posted a series of pictures of herself in a BSDSM-inspired outfit to Instagram.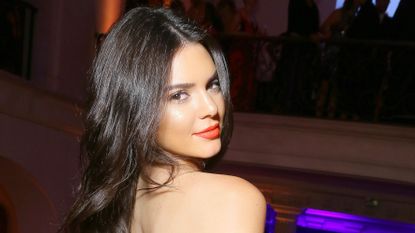 (Image credit: Victor Boyko)
Is your Saturday feeling a little bland and blah? Well, here's Kendall Jenner in full BDSM gear to spice it up, if that's the kind of thing you consider...spicy?
Kendall posted a series of pictures of herself in a very "do what mistress says" kind of ensemble on Instagram today. In the photos, you can't see Kendall's head, but her pet doberman is clearly photographed, staring up at her like, "Hey, that's quite a lewk, mom." Kendall, leaning into the sexy, BDSM theme, captioned the series of shots, "listen to momma."
So, let's talk a little about this outfit, which, TBH, is sexy AF. First, we have a red leather (or possibly pleather or maybe even spandex—whatever the material, it is tight and it is shiny) one piece leotard. Under the leotard are a pair of black, Louis Vuitton-patterned, sheer tights. Kendall accessorized the look with black stilettos (because, honestly, what else goes with this look, white Keds?) and a leash, which is ostensibly for the dog, but who really knows?
The three shots include a head-on picture that's very NSFW in the crotch reason, a slightly angled version of the same picture, and finally, a black and white version with Kendall leaning against the car. The last shot is, of course, a total waste because if you can't see the fire engine red of the leotard, why even bother, right?
Kendall is no stranger to nearly-naked Instagram posts (opens in new tab). Last July, the model posted a shot with an impressive amount of under boob.