Prince George Waves Goodbye to His Canadian Fans, Breaks Your Heart
Please don't go, Prince George!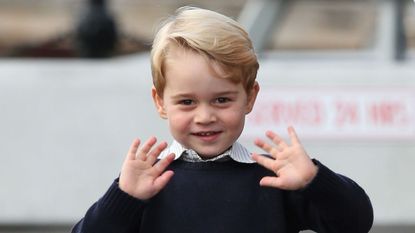 (Image credit: Getty Images)
I'm not sure if there's anything in this world that is cuter than Prince George. You could put a basket of puppies in front of me, and Prince George in front of me, and I'd still struggle to pick the puppies over the prince. (Well, maybe.)
The little royal was at peak cuteness during his recent visit to Canada. Adorableness abounded at every moment, from his refusal to high five Justin Trudeau upon arrival to his uncontrollable enthusiasm over bubbles, to his super-cute farewell on Saturday.
The Duke and Duchess dressed their precious youngsters in coordinating outfits for their departure yesterday afternoon, and per usual, Prince George stole the show. This kid has a future as a politician or diplomat for sure. Not only is he the most likable of all the royals, he's also got the wave down to an art. Let's examine:
He started off a little unsure, like, 'Is this what I'm supposed to be doing?'
This face. LOL.
Then he got a bit more comfortable, started to loosen up a bit.
So cool. So casual.
Excitement builds...
Look, ma, two hands!!!
"Aw, stop it, you guys are too much," says Prince George to his Canadian fans. (I'd imagine.)
Charm level 100.
Heart officially melted.
Clearly, Princess Charlotte is taking cues from her big brother. She got in on the wave action too, and proved she's a total natural.
Prince George gave us once last gift of cuteness before jetting off: His adorable face smushed against the airplane window.
Farewell, Royal Fam! Come visit us in America next time, please.
Follow Marie Claire on Facebook for the latest celeb news, beauty tips, fascinating reads, livestream video, and more.
I am an experienced editor, writer, and creative strategist, specializing in fashion, beauty, and lifestyle content for digital media outlets, as well as video and social platforms. While I currently operate as a freelance contributor/consultant, with such clients as The Zoe Report, my 10+-year background in the industry was cultivated at the dot-coms of elite publications, including Harper's BAZAAR, ELLE, and Marie Claire.