10 IRL Scandals That Got Actors Written Out of TV Shows
Includes real-life shin-kicking.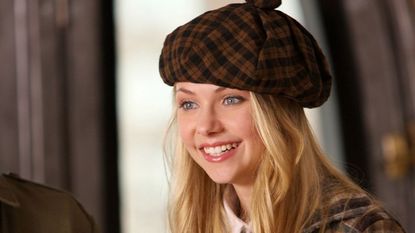 (Image credit: Archive)
It's one thing to quit a show in a tantrum, but quite another when the show quits on you. Bad behavior, bad attitudes, bad blood, bad luck; there are any number of things that can lose an actor their spot in the closing credits. Here are twelve of the more memorable times that networks tore up the contract.
1. Isaiah Washington, Grey's Anatomy
After two years as the stern, smoldering surgeon Dr. Preston Burke, trouble began brewing at Seattle Grace Hospital. Specifically, rumors began floating that he had directed homophobic language at co-star TR Knight. He publicly apologized for his "unfortunate use of words," but later denied he had ever "called TR a faggot."
Knight, however, said he had used the slur in an interview with Ellen DeGeneres, and Washington went on to apologize again, but explained that it was during an argument with co-star Patrick Dempsey, who he felt was treating him like a… Well, you get the picture.
The show didn't renew his contract that June. Washington's considered, official statement was "I'm mad as hell and I'm not going to take it anymore."
(Yes, it's a reference to Network, but still.)
2. Thomas Gibson, Criminal Minds
As Aaron "Hotch" Hotchner, Gibson managed to get along with the cast and crew of Criminal Minds for 11 seasons more or less (he had to get anger management therapy after pushing a producer), but after just two episodes of the twelfth, his temper flared once more and he—wait for it—kicked a writer in the shin during a dispute over the script.
"There were creative differences on the set and a disagreement," he admitted. "I regret that it occurred." Too right—the show canned him and Hotch was sent off to "do some consultancy."
3. Michelle Rodriguez and Cynthia Watros, Lost
One Dec. 1, 2005, both Michelle and Cynthia were cited in Hawaii (where Lost was filmed) for driving under the influence. Michelle had already served time for DUI, and been arrested three times for speeding in Hawaii while filming the show. While producers claimed her character Ana-Lucia was only ever intended to be on the show for a year and was about to get killed off anyway, it was quite the coincidence that she got the heave-ho in the same episode as Cynthia.
4. Charlie Sheen, Two And A Half Men
Charlie Sheen's dismissal from Two And A Half Men played out in the media like no other, as he went on (and on and on) record criticizing his producer Chuck Lorre. He got shown the door immediately, and was replaced by Ashton Kutcher. Also he got hit by a piano in the show's finale, remember?!
5. Nicollette Sheridan, Desperate Housewives
After being cut from the cast of Desperate Housewives, Sheridan filed a lawsuit against the show's creator Marc Cherry alleging assault, and claiming that she had been fired for bringing this assault to the attention of the network. At the eventual court hearing, however, the assault charge was dismissed and, subsequently, Sheridan's claim of wrongful dismissal was rejected. She has been pursuing the case through the appeals courts since then.
Whatever happened, it's fair to say that Desperate Housewives was not a happy set.
6. Gary Dourdan, CSI
According to all official sources, Dourdan (whose character Warrick was shot dead) and the show were parting amicably and by mutual agreement. But behind the scenes, rumors circulated of "personal problems."
In the year Dourdan left the show he was arrested for possession of cocaine and ecstasy; three years later he was charged with possession of drug paraphernalia after crashing his car, and four months later he was arrested for assaulting his girlfriend and breaking her nose. He was sentenced to five years probation, a year of domestic violence counseling and drug counseling. He filed for bankruptcy the year after.
7. Lisa Bonet, The Cosby Show
Bonet was fired from The Cosby Show over "creative differences" in 1988, widely understood to be down to Bill Cosby disapproving of her appearing in a sex scene in the movie Angel Heart, which went against the ethos of his "family show." Huh.
8. Taylor Momsen, Gossip Girl
Sure, it looked like the usual case of child-star acting out, but poor Jenny Humphrey dealt with a lot on Gossip Girl; in real life Taylor Momsen wasn't so much going off the rails as jumping onto a different train. Her heart was apparently no longer in acting, and she dedicated all her time to her rock band The Pretty Reckless instead of the show.
Sources on the Gossip Girl set alleged that "when she did show up she wasn't very level-headed," and that she was eventually fired for being "unreliable and erratic." That's rock 'n' roll.
9. Jay Thomas, Cheers
Eddie LeBec, the French-Canadian hockey-playing husband of Rhea Perlman's Carla, was a regular supporting character on the show for several seasons. Then actor Jay Thomas gave a radio interview in which he said the show was "brutal—I have to kiss Rhea Perlman."
His character was almost immediately killed off off-screen by a Zamboni. (One of those kooky ice-rink polishing machines.)
10. Robert Downey Jr, Ally McBeal
Robert Downey Jr had a history of substance abuse by the time he was hired by Ally McBeal. Between 1996 and 2001 he was arrested repeatedly for possession of cocaine, marijuana and heroin, as well as firearms offenses and one memorable arrest for breaking and entering into a neighbor's house and going to sleep in their bed.
The producers of the show gave him another chance, but his second arrest since being hired—for walking around Culver City barefoot while under the influence of cocaine—was the final straw. And then he cleaned up, became Iron Man and owned Hollywood.
And they all lived happily ever after. Well, Robert did, anyway.
Follow Marie Claire on Facebook for the latest celeb news, beauty tips, fascinating reads, livestream video, and more.
Celebrity news, beauty, fashion advice, and fascinating features, delivered straight to your inbox!