Ryan Reynolds Doesn't Mind Blake Lively Kissing Other Actors on Screen
The actor explains what he learned from his wife and how he adjusted to becoming a father.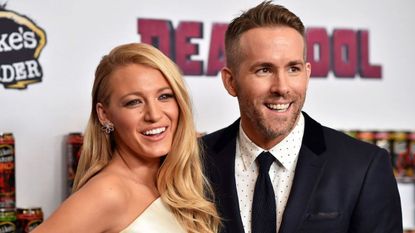 (Image credit: Getty Images)
Marie Claire Newsletter
Celebrity news, beauty, fashion advice, and fascinating features, delivered straight to your inbox!
Thank you for signing up to Marie Claire. You will receive a verification email shortly.
There was a problem. Please refresh the page and try again.
Ryan Reynolds might be living "in the doghouse" for joking that his costar Jake Gyllenhaal is a better cook than his wife Blake Lively, but he confessed (seriously this time) that he has learned a lot from her after being married for more than four years. In a recent interview with Elle, the Deadpool star had trouble narrowing down just one of Lively's best lessons. "Alphabetical or chronological?" he joked.
Ultimately, he went with something simple but useful. It turns out the actress is a better handyman than he is. "She's as handy as any home-improvement character you'd ever meet," Reynolds explained. "Her mom will say, 'Ryan, how do I back up this hard drive?' And I'm just looking at her going, 'You're asking the wrong person. Blake is right there.'"
But the flattery went beyond just admiration for household skills—Reynolds doesn't hold back when gushing over Blake. He recently gave her a heartfelt shoutout when he was awarded with a Hollywood Star when he said, "You've made me the father of my dreams when I thought I only had fun uncle potential." (Swoon.)
He explained what he meant by that:
"There are 7 billion people on the planet. Pretty much everyone is doing it. It's not like you need to order the 'baby-starter kit' on Amazon. Instincts will come to you at the weirdest places and times. But yeah, early on, I thought, 'Am I going to be a good father?' But I'm so much more patient than I ever imagined. I can comb a doll's hair for six hours and suddenly remember to blink."
Likewise, Lively has also given sweet public shoutouts to her husband in return. After the Hollywood star ceremony, she reflected on the event on Instagram: "Proud is a pitiful word to describe how I felt today. [The] permanence of your impact is undeniable," she wrote about Reynolds.
But sometimes the mentions are a little more embarrassing, like when Lively joked it was a "cruel and unusual form of torture" to catch her husband's Deadpool sex scenes playing on the plane. Reynolds, on the other hand, had a more chill reaction for Lively's romantic onscreen moments. When asked if he gets bothered by his wife kissing another actor, he replied:
"I don't mind that as much. I don't mean that in a creepy way. What people don't realize is, there are 50 or 60 tired, hungry, overworked crew members standing directly behind them. But the Deadpool one, I remember shooting it and thinking, 'This is going to be tough playing in the headrest of every seat on a plane.'"
Fair enough.
Follow Marie Claire on Facebook for the latest celeb news, beauty tips, fascinating reads, livestream video, and more.
Celebrity news, beauty, fashion advice, and fascinating features, delivered straight to your inbox!