"I've Had All My Fillers Dissolved": Courteney Cox Admits to Getting *Tons* of Facial Work
There is a noticeable difference in her before and after pictures.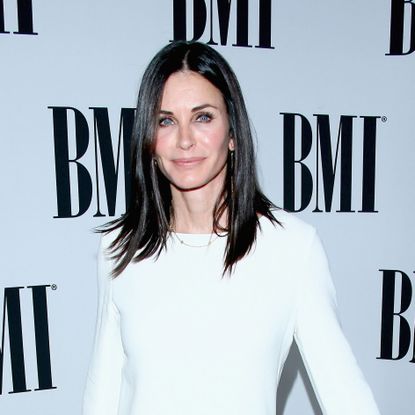 (Image credit: Getty)
Courteney Cox has previously spoken out about her plastic surgery regrets, but now the actress has confirmed that she's ready to let nature take its course.
"I've had all my fillers dissolved. I'm as natural as can be," she told New Beauty. "I feel better because I look like myself. I think that I now look more like the person that I was."
The 53-year-old said she has accepted that the human face and body changes as we age and that, crucially, there is nothing wrong with that. Amen.
"Things are going to change," she said. "Everything's going to drop. I was trying to make it not drop, but that made me look fake. You need movement in your face, especially if you have thin skin like I do. Those aren't wrinkles–they're smile lines. I've had to learn to embrace movement and realize that fillers are not my friend."
Courteney said it was a comment from a friend which made her see that she had perhaps taken the cosmetic procedures too far.
"I have one friend who was like. 'Whoa, no more!' I thought, I haven't done anything in six months. I didn't realize."
She also described how the Hollywood way of life normalizes the idea of repeat cosmetic procedures. Courteney said that often a doctor would suggest that "a little injection here or filler there" wouldn't do any harm, and described how that would snowball to having more and more procedures to try and keep it up.
Last year, the Friends actress spoke candidly to presenter and adventurer Bear Grylls about the pressure of "being a woman in this business."
"I think I was trying to keep up with getting older and trying to chase that and it's something you can't keep up...because sometimes you find yourself trying and you look at a picture of yourself and go 'Oh god, I look horrible.' I have done things that I regret and luckily there are things that dissolve and go away and that's good because it's not always been my best look."
The actress did not completely rule out further treatment but said she knows she "wants to stay natural."
🙌🙌🙌🙌🙌🙌🙌🙌🙌🙌🙌🙌🙌🙌🙌🙌🙌🙌
Follow Marie Claire on Facebook for the latest celeb news, beauty tips, fascinating reads, livestream video, and more.
Celebrity news, beauty, fashion advice, and fascinating features, delivered straight to your inbox!
Olivia is ELLE's Digital News Editor covering pop culture, royal, lifestyle and women's news and features. Previously a features writer for Hearst's digital brands and lifestyle reporter at The Independent, she's amassed a healthy - and varied - expertise of Meghan Markle, women's and reproductive health issues and all 10 seasons of Friends.