There's a Conspiracy Theory About Meghan and Harry's Instagram
The New York Times noticed their follower count wasn't growing as expected.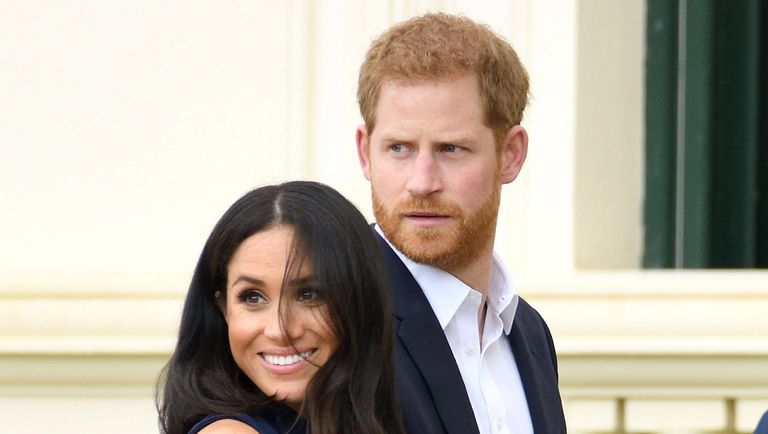 (Image credit: Karwai Tang)
By Catriona Harvey-Jenner published
Meghan Markle and Prince Harry's Instagram account is pretty much the only window we have into their lives, now that they've stepped back as working members of the royal family. Since the Sussexes' launched their independent Instagram in April 2019—under the soon-to-be changed handle, @SussexRoyal—it's been where they've shared the work they care about, as well as more personal insights into their family life with baby son Archie.
At its time of its launch, Meghan and Harry's Instagram broke the Guinness World Record for being the fastest new account to accrue one million followers, with a time of just five hours, 45 minutes (though they were later beaten by Jennifer Aniston). But there's something interesting about how the page has continued to grow in follower count ever since, and it's led some people to come up with some creative conspiracy theories to explain it.
As explained in an interesting report by the New York Times, following the initial spike in followers, it was predicted that the Sussex Royal account would quickly surpass the Kensington Royal account. That's the one they used to share with Prince William and Kate Middleton, but is now used solely to promote the Cambridges' work and family life.
The "eclipse" in followers, as it's referred to by NYT, was set to happen by the end of the Sussexes' first month on Instagram, or perhaps in early May of last year, coinciding with the birth of their first child.
But it just...never happened.
Instead, Meghan and Harry's Instagram follower account remained firmly behind William and Kate's for months, until early this year when they finally leveled out. Since then, the two accounts have been growing at exactly the same pace, with both now standing at 11.3 million followers.
But how could this be, when all the statistics suggest Harry and Meghan's content is more engaging and engaged with than William and Kate's? According to data shared with the New York Times by social media analytics tool CrowdTangle, nine out of the 10 most-liked posts ever shared by either the Kensington Royal account or the Sussex Royal account feature some combination of Harry and Meghan and/or Archie. The only picture to buck that trend, the NYT reports, was the picture of Prince George and Princess Charlotte on Charlotte's first day at school (which was the eighth most popular upload of all time on the Kensington Royal Instagram).
This indicates the Duke and Duchess of Sussex seem to attract more interest on Instagram than the Duke and Duchess of Cambridge (you can read about this in detail in the full New York Times report). Now, the question at play is: Why have the Sussexes never surpassed the Cambridges' follower count on the social media platform? Is there something funny going on here?
It's worth noting at this point that "representatives for both royal houses [have] denied strenuously any suggestion that their social media teams had manipulated follower numbers". But that doesn't stop the conspiracy theories!
One suggestion is that the Kensington Royal account (William and Kate's) may have been given better placement on Instagram's "Who To Follow" list, which is known to drive an increase in followers to chosen accounts.
Alternatively, there's been some speculation about an involvement of bots. Some have suggested that perhaps the Sussex Royal account launch was boosted by "bot followers" (not real people), which may explain why its organic growth seemed to uncharacteristically slow down in the ensuing months. Conversely, others have touted the idea that it's the Kensington Royal account that may have been receiving regular bot followers to help sustain its growth at a level superior to Meghan and Harry's.
Or here's the other possibility. Maybe, despite the stats showing less across-the-board engagement on the Cambridges' Instagram account compared to the Sussexes', more real people simply decided to follow William and Kate over Harry and Meghan—with no interference from bots or Instagram or anything.
That's the answer that seems most likely to Matt Navarra, a British social media consultant that the New York Times interviewed for their in-depth investigation. "I don't think there's anything [suspicious] in it," he told them. "[But] I wouldn't put my life on it."
So there you go. With no behind-the-scenes access to the accounts themselves, all that can be done is speculate. (And speculate we will!)

For more stories like this, including celebrity news, beauty and fashion advice, savvy political commentary, and fascinating features, sign up for the Marie Claire newsletter.
RELATED STORIES
Cat is Cosmopolitan UK's features editor covering women's issues, health and current affairs. news, features and health. The route to her heart is a simple combination of pasta and cheese (somewhat ironic considering the whole health writing thing), and she finds it difficult to commit to TV series so currently has about 14 different ones on the go.