Meghan Markle and Prince Harry Are Now Reconciling With the Royal Family
This scary time has helped bring them together.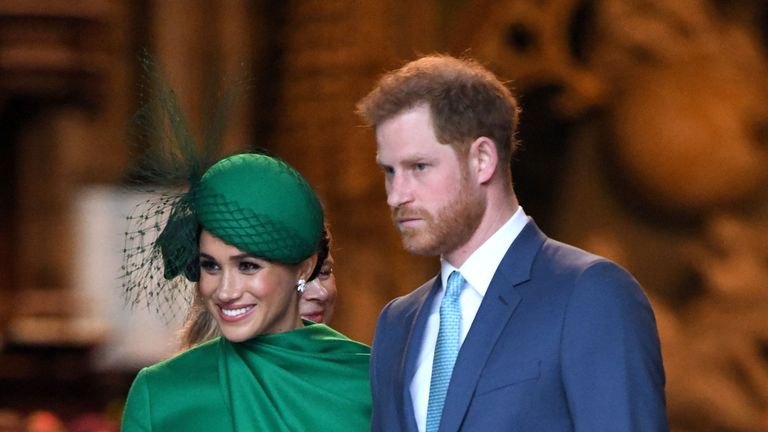 (Image credit: Getty Images)
---
Meghan Markle and Prince Harry are reportedly starting to really patch things up between the rest of the Royal Family, as they (and everyone else) are in the middle of the coronavirus (COVID-19) pandemic. "Things are in a better space now between the couple and the royal family," a source told Entertainment Tonight. "While of course there have been tensions, the family is getting through it."
Much has been speculated over the past couple of months, but the Royal Family has given clues sporadically about how deeply the Sussexes' resignation as senior royals has affected everyone involved. Per the source, "It was a difficult decision for Harry and Meghan. They love their family, but given the relentless onslaught by the media, they did what they thought was right for their family and son." They added, "William was unhappy that things weren't handled privately."
The couple and young son Archie Harrison are reportedly keeping themselves quarantined—initially in Canada and now potentially in California now that they've moved. "Like everyone, they're taking appropriate measures and heeding government advice, if and when they are specifically made aware of being in contact with someone who has tested positive, they will act accordingly," said the source.
What's interesting about the timing here is that just two days after this story was published, it was revealed that Prince Charles was formally diagnosed with COVID-19, so that doesn't necessarily feel like an accident to me. Reports are suggesting that these extreme times are serving to bolster the relationships. That's speculation, but I'd be glad to hear it. Bring on the Royal group chat!
Meanwhile, the Sussexes (who will have to change their Instagram handle in April) are still posting regularly with information about preventing the spread of the virus:
With a little bit of personal stuff thrown in there too:
So whatever's going on behind the scenes is still evolving.
---
For more stories like this, including celebrity news, beauty and fashion advice, savvy political commentary, and fascinating features, sign up for the Marie Claire newsletter.
Related Stories:
Katherine's a Boston-based contributing editor at Marie Claire online who covers celebrity, fashion, entertainment, and lifestyle—from "The Bachelor" to Everlane to Meghan Markle. She also edits the Couples + Money series, so she's always looking for volunteers at couples.money@hearst.com. Igoe: "I go to the store," not "Her huge ego".