Billie Eilish and Her Fans Respond to the Singer Being Body Shamed
"Y'all gotta start normalizing real bodies, OK?"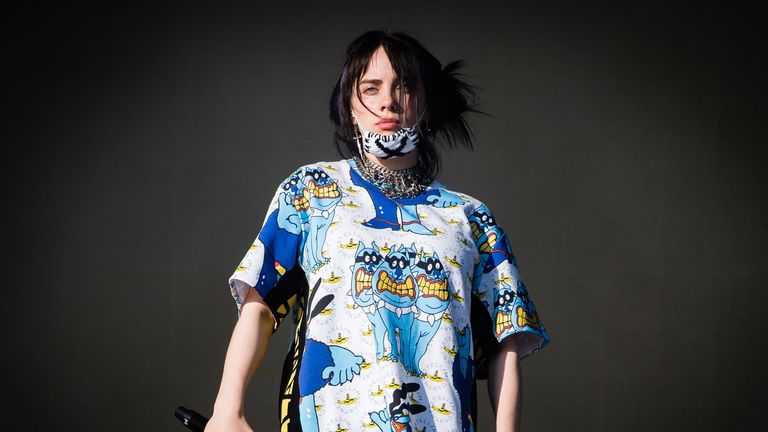 (Image credit: Samir Hussein)
By Catriona Harvey-Jenner published
Billie Eilish has always been clear about how much she abhors body shaming. Sadly, when she was photographed this week in a rare non-baggy outfit, the 18-year-old herself was cruelly bullied online. The singer was pictured out and about in LA wearing a tank top, beige jogger shorts, and sliders in a matching neutral tone. Usually, Eilish is photographed in her trademark baggy apparel, so trolls took the opportunity to mock the singer's body. Fortunately, the singer's many fans were there to call out the shaming for what it is: complete and utter BS.
On Twitter, one woman shared her objection to "the way that porn and social media has taught men that bodies like Billie Eilish's are 'fat' and not perfectly normal." And YouTuber Jessie Paege shared her thoughts: "Billie Eilish is beautiful! PLEASE, do not body shame her, or anyone for that matter," she wrote. "Body shaming is not 'news' or 'gossip' it's HARMFUL and UNACCEPTABLE." Could not agree more.
Eilish herself weighed in with a cheeky Instagram post showing her winking at the camera while walking past a handful of her Grammys; she also reposted a video by Chizi Duru, in which Duru says: "Y'all gotta start normalizing real bodies, okay? Not everybody has a wagon behind them, okay? Guts are normal—they're normal. Boobs sag, especially after breastfeeding. Instagram isn't real."
It's frustrating to see Billie become the target of body shaming—but what is empowering is that she has clearly inspired her followers to speak out against it. Earlier this year, the No Time To Die singer took a powerful stand against body shamers during the opening night of her Where Do We Go world tour in Miami.
During the concert, Billie shared a video interlude of her taking off her top to make a statement about self-empowerment and the judgement women face. In it, she said:
"If what I wear is comfortable, I am not a woman. If I shed the layers, I am a slut. Some people hate what I wear, some people praise it. Some people use it to shame others, some people use it to shame me. While I feel your stares, your disapproval or your sighs of relief, if I lived by them, I'd never be able to move.
"The body I was born with, is it not what you wanted? If what I wear is comfortable, I am not a woman. If I shed the layers, I am a slut. Though you've never seen my body, you still judge it and judge me for it. Why?"
this is why i love this girl so much #BillieEilish so strong and powerful pic.twitter.com/hVtTlpYC57March 10, 2020
See more
You tell 'em, Billie.
Cat is Cosmopolitan UK's features editor covering women's issues, health and current affairs. news, features and health. The route to her heart is a simple combination of pasta and cheese (somewhat ironic considering the whole health writing thing), and she finds it difficult to commit to TV series so currently has about 14 different ones on the go.