MC Cheatsheet: The Case for High Heels & Lessons from Celebrity Exes
Plus, check out what other sites and stories we've been clicking on today.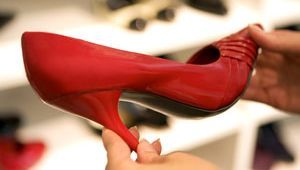 (Image credit: monkeypics/iStock)
Katie: "It turns out that ladies who claim they are more comfortable in six-inch heels than flats (Mariah Carey and Victoria Beckham, we're looking at you) are in fact telling the truth." StyleList (opens in new tab)
Kate: "I didn't realize it was 'Get Along with Your Ex Week,' but now that it's upon us, here are 10 celebrity splits that will make your past up-in-flames relationship look like a rom-com." The Frisky (opens in new tab)
Jessica: "I saw the mind-melting Inception last week. Joseph Gordon-Levitt, much like his solo in (500) Days of Summer, makes my dreams come true. Find your geek soul-mate here." Vulture (opens in new tab)
Sophia: "Can you play up your looks to get ahead at work and still be a feminist? Interesting look at the issue in this article." Newsweek (opens in new tab)
Koryn: "For those looking to drop a few pounds, perhaps you should consider relocating to Colorado just for the peer pressure." The Luxury Spot (opens in new tab)
Anna: "If you aren't following Shaq on Facebook, you should be, because he is awesome. For example, I just learned that on the upcoming season of the also-awesome Shaq vs., he'll be competing in a spelling bee against a 13-year-old champ. S-h-a-q-i-l-i-c-i-o-u-s.." Facebook (opens in new tab)
Tell Marie Claire: What are you obsessed with today? Share your faves in the Comments section below!