Behind the Scenes at Marie Claire's Golden Globes After-Party
When the awards ceremony ends, the fun really begins! Go behind the velvet rope as MC hobnobs with Hollywood's hottest stars.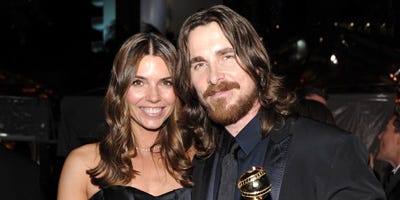 When the awards ceremony ends, the fun really begins! Go behind the velvet rope as MC hobnobs with Hollywood's hottest stars.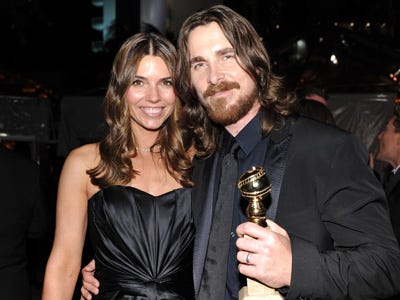 Winning Fighter
A grizzly-looking Christian Bale was euphoric — with wife Sibi Blazic at his side — about his Golden Globe win for those golden-glove moves in The Fighter.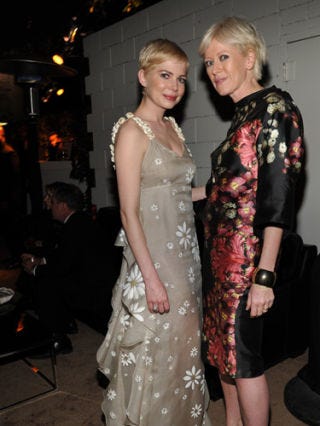 Blonde Ambition
Blue Valentine beauty Michelle Williams, who glided down the after-party's red carpet hand-in-hand with her former Dawson's Creek costar Busy Phillips, chatted with Marie Claire editor-in-chief Joanna Coles about yoga in a delicate, daisy-flecked Valentino gown.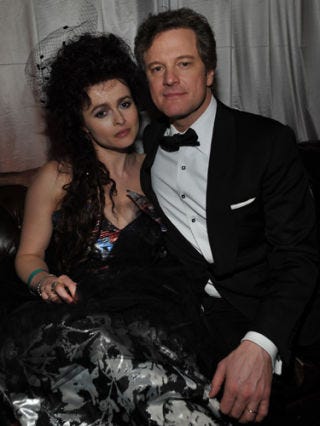 King and Queen
Colin Firth, the night's big winner for The King's Speech, held court towards the back of the tent where his highly-coiffed costar Helena Bonham Carter later made off with fist-fulls of co-sponsor Laura Mercier's make-up.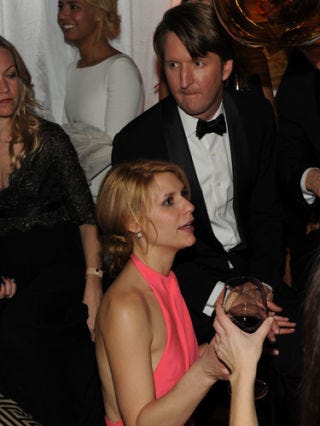 Working the Room
Temple Grandin winner Claire Danes laughed with hubby Hugh Dancy and The King's Speech director Tom Hooper, who said on the red carpet that he couldn't wait to get into the Marie Claire/Weinstein/Relativity party so he could "finally have a drink with alcohol in it!"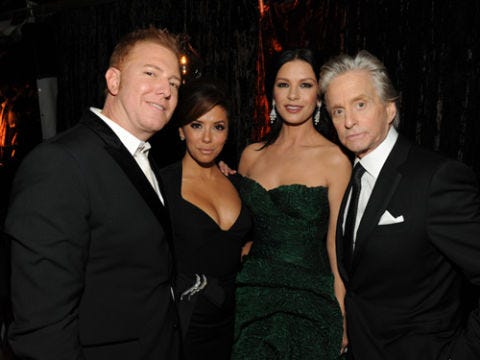 Good Company
Relativity Media CEO Ryan Kavanaugh, a demure Eva Longoria, gorgeous-in-green Catherine Zeta-Jones and presenter Michael Douglas — who had the best zinger of the night and one of the only standing ovations — huddled near the couches. Zeta-Jones and Joanna Coles were later seen discussing what a great evening it was for Brits … and joking about how great it was to be from England.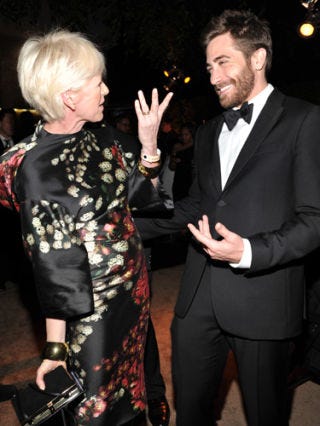 All in Good Fun
Joanna Coles joked with Love and Other Drugs nominee Jake Gyllenhaal under the sexy lights of the after-party tents.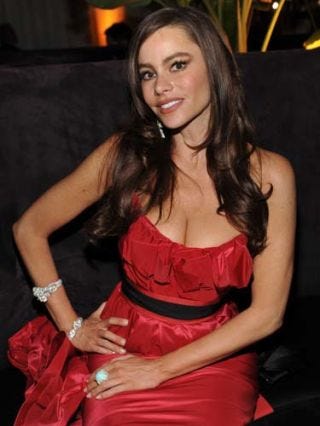 Sitting Pretty
After posting a hilarious Twitter photo of herself this week crammed into an ill-fitting dress and complaining that nothing seemed to fit those knockout curves, Modern Family's best actress nominee Sofia Vergara picked a red-carpet winner (that even allowed her to sit and relax!) in this scarlet Vera Wang sizzler.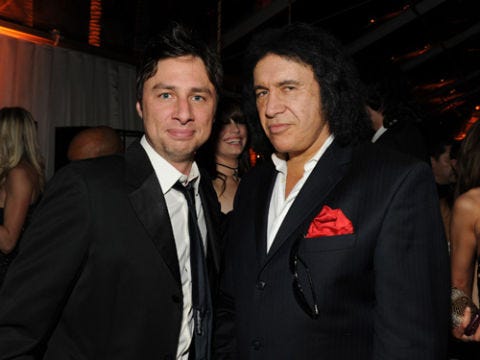 Making the Rounds
Ladies men Zach Braff and Gene Simmons took in the well-heeled crowd — and possibly eyed their next victims.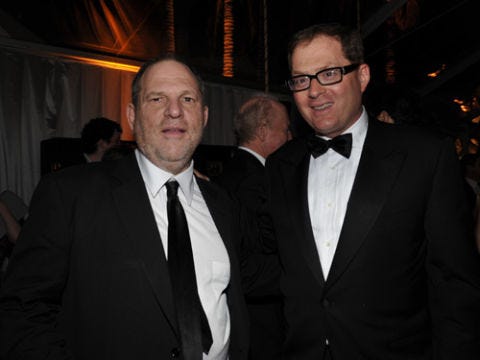 Mix and Mingle
Studio boss Harvey Weinstein and Hearst Magazines President David Carey hobnob with the glittering crowd of A-listers.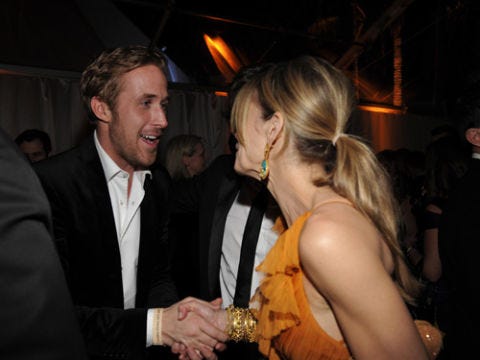 Fast Friends
Blue Valentine's Ryan Gosling — who rocked a slick look in black velvet — shook hands with The Closer nominee Kyra Sedgwick. Most of the night, though, she sat in a round banquette with her husband — and Globes presenter for best actor in a TV drama series — Kevin Bacon.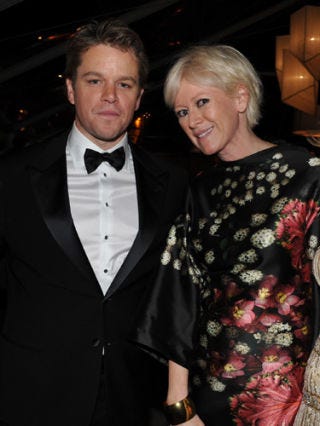 Dashing Damon
When he wasn't lounging in the corner with Cecil B. DeMille honoree Robert De Niro, an animated Matt Damon took time out to pose with Joanna Coles.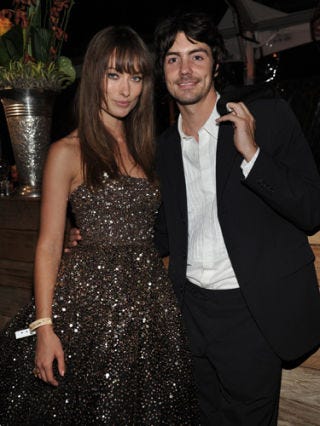 Tinseltown's Tulle
House's Olivia Wilde — seen mingling with her hubby, filmmaker Tao Ruspoli, at her side — had her arms full backstage when she had to gather and carry her enormous Marchesa ballgown of chocolate tulle and gold beading in front of her and up the narrow stairs to the venue's Porta-Potty bathroom.
This content is created and maintained by a third party, and imported onto this page to help users provide their email addresses. You may be able to find more information about this and similar content at piano.io