Reese Witherspoon's Red Carpet Retrospective
America's Sweetheart has had quite an impact on the red carpet. Look back at her most adorable looks to date.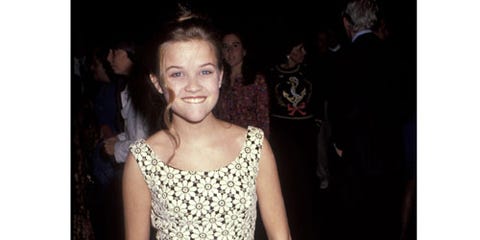 America's Sweetheart has had quite an impact on the red carpet. Look back at her most adorable looks to date.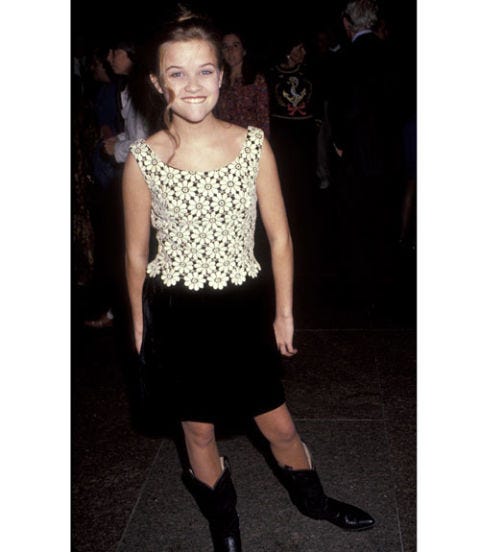 October 1991
Blossom, anyone? For the premiere of The Man In The Moon, which was her first major acting role, a fresh-faced Witherspoon donned a daisy-print tank and black skirt paired with black cowgirl boots. She looks adorable in the so 1990s get-up!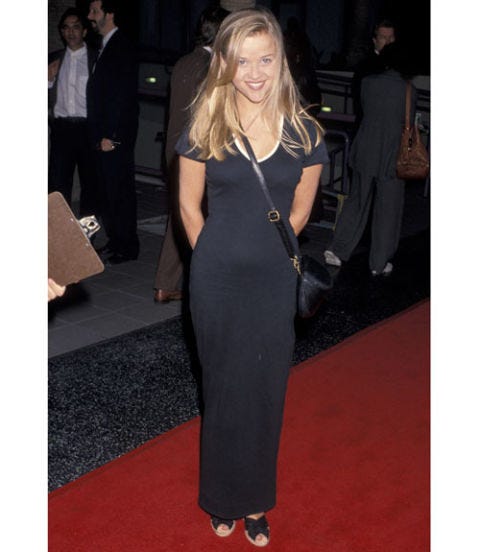 April 1994
A coquettish Witherspoon at the Hollywood premiere of Backbeat, showed off her trend-intuiting skills in a navy maxi dress and espadrilles. It only took how many years for the rest of us to pick up on the maxi dress trend? (Seventeen, in case anyone wanted to know the math.)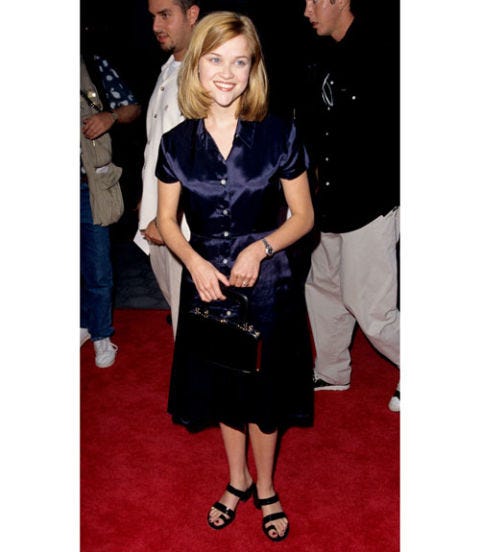 July 1996
Yikes. Reese, lady, what were you thinking with your The Frighteners world premiere ensemble? A shiny silk button down dress in indigo, falling below your knees? It sort of screams: Estelle Getty circa The Golden Girls years. At least you smiled for the photo!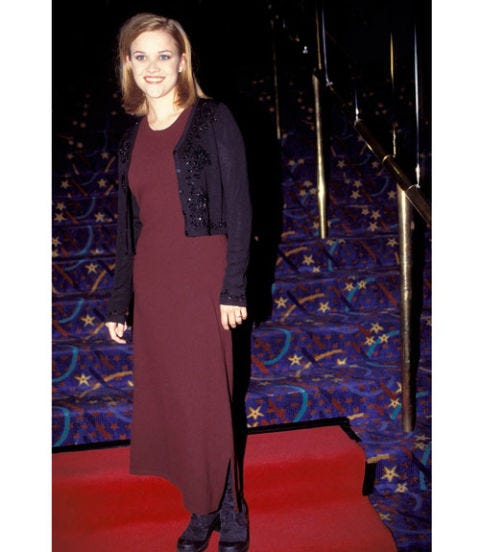 Patrick Riviere/Getty Images
August 1996
Maroon maxi, violet-beaded cardigan and purple (suede?) biker boots. Interesting. For the Sydney premiere of Fear, Witherspoon's outfit matched the movie theater carpet behind her, which probably isn't the best look.
December 1996
Straying from her usual soft look, Witherspoon wore a long black skirt with a midriff-bearing black tee to the premiere of The People vs. Larry Flynt. The look was a smidgen harsh (with that burgundy lipstick and all), mind you, it was the '90s, so props for being daring, R!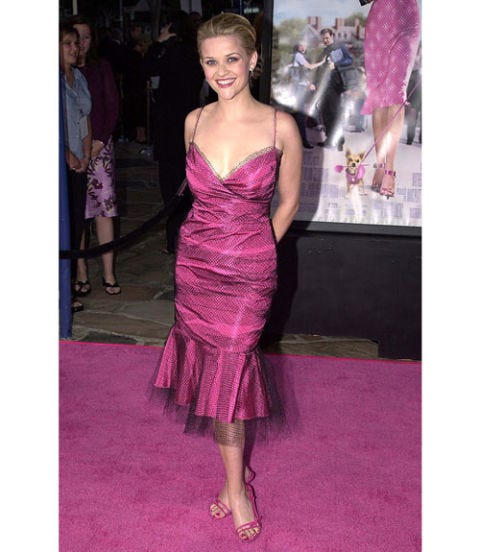 June 2001
For the Hollywood premiere of Legally Blonde the theme was — very smartly — pink. From her lacy Westwood dress and strappy stilettos, to her lipstick color and nail polish hue, every detail was coated in the rosy shade.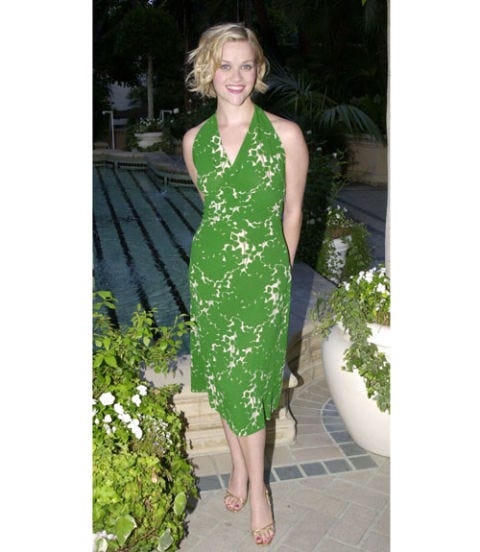 June 2001
Witherspoon wore a kelly green, floral print dress to a press conference at the Beverly Hills Four Seasons Hotel for her film Legally Blonde. The halter top helped to show off her fabulous shoulders, and we're absolutely loving the bob!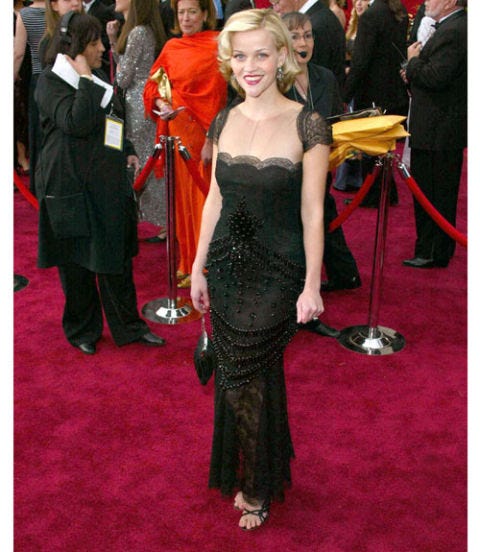 March 2002
At the 74th Annual Academy Awards, Witherspoon wore a not-so-simple — but still darling — black beaded, lacy, and fringed frock reminiscent of 1920s' frippery. She accessorized with an understated handbag and strappy heels.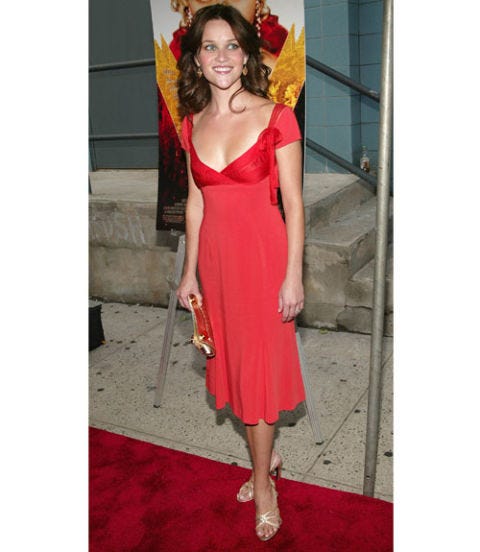 Evan Agostini/Getty Images
August 2004
Ooh, la, la! A brunette Witherspoon stepped out in a fiery red dress for the special New York screening of the flick Vanity Fair. The actress accented the soft shift dress with gold sandals and matching handbag.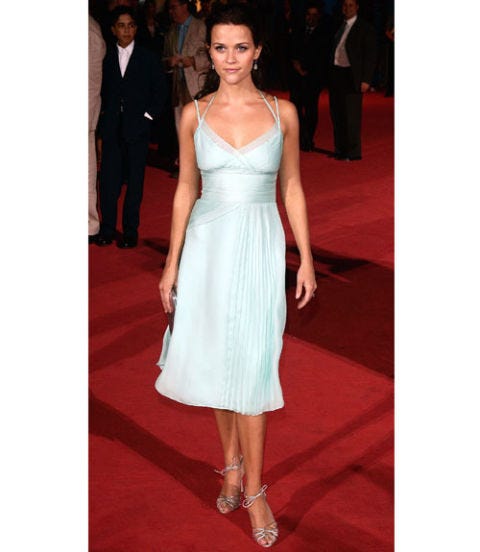 Pascal Le Segretain/Getty Images
September 2004
Witherspoon attended the Vanity Fair premiere at the 61st Annual Venice Film Festival in Carolina Herrera. With a flowing gown and loose bun, it was a wistful look.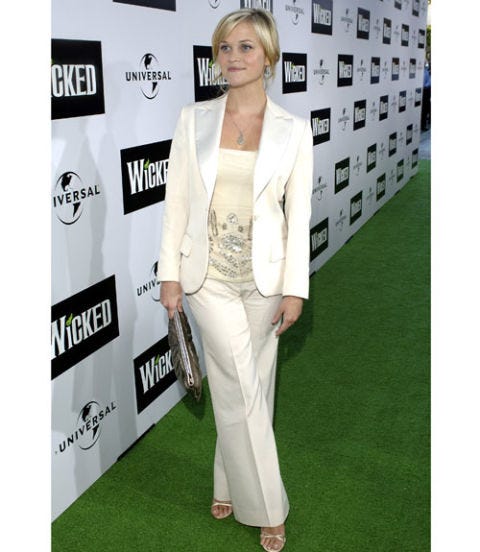 June 2005
Known for wearing classic gowns, Reese Witherspoon deviated from her usual style for the opening night of Wicked in L.A. The actress sported a crisp, ivory pantsuit and pinned her hair back neatly. A sleek pendant around her neck completed the look.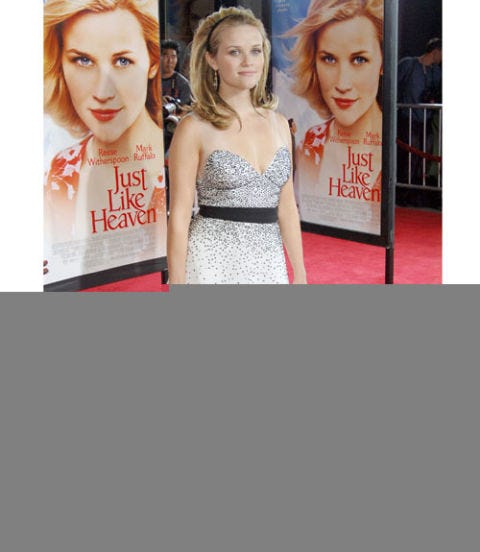 September 2005
At the L.A. premiere of Just Like Heaven Witherspoon wore a fluffy bedazzled white cocktail dress by Monique Lhuillier, which she further jazzed up with Jimmy Choos. A simple headband added oomph to her already voluminous 'do.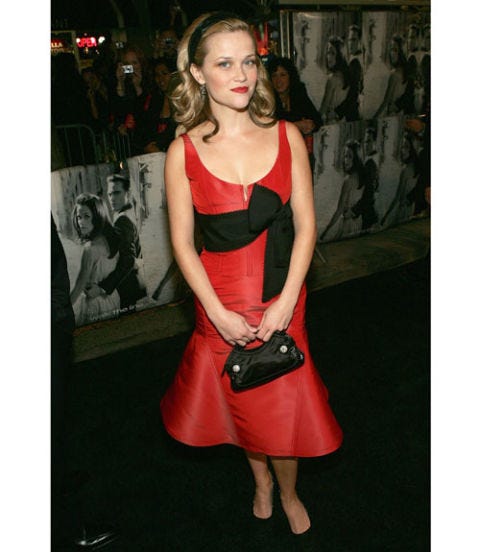 Evan Agostini/Getty Images
November 2005
At the NYC premiere of Walk The Line, the Southern actress channeled Ring of Fire, wearing in a fitted red dress with thick black sash that cinched her waist. Black pumps, black clutch and a black headband with a touch of red lipstick gave the style a sultry kick.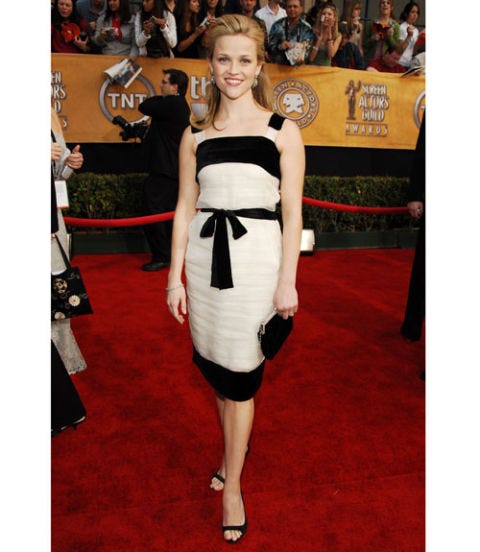 Dimitrios Kambouris/WireImage
January 2006
Witherspoon stayed true to her signature, conservative style in this ebony-and-ivory frock at the 12th Annual Screen Actors Guild awards —. BUT, while the perfectly done makeup and coiffed hair displayed her tasteful elegance, the less-than-flattering frumpy dress did her no justice.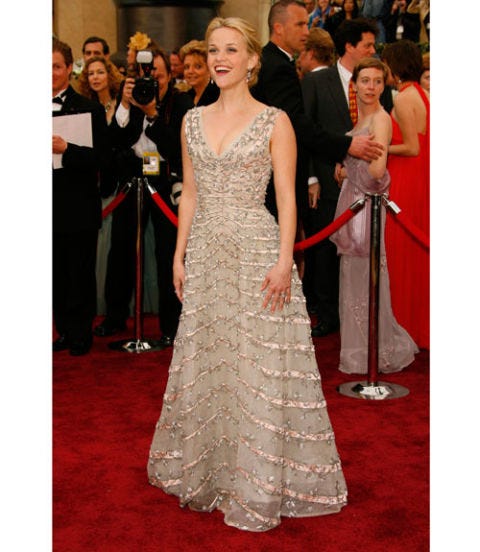 March 2006
Witherspoon arrived to the 78th Annual Academy Awards in a floral Christian Dior gown. The delicately beaded, blush-toned dress reinforced Witherspoon's poise and charm. She won the Oscar for Best Actress in a Leading Role that night for her performance as June Carter Cash in Walk the Line.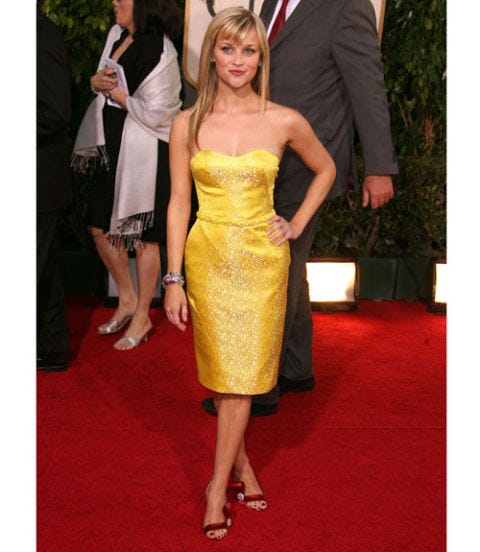 January 2007
Reese wore this canary-colored strapless number by Van Cleef & Arpels to the 64th Annual Golden Globe Awards, and it became one of her most memorable looks. The newly single, newly fringed Witherspoon radiates confidence!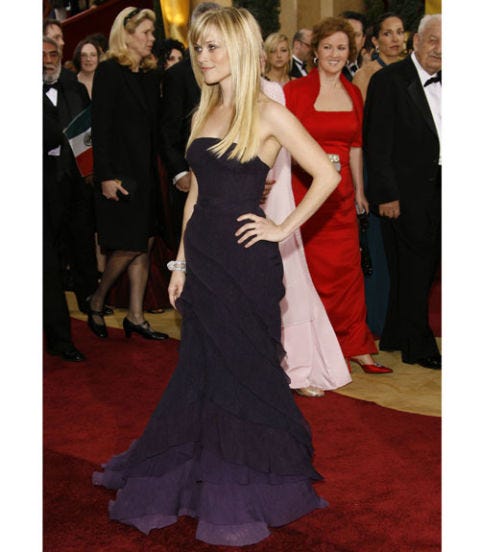 February 2007
Reese turned heads in this plum Nina Ricci by Olivier Theyskens gown at the 79th Annual Academy Awards. The degrade color, tapered train and bold cuff bracelet looked trés chic.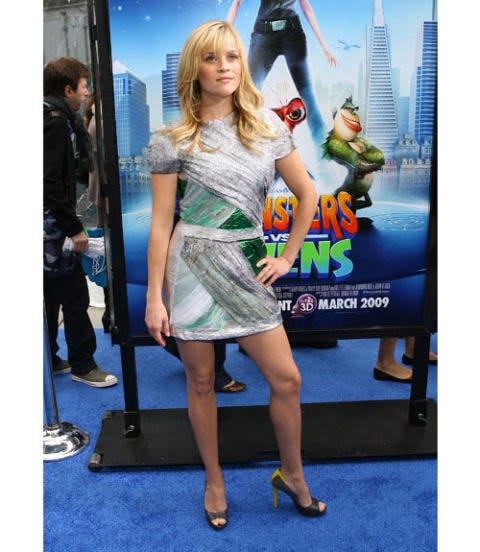 March 2009
For the L.A. premiere of Monsters vs. Aliens, the actress mixed things up by wearing a silver and green ruched chiffon mini by Rodarte. Witherspoon struck a sassy pose with a hand on her hip as if to say, "I look good."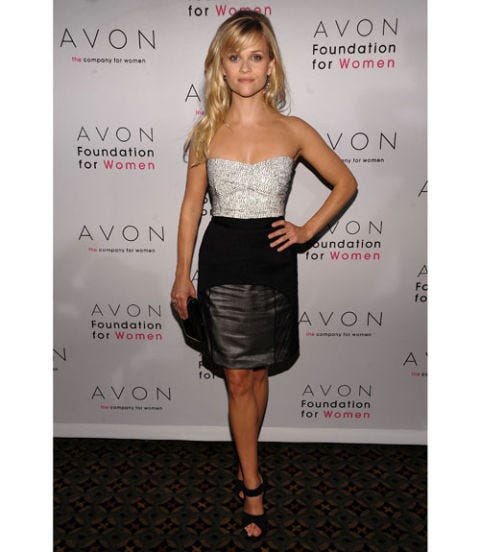 Dimitrios Kambouris/WireImage
October 2009
At the Champions Who Change Women's Lives Avon Foundation event in New York, Witherspoon wowed photographers in a white-and-black embroidered cocktail dress by Narciso Rodriguez . The simple details — drop earrings, sweetheart neckline, black patent clutch, and ankle-strap heels — made the ensemble purely elegant.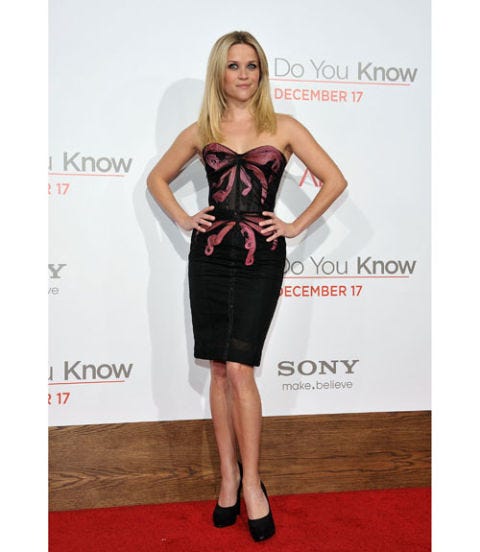 December 2010
Reese Witherspoon wore a flirtatious Zac Posen dress to the L.A. premiere of How Do You Know. The sweetheart-neckline embellished with rosy-pink ribbon is absolutely perfect for a rom-com screening.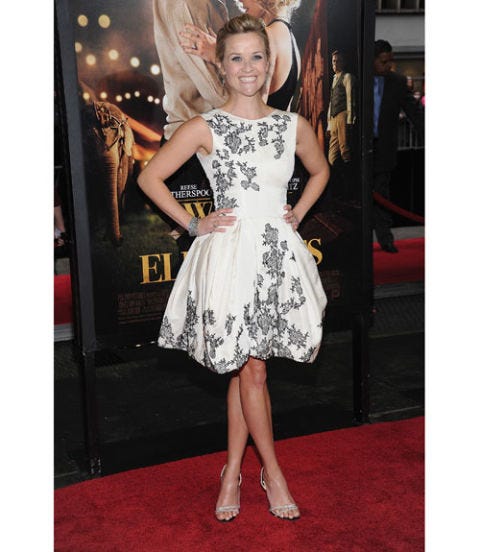 Dimitrios Kambouris/WireImage
April 2011
Witherspoon wore Jason Wu to the NYC premiere of Water For Elephants and we LOVED it. With pulled-back hair and minimal makeup, Reese looked extra luxe.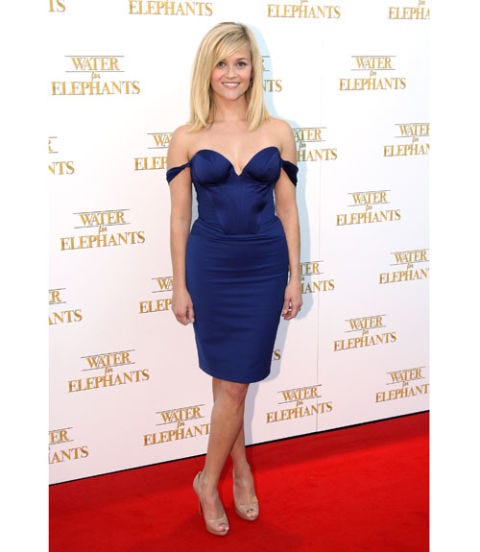 May 2011
Reese Witherspoon, Stella McCartney and Christian Louboutin should be a winning combination. However, somewhere along the way this particular pairing flopped when Witherspoon wore a deep blue McCartney mini and nude Louboutin's to the UK premiere of Water For Elephants. Maybe it was the droopy sleeves or too deep cut on her bust, something didn't work. Sorry R!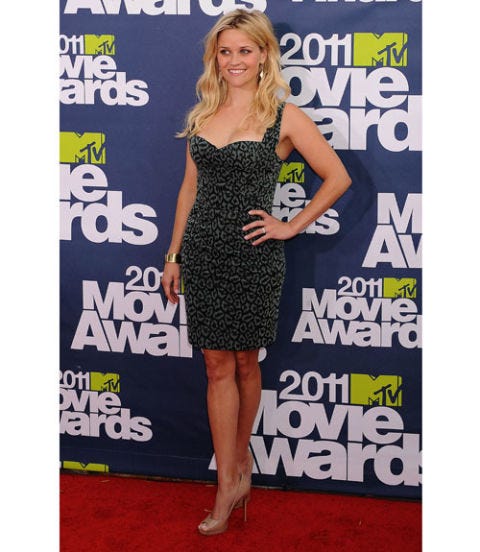 June 2011
For the 2011 MTV Movie Awards, a sun-kissed Witherspoon wore a figure-hugging, sweetheart cut, leopard print mini with nude peep-toe pumps. Wavy locks and dangly earrings finished the summery look — and check out her oh-so-toned arms!
This content is created and maintained by a third party, and imported onto this page to help users provide their email addresses. You may be able to find more information about this and similar content at piano.io