Kim Kardashian's Red Carpet Retrospective
From sparkly and skintight to old Hollywood glamour, we've compiled the reality star's most memorable style moments in front of the camera.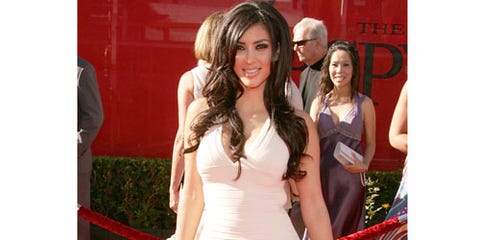 From sparkly and skintight to old Hollywood glamour, we've compiled the reality star's most memorable style moments in front of the camera. For more stylish photos of Kim, check out her December 2011 cover shoot! Plus, don't miss our exclusive interview with the star. For even more Kim exclusives, "like" us on Facebook!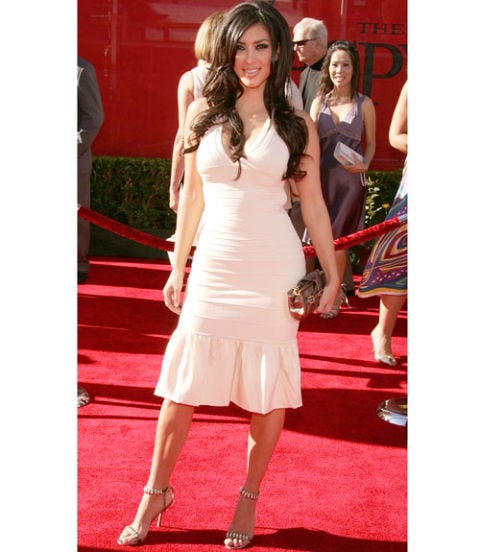 July 2006
Before the reality show, fragrances, and clothing lines, some might argue that Kim was just a (very) pretty face. Here is a glimpse of the superstar at the very beginning of her rise to fame: The then 26-year-old Kim accompanied stepdad Bruce Jenner to the ESPY Awards at the Kodak Theatre in Hollywood.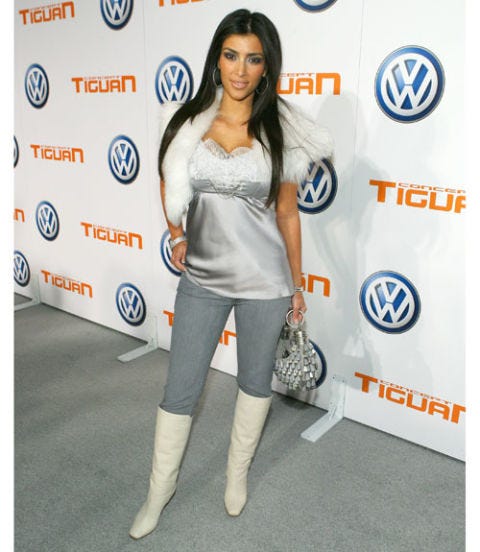 November 2006
Was Kim planning on moonwalking all over the gray carpet in the spacesuit-esque ensemble she wore to the 2006 US Premiere of CONCEPT TIGUAN? We love monochrome, but this is a little much.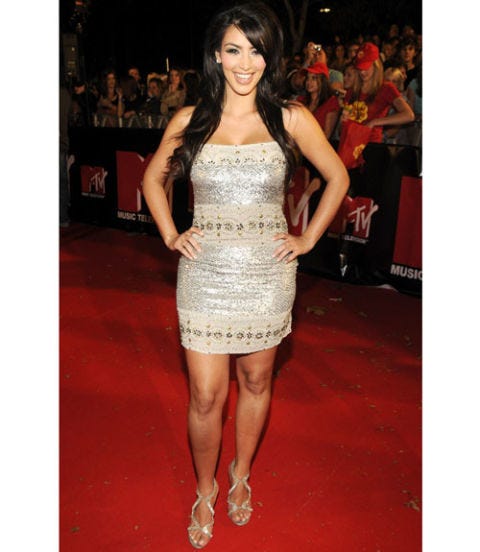 April 2008
Kim flashes her pearly whites in a strapless silver appliqué Indian-inspired mini-dress at the 2008 MTV Australia Awards. And we can't miss those legs—she looks fantastic!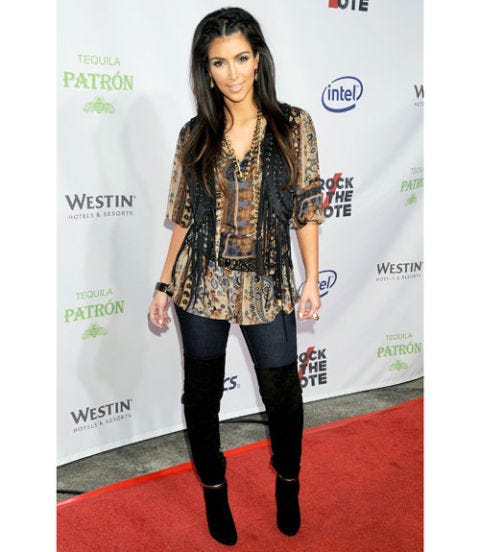 September 2008
We rarely see Kim dressed so casually. It's refreshing to see that she can rock dark denim, a boho top, and long gold necklaces and still look as hot as she does in a ball gown.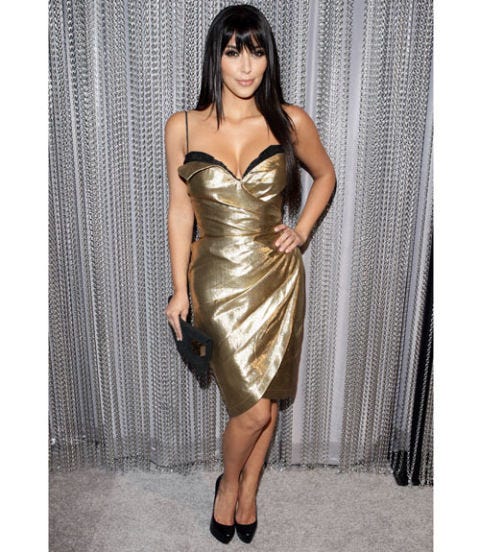 December 2008
This is one of our favorite looks on Kim. In a vintage metallic gold Thierry Mugler dress, black accessories, and feathery bangs, Kim was winning at Spike TV's 2008 "Video Game Awards."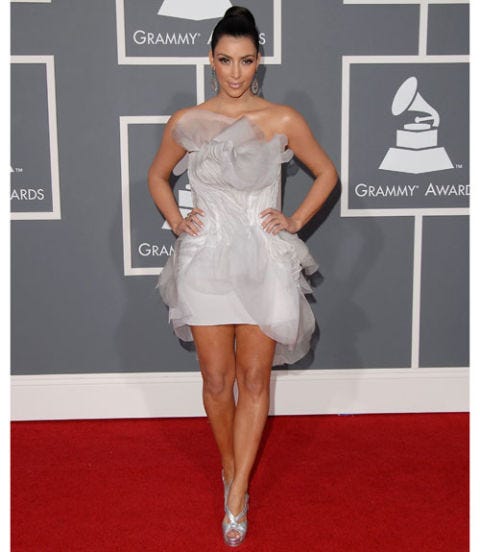 February 2009
We're loving the gray rosette-style dress, drop-earrings, and slick topknot Kim wore to the 51st Annual Grammy Awards in 2009. Plus, her flirty side-smile is a definite fashion "do."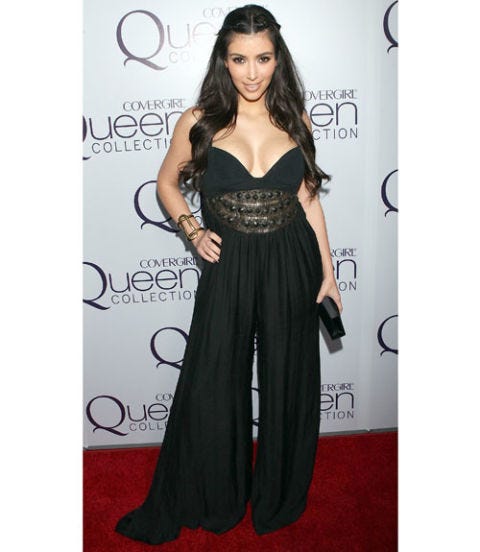 March 2009
Kim showed up at Queen Latifah's Birthday Celebration in 2009 wearing a black pantsuit, with her hair twisted back to show off her smoky eyes. Perhaps she should cover up the "girls" a little bit more next time—they're the first things our eyes gravitate to when we see this picture!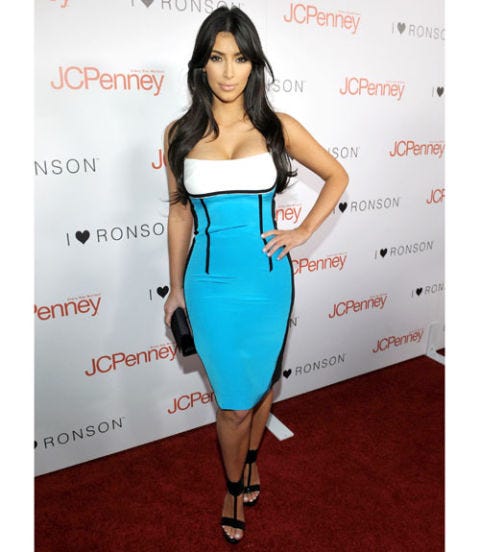 April 2009
Why so serious, Kim? She posed fiercely in this body-hugging blue and white I "Heart" Ronson dress with black piping at the 2009 I "Heart" Ronson Launch Party. Her body is seriously bangin'—show off those curves, girl!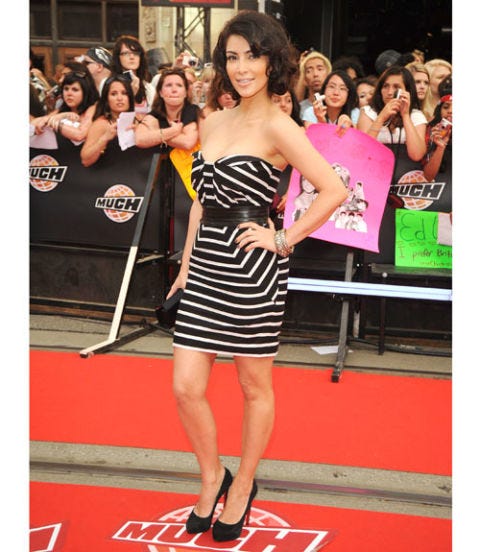 June 2009
We rarely see Kim sporting a short 'do and we love it! She showed off her collarbone and toned arms in a striped strapless Nuj Novakhett dress at the 20th Annual Much Music Video Awards.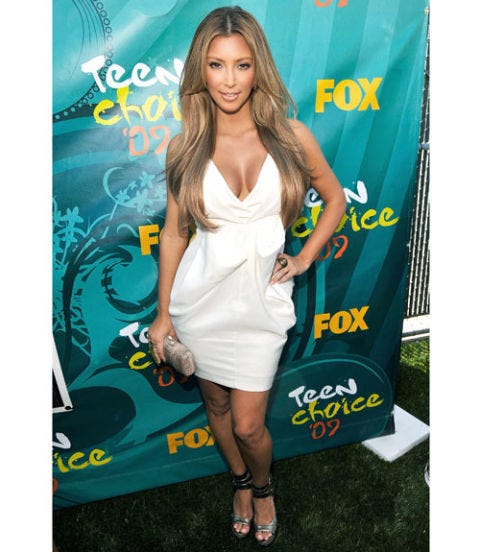 August 2009
At the 2009 Teen Choice Awards, Kim's long blonde locks matched her golden tan almost exactly. Regardless of her failed attempt to look like a sun goddess in a white Stella McCartney dress, Kim's natural beauty still came through—but we prefer her as a sexy brunette.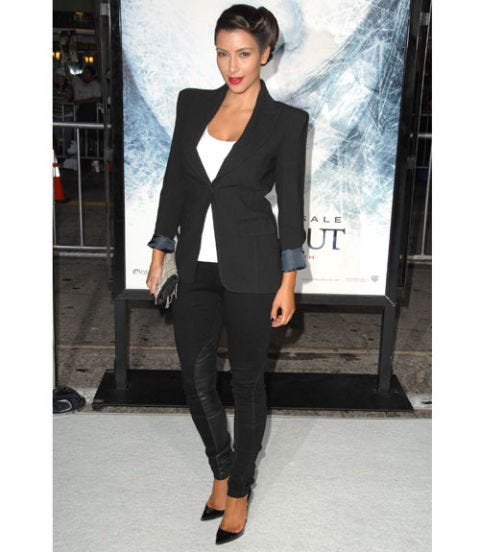 September 2009
Kim's take on menswear is both classic and fresh at the same time. The skinny black pants and tailored jacket she wore to the L.A. premiere of "Whiteout" in 2009 looked great paired with red lips and a boyish up-do.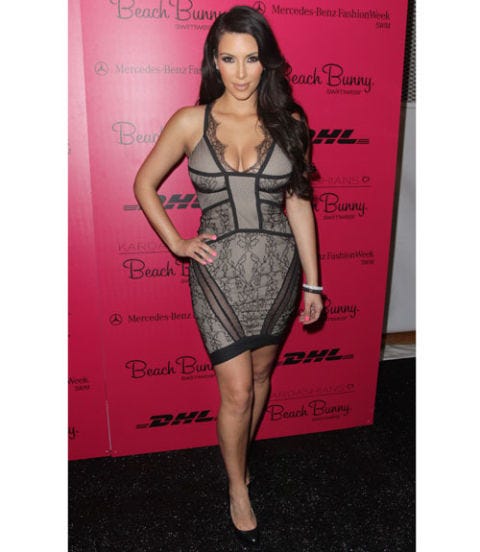 July 2010
Miami girls are pros at rocking mini-dresses and Kim did it pretty well herself during Swim Week in Miami in July 2010. She wore a taupe and black lace bodycon dress to the Beach Bunny Swimwear show to see a collection of swimsuits that she and her sisters worked with Beach Bunny designer Angela Chittenden to create.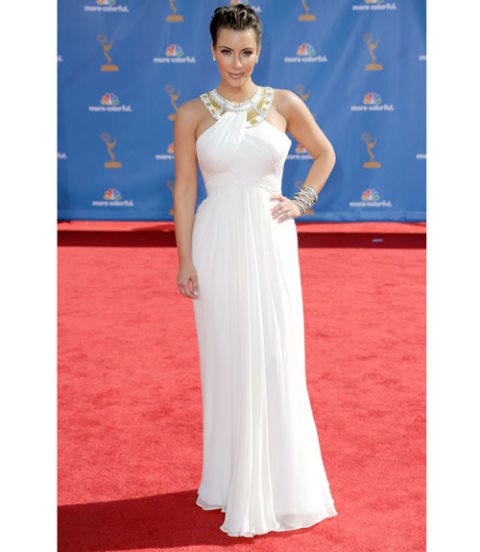 August 2010
We've noticed that Kim gravitates toward shades of black, gray, and white when choosing a red carpet outfit, and we can see why. She was absolutely radiant in this frost-white Marchesa gown at the 62nd Annual Primetime Emmy Awards.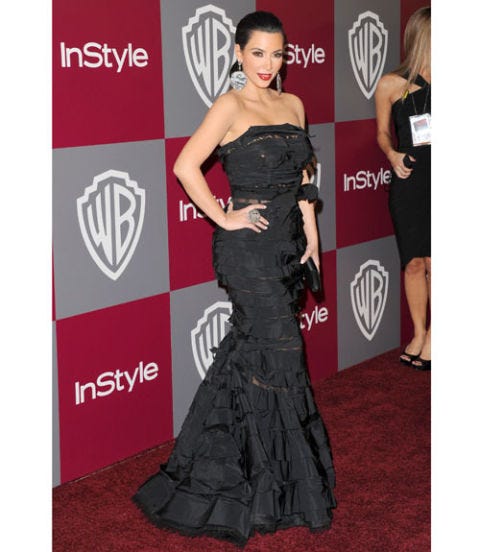 January 2011
We're not sure if Kim was trying to channel a flamenco dancer at this year's Golden Globes, but the Spanish-inspired ruffles and mermaid shape of this black Nina Ricci gown subtly showed off her curves – the look definitely worked for her. Ay, mami!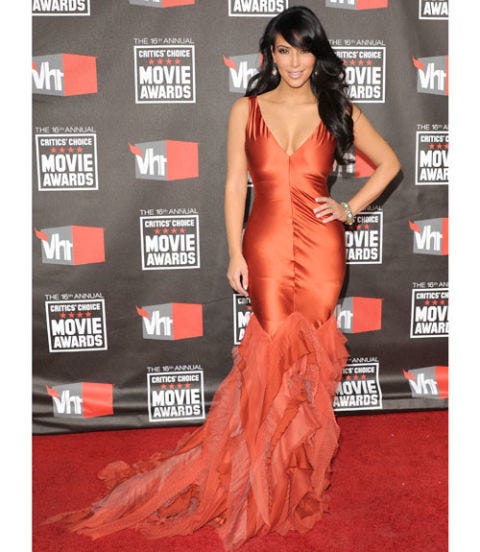 January 2011
Who turned up the heat? Kim was blazing in this fiery orange Vera Wang gown that she wore to the 16th annual Critics Choice Movie Awards in January. We're certain that she had fans singing her praise, "Come on baby light my fire!"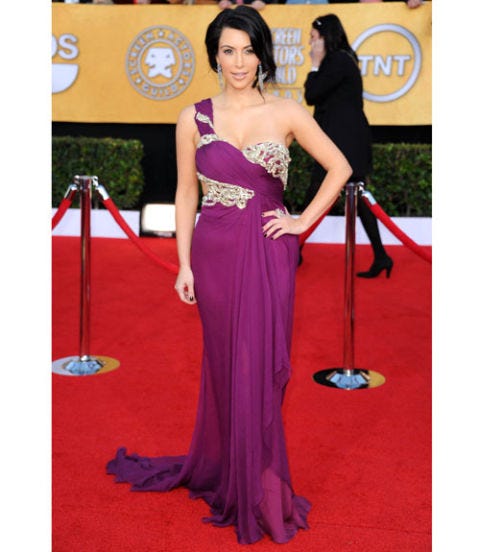 January 2011
Kim looks so great in this plum chiffon Marchesa gown at this year's SAG Awards that we think she should wear jewel tones more often! The beaded bodice and cutout at the ribs make this dress even more gorgeous, if that's possible. This is definitely one of our favorite all-time looks for Kim.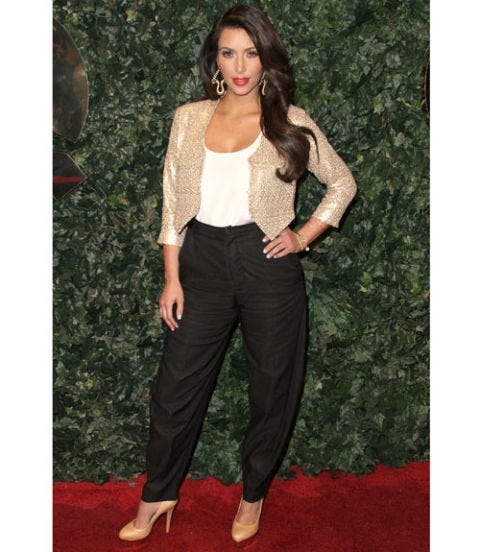 February 2011
Going bullfighting, Kim? Kim wore this K-DASH by Kardashian Cropped Sequin Bolero to a QVC party earlier this year, and combined with the red lips, black crops, and red carpet, she could easily be mistaken for a matador!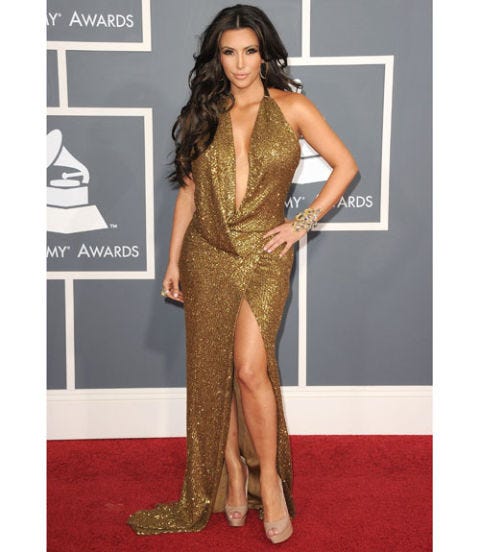 February 2011
With a plunging neckline and up-to-there slit, we can almost see Kim's belly button in this dazzling, gold-sequined Kaufman Franco gown. The voluptuous hair and nude pumps add some oomph to Kim's already apparent sex appeal.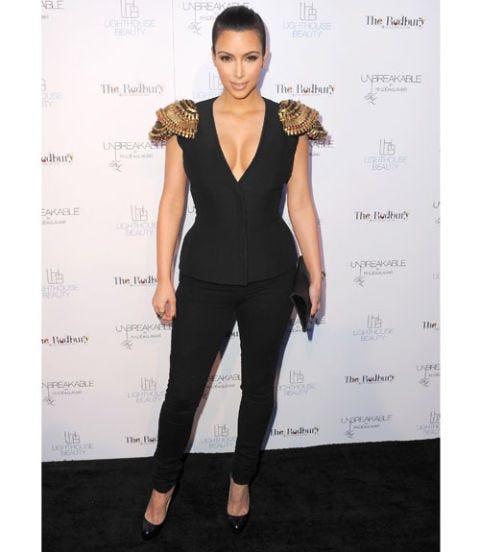 April 2011
We love this McQueen jumpsuit Kim wore to support sister Khloe and brother-in-law Lamar at the launch of their fragrance "Unbreakable." The gold shoulders are reminiscent of Michael Jackson circa the "Beat It" days and the fitted black silhouette is slimming. Plus, the deep v-neckline adds the perfect amount of sexy to an otherwise covered-up ensemble.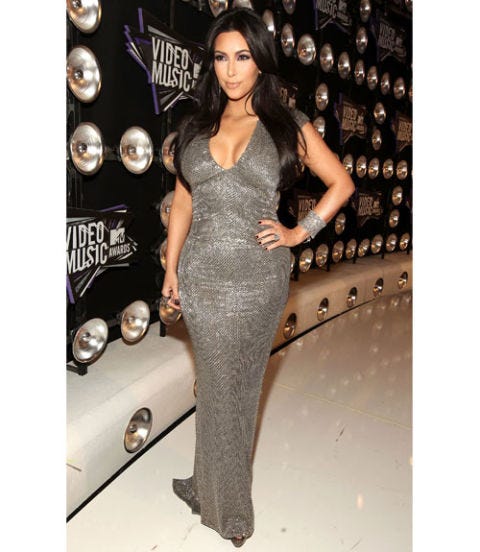 August 2011
Kim K. killed it at the 2011 MTV Video Music Awards in this sparkly silver number by Kaufman Franco. While most stars use the VMAs as an excuse to dress down, Kim went big: She flaunted the twins (and by twins we don't mean her little sisters) and wore pewter bling to match her gown.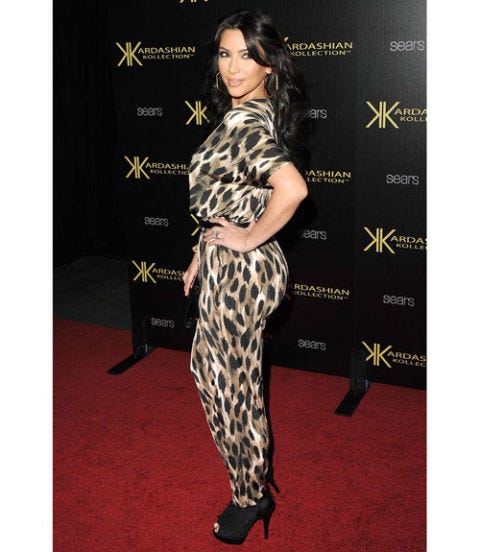 August 2011
Welcome to the jungle! The Kardashian klan stuck together (as they always do) at their August launch party of the Kardashian Kollection for Sears in six degrees of animal print. Kim showed off her budunk in a leopard-spotted jumpsuit and black accessories. Didn't she look fab?
This content is created and maintained by a third party, and imported onto this page to help users provide their email addresses. You may be able to find more information about this and similar content at piano.io