Shailene Woodley: Earth Angel
With four upcoming movies, including this month's The Spectacular Now, actress Shailene Woodley is poised for superstardom — whether she wants it or not.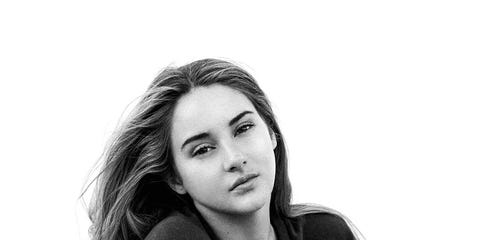 With four upcoming movies, including this month's The Spectacular Now, actress Shailene Woodley is poised for superstardom — whether she wants it or not.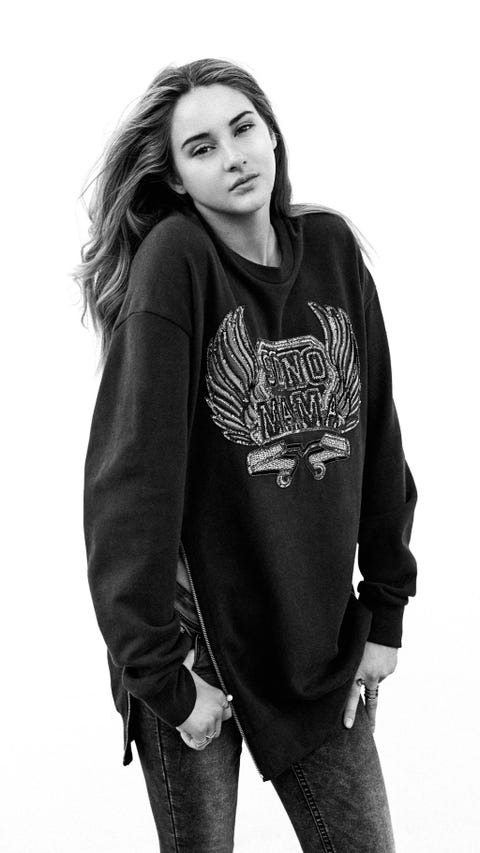 Earth Angel
Shailene Woodley doesn't like the C word. "Celebrity," that is. "I don't use it to describe myself," says the 21-year-old actress. "In high school, a lot of my friends didn't know I was an actor because I didn't talk about it. They would come to school and be like, 'Wait, were you on My Name Is Earl last night?' It was something I kept under wraps because I did it for myself and not for anybody else."
Top, $750, 3.1 Phillip Lim; pants, $29.95, H&M; rectangular ring, $2,025, Jessica Biales; thin band rings, $2,050 each, Dior Fine Jewelry; pearl ring, $330, gem ring, $1,170, Delfina Delettrez; three-band ring, $315, Campbell.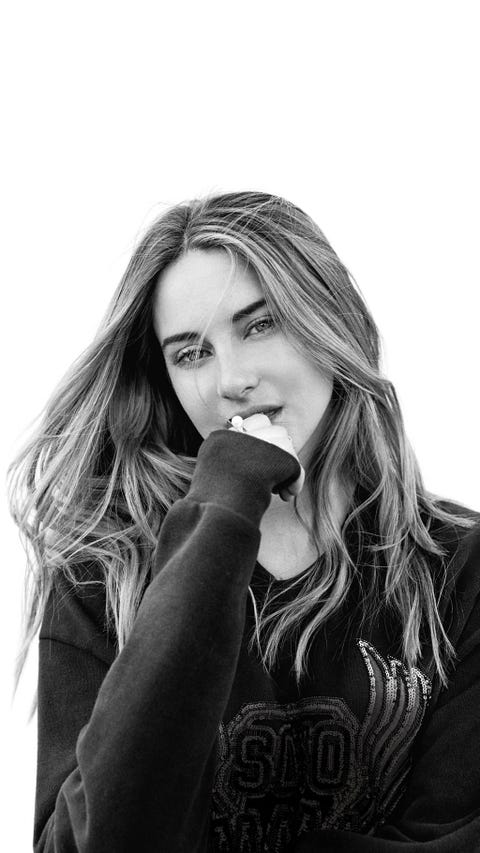 Earth Angel
Those stealth days are long over, ever since her five-year run on ABC Family's The Secret Life of the American Teenager and her big-screen debut as George Clooney's brooding daughter in 2011's The Descendants, for which she won the Film Independent Spirit Award. And she still displays a spirit more hippie than Hollywood—she wore Vibram FiveFingers with a Stella McCartney dress to a Golden Globes after-party, studies herbalism and survival skills in her free time, and tweets things not about her industry, but "I choose to see love in all #SpiritJunkie" or "The Universe is an awesome party where we must dance together to truly enjoy it #SpiritJunkie."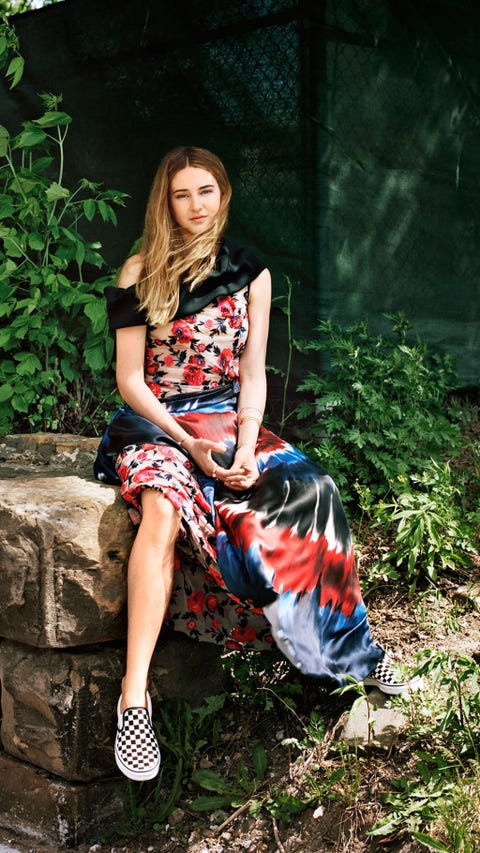 Earth Angel
You would never know it by her social-media feed, but the L.A.-based Woodley is landing—and nailing—plum roles left and right. This month's coming-of-age crowd-pleaser The Spectacular Now earned her and costar Miles Teller the Special Jury Award for Acting at Sundance. She has just wrapped The Amazing Spider-Man 2 (out next May), for which she learned to ride a motorcycle for her role as Peter Parker's love interest Mary Jane Watson. Of her costars, Woodley says, "Andrew [Garfield, who plays Peter Parker] brings the human factor to his characters," and "Emma [Stone, who plays Gwen Stacy] is a very strong woman—I feel empowered by her. We connected on a personal level, and helped each other on some personal things." Soon Woodley begins shooting The Fault in Our Stars, adapted from John Green's novel, in which she plays a terminally ill cancer patient.
Dress, price upon request, Rodarte; sneakers, $47, Vans; bracelet with pearl, $1,875, Delfina Delettrez; wings ring, $2,600, Anita Ko. On Woodley's left arm, from wrist to elbow: Arrow cuff, price upon request, Anita Ko; double cuff, $290, Tom Binns Design; single cuff, price upon request, Tiffany & Co.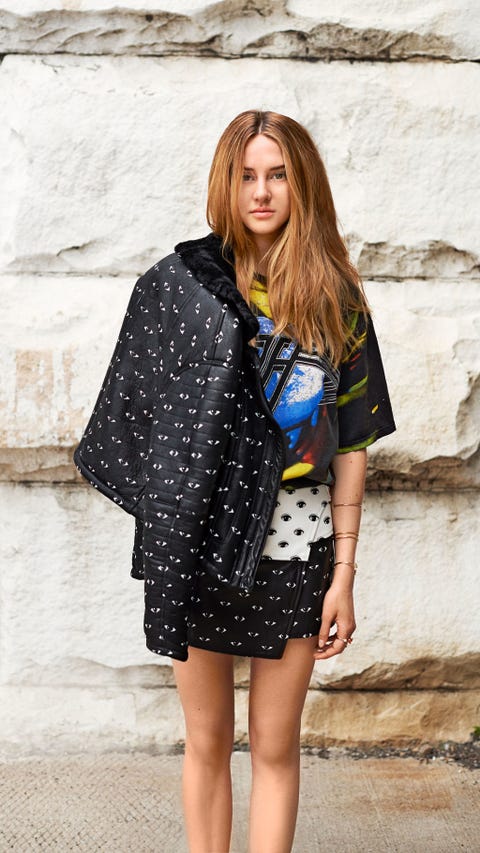 Earth Angel
But it's her role as Beatrice "Tris" Prior in next March's Divergent, starring Kate Winslet and based on Veronica Roth's best-selling young-adult trilogy about a future dystopian Chicago, that could propel her to supernova status. Critics say the part, which required nearly six weeks of training in knife throwing, has the potential to do for Woodley what The Hunger Games' Katniss Everdeen did for Jennifer Lawrence. "We are similar in many ways," says Woodley of Tris. "She constantly struggles between two worlds, the old and the new. I struggle in real life trying to balance my natural connection to the earth and the somewhat materialistic side of the industry I am in." So while she may show up in Valentino Haute Couture at the Oscars, the rest of the time she pretty much lives in T-shirts and Melodia leggings. ("Anything over a certain amount of money freaks me out.")
Jacket, $3,295, skirt, $1,305, Kenzo; top, from $35, Metropolis Vintage.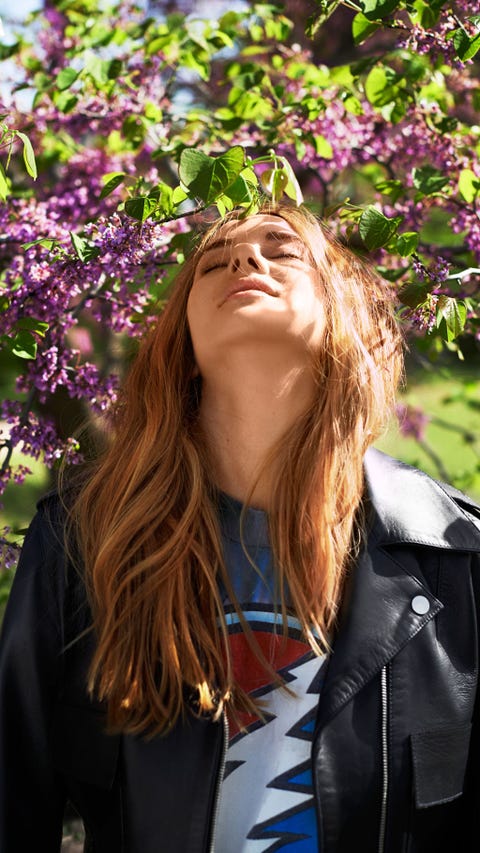 Earth Angel
Woodley may have a take-it-or-leave-it attitude toward show business and its attendant perks, but there are talents who inspire her: "To work with Ewan McGregor, Mélanie Laurent, or Mark Ruffalo would be pretty epic." Still, she says, "If I didn't have acting, I would be just as happy. I would probably be an herbalist, or maybe I would open a fruit stand on a Hawaiian island." @shailenewoodley
Jacket, $2,850, Balenciaga; top, from $35, Metropolis Vintage.
This content is created and maintained by a third party, and imported onto this page to help users provide their email addresses. You may be able to find more information about this and similar content at piano.io