Kim Kardashian and Elizabeth Taylor, Two Women Who'll Never Apologize for Their Success
Two women who enjoy life's spoils and don't apologize for it.
There are many comparisons that can be drawn between Kim Kardashian and the late Elizabeth Taylor. Don't misunderstand us, it's not because they both have Academy Award statues adorning their mantles — Disaster Movie (2008) is no BUtterfield 8 (1960), after all. It's that they're two women who enjoy life's spoils — romance, fashion, beauty, and bling — and don't apologize for it.
The Romance
"You are my idol... but I'm six husbands and some big jewels behind," Kim Kardashian once told Elizabeth Taylor. This was back in 2011, prior to Taylor's death, and since then she's divorced second husband Kris Humphries, had a whirlwind romance with Kanye West, and is now a bride-to-be. As far as power couples go, her relationship with West is parallel to Taylor's over-the-top courtship with Richard Burton.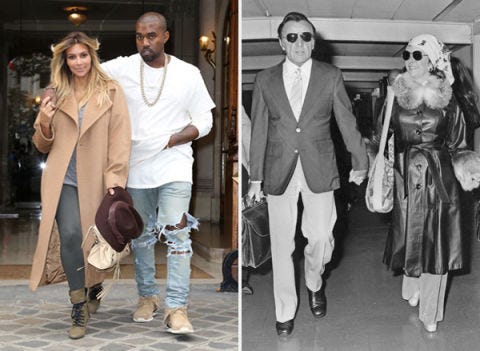 The Romance
Just as Taylor and Burton did back in the day, Kardashian and West like to make a scene with flashy get-ups and no shortage of PDA. West and Burton both boast a reputation for spoiling their ladies with lavish gifts.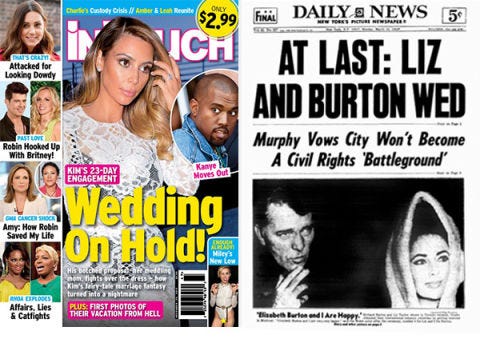 The Scandal
These women have never been strangers to scandal — especially when it comes to matters of the heart. Kardashian is going on her third marriage, while Taylor is infamous for being married eight times to seven husbands. Kardashian and West are practically the modern day Taylor and Burton with all all the splashy magazines and newspapers they cover.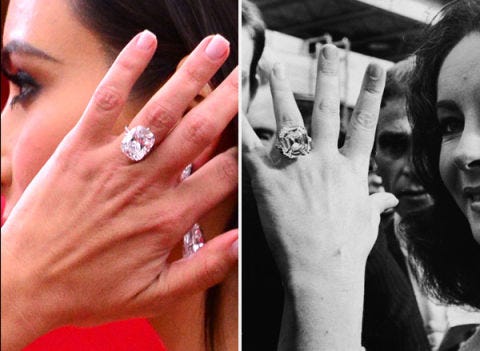 The Bling
No two women are more enraptured with jewels than these two, and you bet their diamond wedding rocks were evidence of just that. West gave Kardashian a 15-carat ring, but it pales in comparison to the 33-carat Krupp Diamond that Burton put on Taylor's finger in 1968. There's always the next engagement, Kimmy (we're kidding).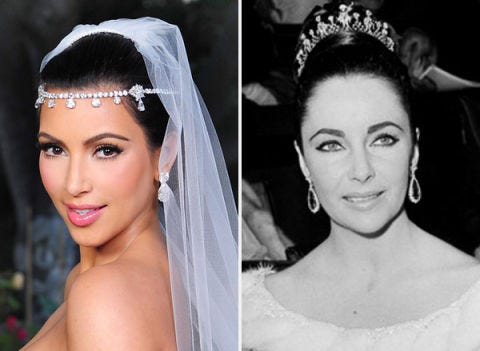 The Bling
Both Kardashian, at her wedding to Kris Humphries in 2011, and Taylor, at a film premiere in Paris in 1963, wear decadent headwear with ease. The reality star's bridal headpiece by Lorraine Schwartz is a more modern take on the actress' tiara.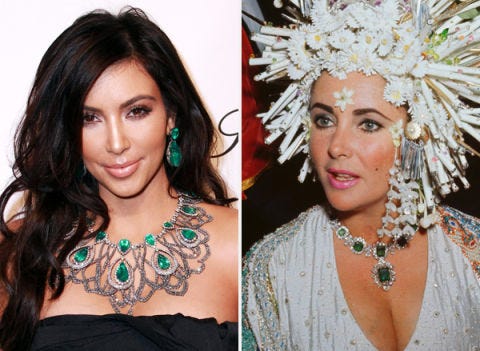 The Bling
Statement jewels aren't for the faint of heart and these two don't shy away from larger-than-life gems when it's time to put on the ritz (which is most of the time). Kardashian wears a dripping emerald diamond necklace and matching earrings, while Taylor pairs her Bulgari necklace with a showy headpiece.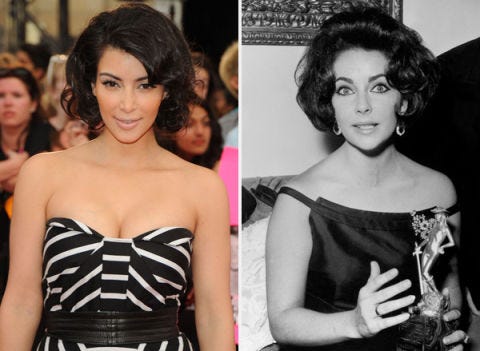 The Beauty
With hairstylists at their disposable, no two hair days are ever the same for stars like Taylor and Kardashian. Neither shy away from coiffing their jet black hair into an elaborate 'do. Here, Kardashian channels the old Hollywood star by styling her hair into a convincing faux bob.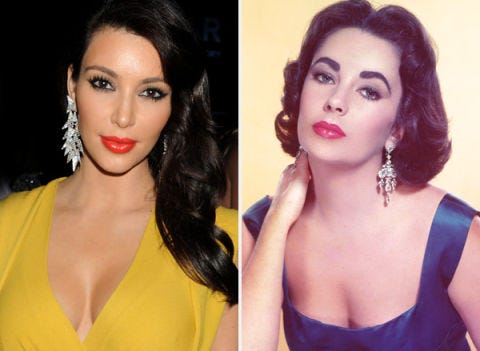 The Beauty
Kardashian and Taylor are both blessed with coveted facial features such as their defined brows and high cheek bones. They each enhance their hyper-feminine beauty with striking makeup looks such as a classic red lip or bold eyeliner.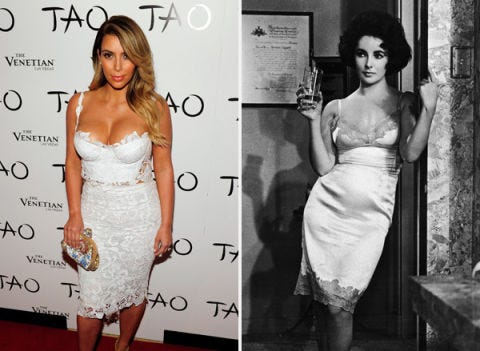 The Fashion
While Kardashian is a modern day sex symbol, Taylor was one of the leading screen sirens of the '50s and '60s. They each dress the part by accentuating their curvy physiques.
Here, Kardashian channels Taylor as "Maggie the Cat" in Cat On a Hot Tin Roof (1958), hitting the red carpet in a white Dolce & Gabbana bustier dress.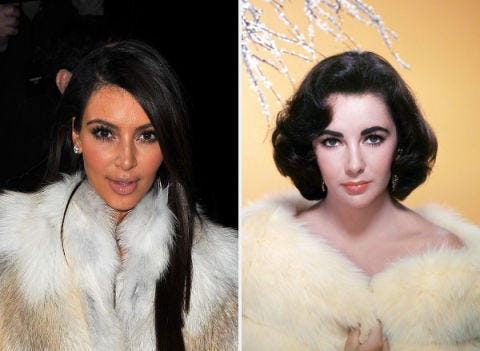 The Fashion
During her heyday, Taylor helped make fur synonymous with Hollywood glamour. These days, Kardashian gets flak for dressing in fur, but that doesn't stop her from sporting a wealth of sumptuous skins.
Here, Kardashian hit Kanye West's fashion show in Paris wearing a fox fur shawl, while Taylor poses for a portrait wrapped in an ivory number in 1955.
This content is created and maintained by a third party, and imported onto this page to help users provide their email addresses. You may be able to find more information about this and similar content at piano.io