13 NYFW Looks That *Appear* to Be Inspired by the Royal Family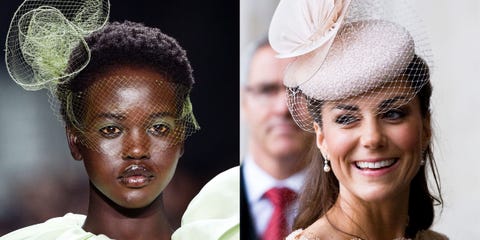 New York Fashion Week 2018 wrapped up yesterday and several of the looks shown by designers at the annual fashion event looked oddly familiar to fans of the royal family. Here are some NYFW looks that appear to be inspired by the royal family.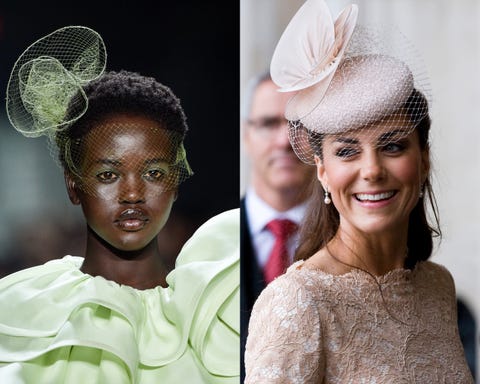 The Marc Jacobs hats and veils
Marc Jacobs Spring 2019 runway show featured hats, headpieces, and veils that are very reminiscent of the fascinators worn by the British royal family.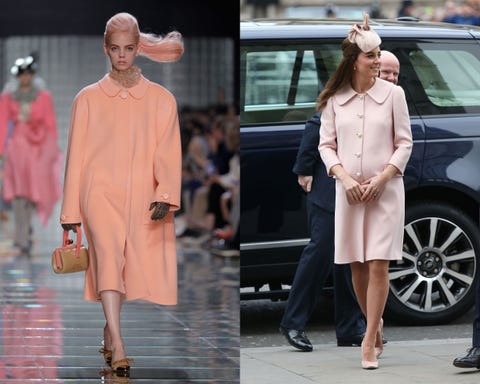 This Marc Jacobs coat
This flowy Marc Jacobs coat reminds us of the pastel maternity coats Kate Middleton loves.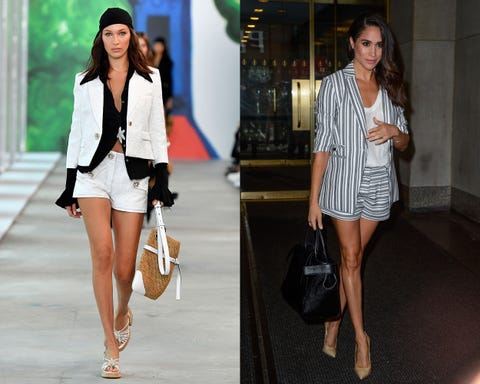 This Michael Kors shorts/blazer combo
Michael Kors showed shorts and blazers, a pre-royal favorite of Meghan Markle's.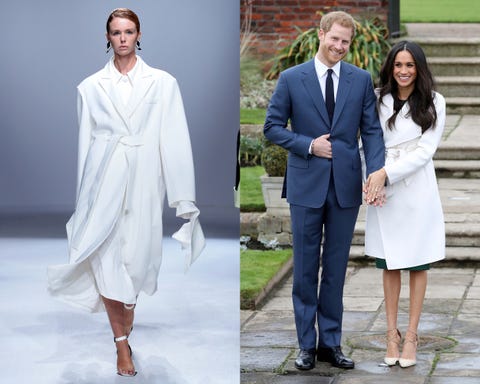 This white Naersiling coat
This white Naersiling coat is a runway take on Meghan Markle's iconic engagement photo look.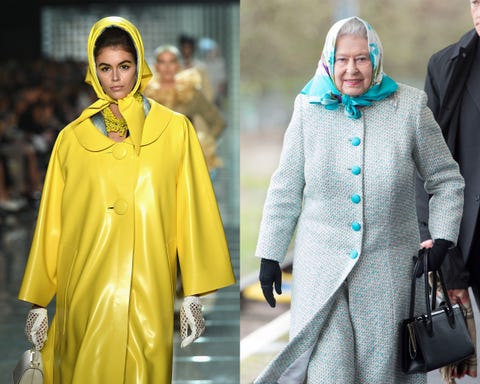 This Marc Jacobs raincoat
The yellow raincoat/headscarf combo takes a page from Queen Elizabeth's go-to travel style book.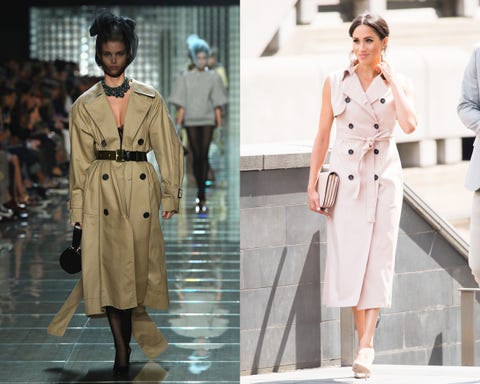 This Marc Jacobs trench coat
A trench coat as a dress? That can't not make us think of Meghan Markle.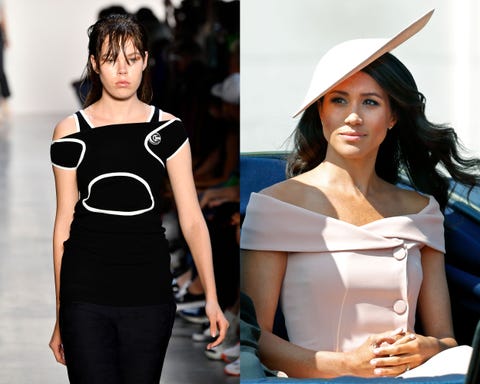 The C+ Plus Series off-the-shoulder looks
The C+ Plus Series runway show featured multiple off-the-shoulder styles, a look Meghan Markle has favored in her time as a royal.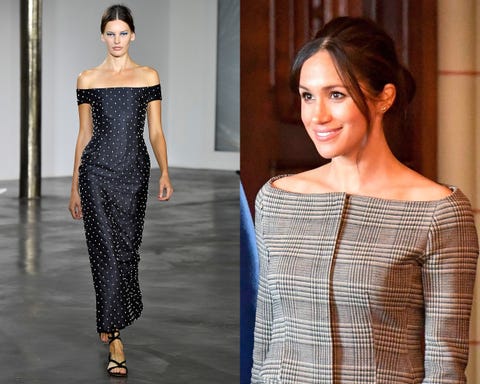 And Gabriela Hearst's off-the-shoulder looks
Off-the-shoulder is going to be big next year.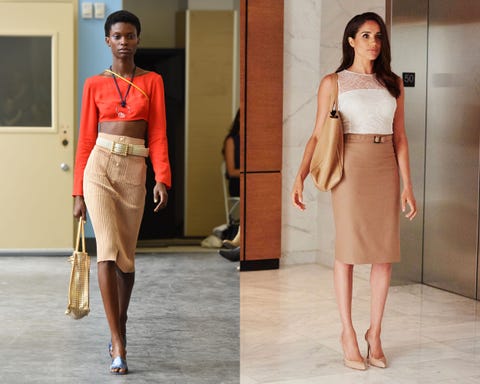 This Maryam Nassir Zadeh pencil skirt
An ultra high-waisted pencil skirt and a belt? That's basically all Meghan Markle wore on Suits.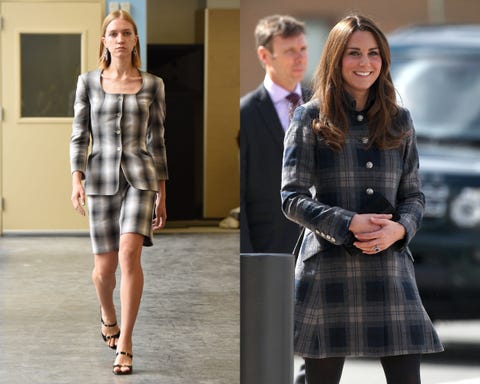 This plaid Maryam Nassir Zadeh suit
Maryam Nassir Zadeh also showed a stunning plaid suit at NYFW 2018. The pattern is a favorite of Kate Middleton's.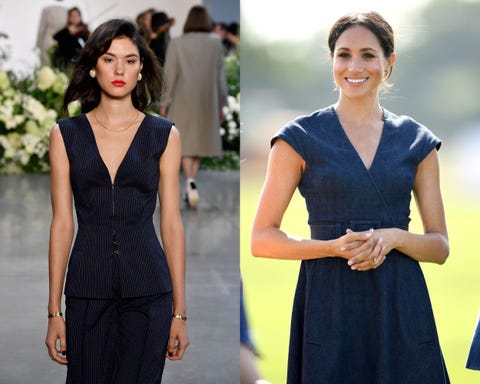 This navy Calvin Luo
The navy v-neck piece in the Calvin Luo show calls back memories of Meghan Markle's Sentebale Polo look.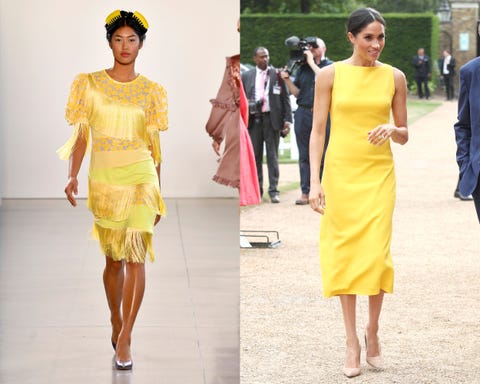 Marcel Ostertag's canary yellow palette
Marcel Ostertag showed several bright yellow pieces. The shade has been a favorite of Meghan Markle and Kate Middleton this year.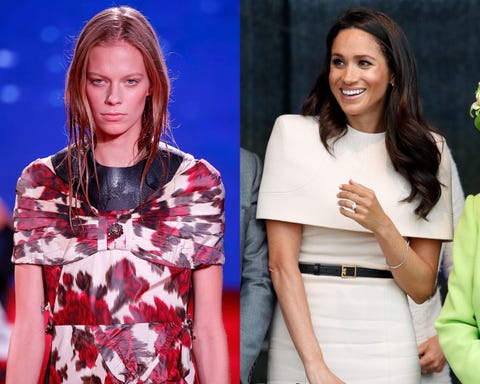 Calvin Klein's shoulder wraps
Calvin Klein's collection featured wrapped shoulders that reminded us of Meghan's iconic look for her first solo event with the Queen.
This content is created and maintained by a third party, and imported onto this page to help users provide their email addresses. You may be able to find more information about this and similar content at piano.io