The 21 Most Iconic Photos of Joan Rivers
Remembering Joan.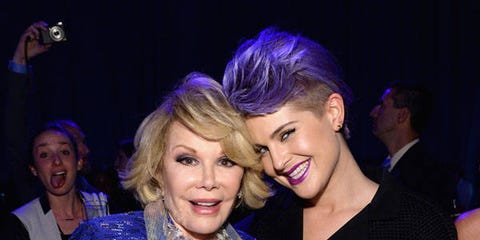 Joan Rivers—presenter, pioneering comedienne, and mother—passed away September 4, 2014. For her wit, her willingness to laugh at herself, and, most of all, her audacity, we honor the television legend.
Joan Rivers and Kelly Osbourne, 2014
Rivers has hosted Fashion Police since September 2010, reaching more than 10 million viewers worldwide, according to her website.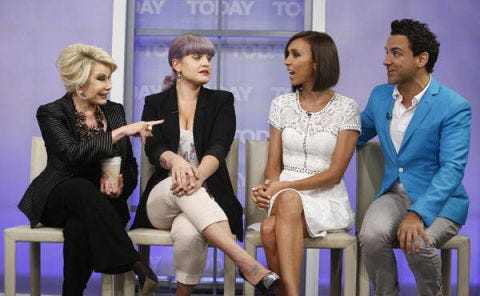 Joan Rivers on Today, 2013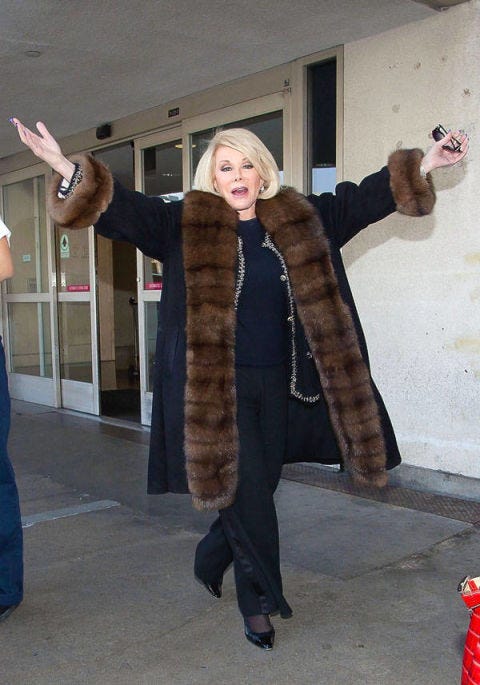 Joan Rivers on The View, 2010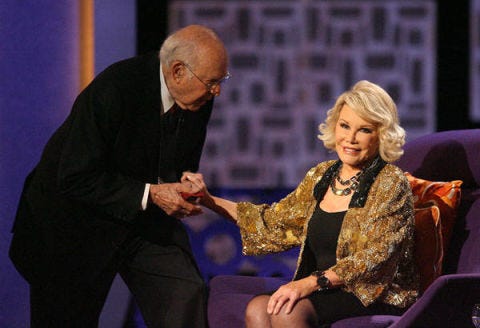 Carl Reiner and Joan Rivers, 2009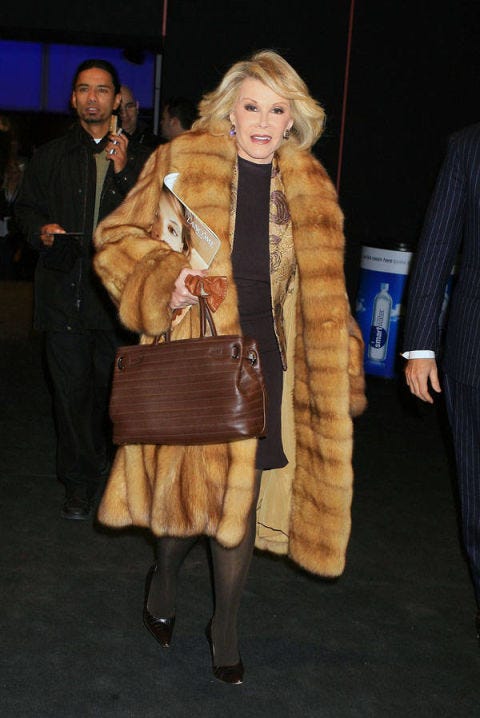 Joan Rivers, 2007
Rivers included "designer" on her resume. In 1990, she launched a collection of jewelry, accessories, and clothing on QVC.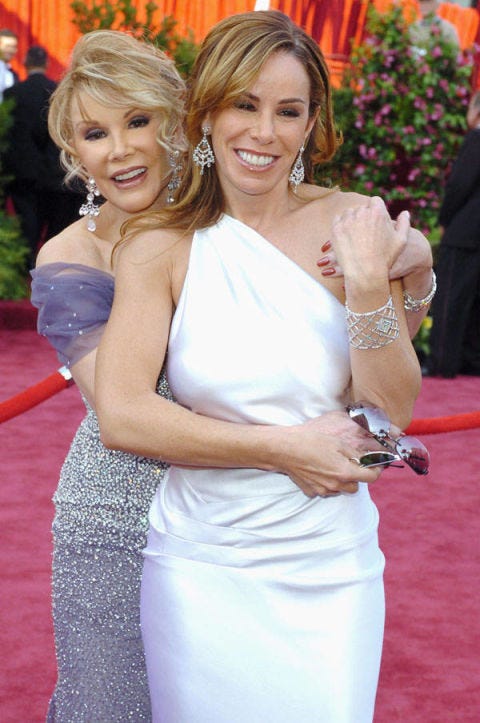 Joan and Melissa Rivers, 2005
Rivers won the second season (2009) of The Celebrity Apprentice.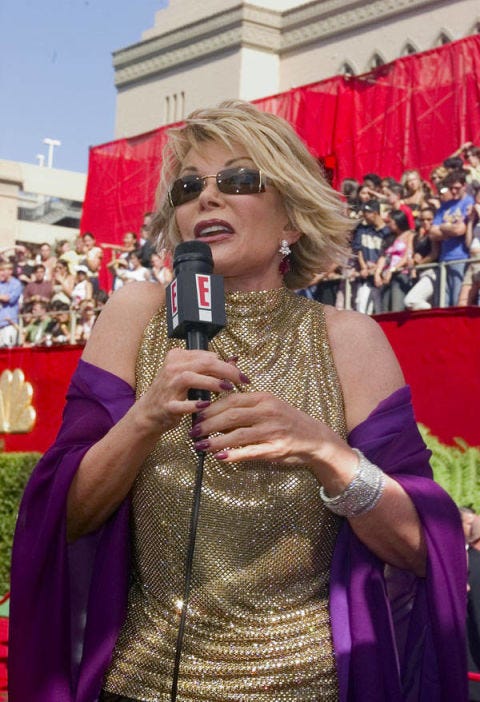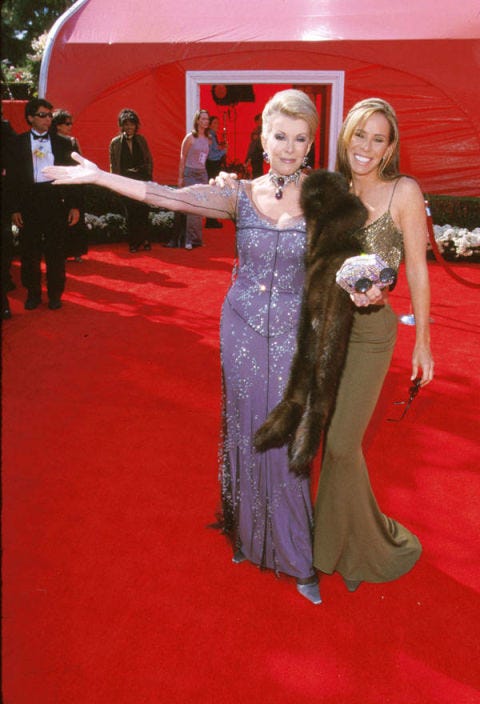 Joan and Melissa Rivers, 2000
Mother and daughter starred in four seasons of the reality show Joan and Melissa: Joan Knows Best?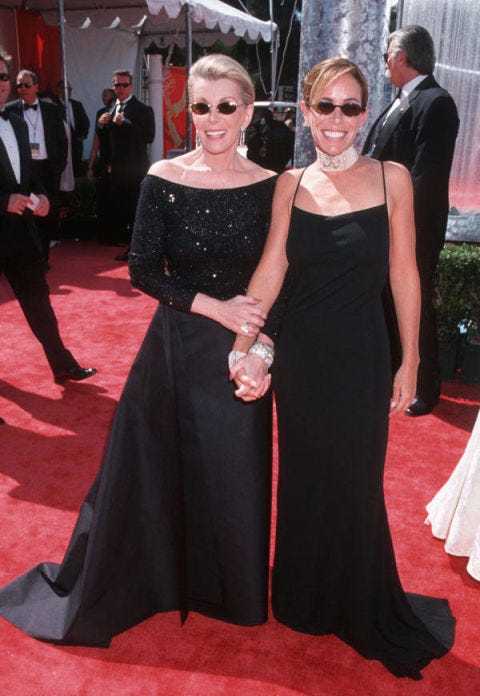 Joan and Melissa Rivers, 1999
Melissa Rivers on her mother: "She's ... completely supportive of gay rights and everyone should be able to do whatever they want, live and let live, and whatever makes you happy. She has no problem with, like a rhino and a ferret living together, and yet she can't believe that I don't want to get married again!"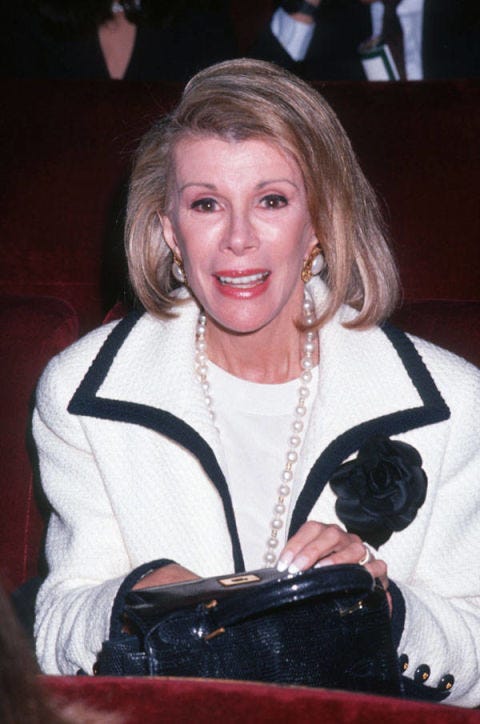 Joan Rivers, 1992
On interviewing celebrities: "You feel like a member of the press corps—you share, and it also gets very competitive. It's like being a fighter and going into the ring. All that energy!"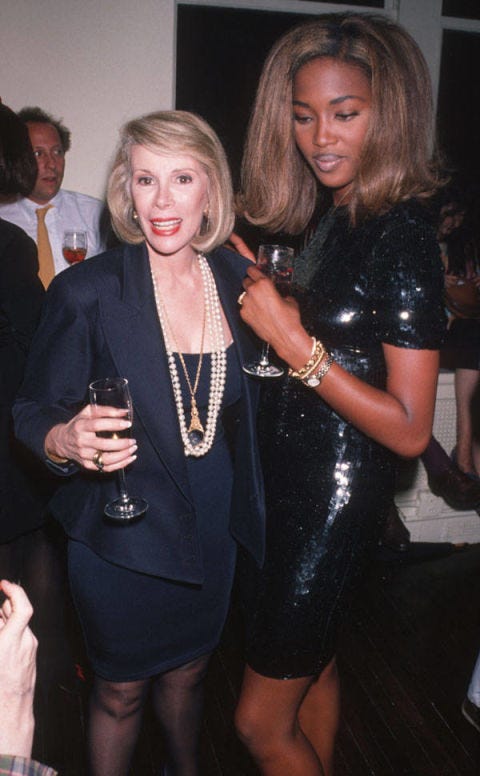 Joan Rivers and Naomi Campbell, 1990
Dinner-party tips Rivers once gave to The New York Times: Make your guests name something they're grateful for, and put facts about other guests under person's each plate.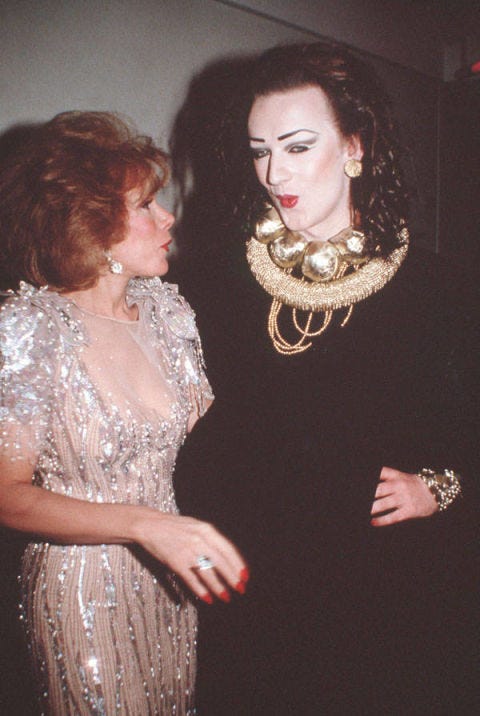 Joan Rivers and Boy George, 1987
When asked if she'd ever regretted anything she'd said, Rivers replied: "Remember all the Elizabeth Taylor jokes, which I did when she was fat? ... I regretted those. So I had a mutual friend call her up, to see if it was hurting her, to say that I was starting to regret this and that I'd stop. And she sent back a message saying, 'It doesn't get me where I live.' From then on, I was crazy about her."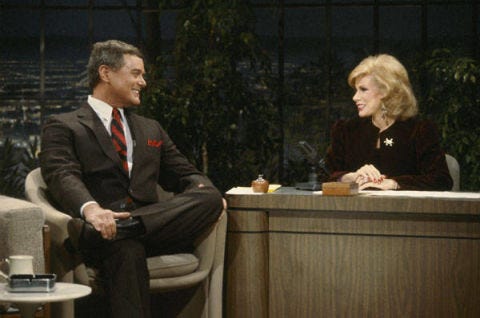 Joan Rivers and Johnny Carson, 1983
After a 1968 appearance on The Tonight Show Starring Johnny Carson, Rivers became a permanent guest host of the program.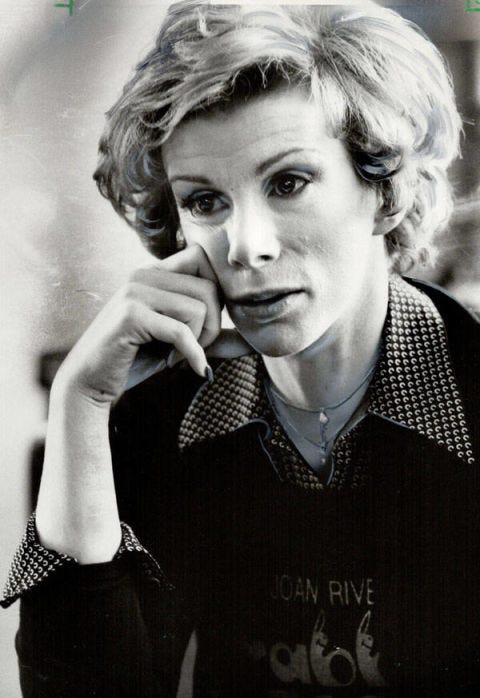 Joan Rivers, 1978
Carson famously refused to speak with Rivers again upon learning Fox had offered her her own show. She finally returned to The Tonight Show in March 2014 with Jimmy Fallon as host.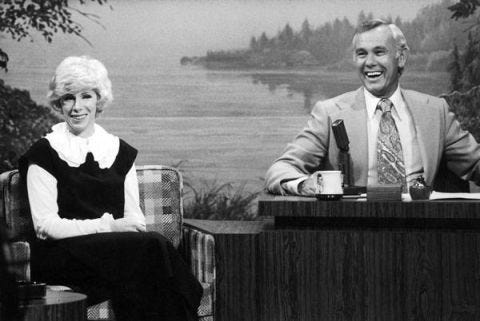 Joan Rivers and Johnny Carson, 1977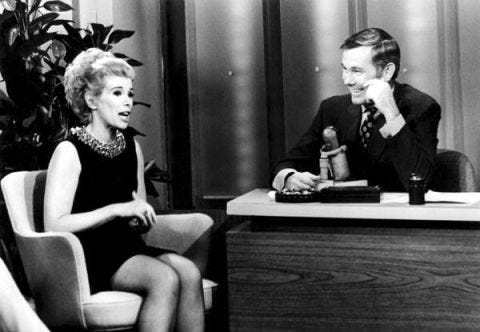 Joan Rivers and Johnny Carson, late 1960s
On celebrities getting offended: "If you're making $20 million a movie, what do you care? So I didn't like your Valentino dress. What? You were upset for two minutes at the after-party."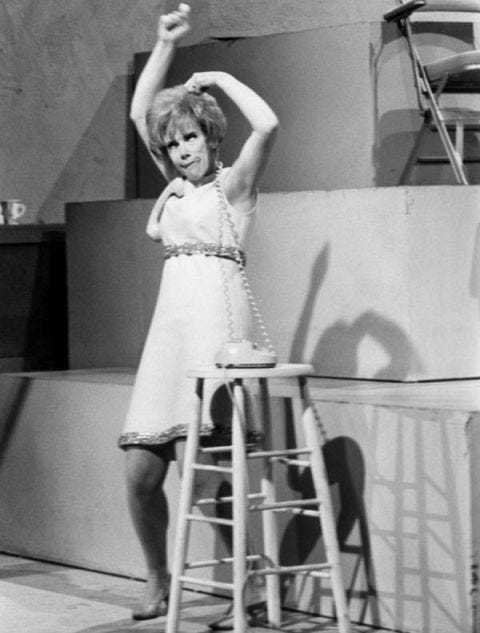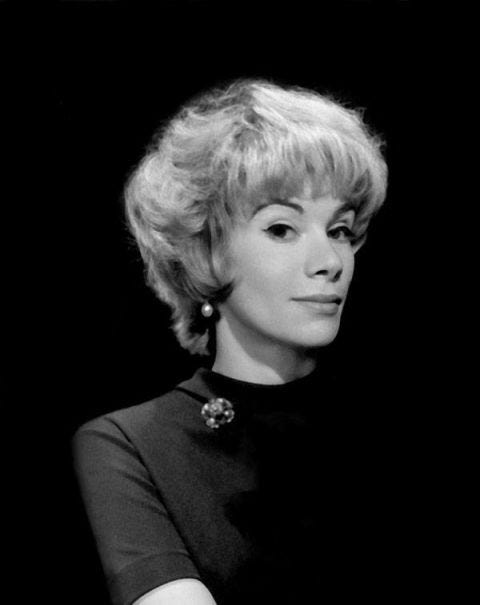 Joan Rivers, 1965
Her irreverent attitude extended to aging, as illustrated by this tweet:"I must admit I am nervous about getting Alzheimer's. Once it hits, I might tell my best joke and never know it."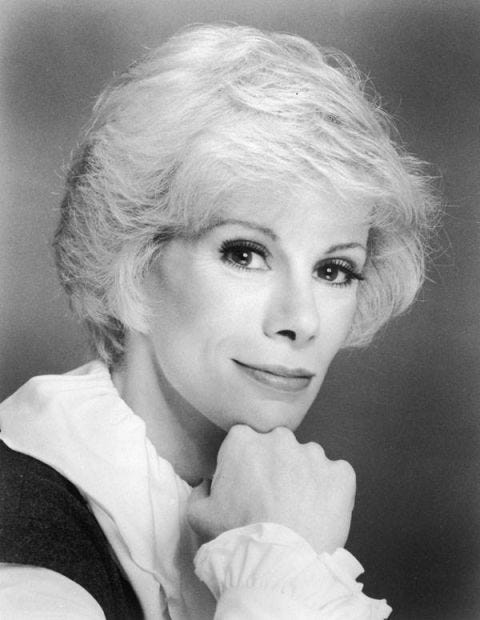 Joan Rivers, 1960
"Never be afraid to laugh at yourself. After all, you could be missing out on the joke of the century."
This content is created and maintained by a third party, and imported onto this page to help users provide their email addresses. You may be able to find more information about this and similar content at piano.io