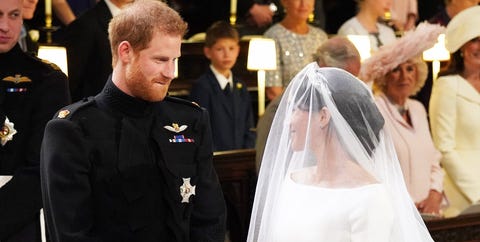 If you feel like the royals dominated 2018, you're not wrong. For the first five months of the year, the world scoured the internet to dissect every detail of Prince Harry and Meghan Markle's wedding, news broke every time the now-Duchess stepped outside, launching the Meghan Markle effect, a third royal baby, Prince Louis, was born in April, a second royal wedding happened in October, and three days later Kensington Palace announced Harry and Meghan were expecting their first child right before their 16-day royal tour.
This year may have been a hellscape in America, but at least we have the Brits to thank for distracting us from it. Here, a review of the best, most memorable royal moments of 2018.
Don't feel bad if you kinda, sorta forgot about 7-month-old Prince Louis. Kate gave birth to her and William's third child on April 23, but we still haven't gotten a good glimpse of him since his christening in July where he was...sleeping! Still, his birth was a very exciting royal moment this year—George and Charlotte gained a new sibling, Charlotte made history by not losing her place in line to her little bro, and Louis could be king one day.
2
Meghan Walking Herself Down the Aisle
There were a lot of amazing moments at Prince Harry and Meghan Markle's wedding, but one of the most memorable was when Meghan, modern woman, walked herself down the aisle looking like a literal angel who descended from heaven. Her father-in-law, Prince Charles, joined her closer to the altar, but her grand entrance became an inspiring moment for women everywhere.
The effortless gaze, the perfect precision, and there it was—The Lip Bite—followed by Prince Harry's whisper, "You look beautiful," when his bride arrived next to him at the altar. I expect nothing less from men in 2019.
4
Prince George Playing with a Slinky
This summer, I remembered that a slinky exists thanks to my favorite person in the world, Prince George, which qualifies as a monumental moment. Do yourself a favor and enjoy these amazing photos of George and Charlotte running around carefree at their dad's polo match and Kate looking like a regular mom (in the best way).
5
Nacho Figueras Third-Wheeling That Epic Kiss
No, I am still not over this, thanks for asking! Harry and Meghan smooched in public for the first time besides their wedding after the Sentebale Polo Match on July 26 (I wrote about it here), but the best bit came when Nacho sealed his fate and picked that exact moment to hand Harry his trophy. No sporting event will ever compare.
6
Savannah Phillips' Ascendance to the Throne
Savannah Phillips, granddaughter of Princess Anne, introduced herself—and her dominance—this year when she covered her cousin Prince George's mouth in the middle of the Trooping the Colour ceremony in June. As far as I'm concerned, there's one queen, and it's not Elizabeth.
7
Meghan Touching a Car Door
In September, the world was shocked to learn that Meghan Markle had the capability of closing her own car door, and it sent many royal stans into a frenzy over whether or not doing so broke royal protocol. Plot twist: It didn't.
8
Meghan's First Charity Initiative
The Duchess experienced a lot of first's this year as a royal, but the one she truly made her own was the launch of her first charity initiative—a cookbook, Together: Our Community Cookbook—when she brought together women affected by the Grenfell Tower fire.

9
Kate Playing with Children
It's been a long year without the Duchess of Cambridge (she went on maternity leave from April to October). So it was a beautiful, refreshing event when she attended her first work engagement at the Sayers Croft Trust Forest School and Wildlife Garden. She couldn't have looked happier playing with children and enjoying nature.
10
Jack Brooksbank Fumbling to Put on Princess Eugenie's Ring
Not sure which adorably awkward moment I love more: the face Jack made while fumbling to put Princess Eugenie's wedding ring on her finger, or when he put on his glasses to watch his wife walk down the aisle...only to take them off as soon as she arrived at the altar. I'm not crying, you're crying.
11
Meghan Announcing She's Pregnant!
As if the incredible royal wedding wasn't enough, five months later Meghan and Harry revealed that they were expecting their first child together. Their baby will be born around the same time Prince Louis was last year, which means 2019 will likely be another royal-dominated year. You know you love it.