Just 22 Photos of Sophie Turner and Maisie Williams' Friendship Through the Years
Name a more iconic duo, I'll wait.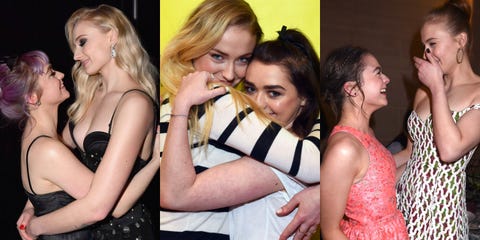 We've all gotten to know and love the friendship between Sophie Turner and Maisie Williams, which at this point is over a decade old. The girls have literally grown up on Game of Thrones, and every time they come together to promote the show, travel together, attend events, or just plain hang out, they give the rest of the world friend-envy. They're pals on-set, in real life, and on social media—truly BFF goals. Williams will even be one of Turner's maids of honor at her wedding to Joe Jonas.
Here's the chronology of their entire epic friendship, from their first press photos all the way to their very last GoT tour. For the sake of everyone, let's hope the two pals continue being an iconic duo well beyond the finale.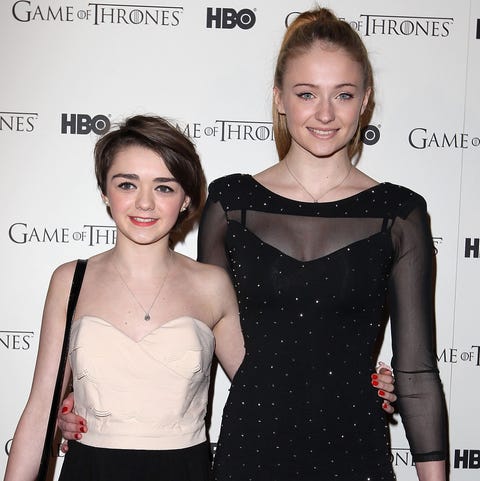 Danny Martindale
Getty Images
February 29, 2012
Ohmygosh, look at how YOUNG they both are! I mean, it makes sense—this was over seven years ago at this point, and the two were cast a decade ago—but it really goes to show that the two girls have truly grown up together. This was at the DVD launch of the first season.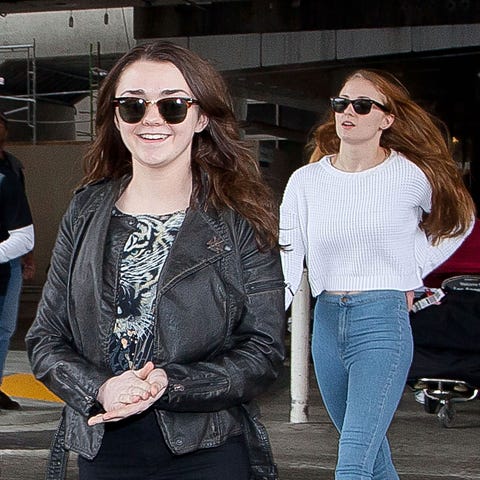 GVK/Bauer-Griffin
Getty Images
March 16, 2013
The two even travel together! This was at LAX, with Maisie smiling for the cameras and Sophie doing a very modelesque hair flip (already working her best angles, love it.)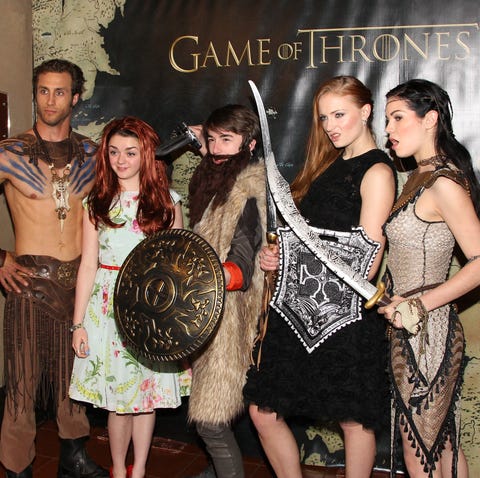 March 18, 2013
And the friends are ALWAYS ready to goof around and have a good laugh, in this case at a GoT Los Angeles premiere. I think Maisie is supposed to be Sansa?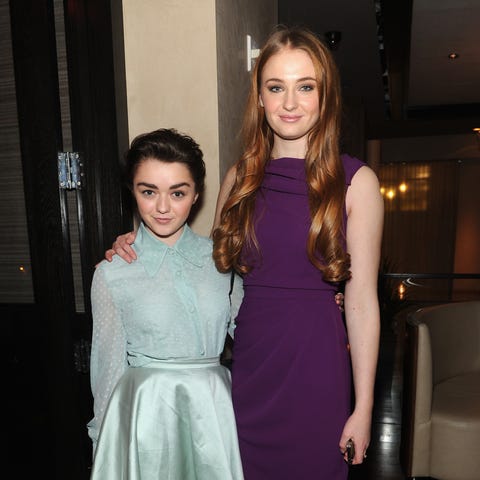 Jamie McCarthy
Getty Images
February 8, 2014
You can tell the girls are starting to come into their own, fashion-wise, and they're giving "good face" to the cameras. This was a non-GoT event: the Mercedes-Benz Fashion Week Fall 2014 Christian Siriano private dinner and after party. So they've become fashion mavens together, too.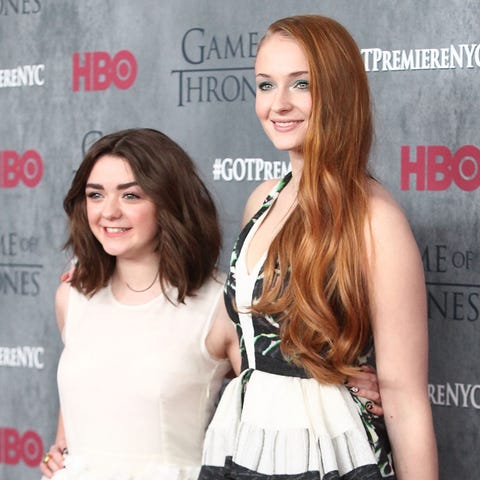 March 18, 2014
But, of course, the two can't help but smile when they're together. This was the New York GoT Season 4 premiere, and I have so much hair envy of the both of them.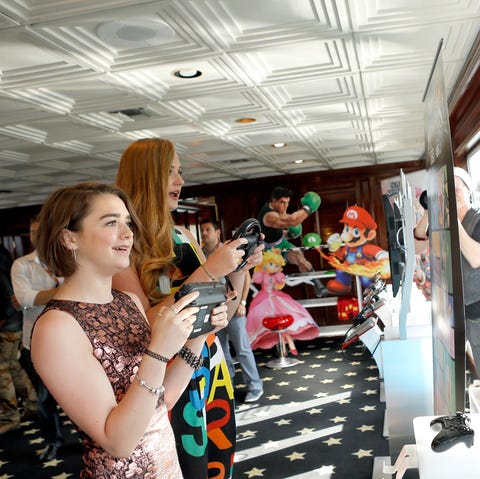 July 25, 2014
Maisie and Sophie play video games together at the Nintendo Lounge on the TV Guide Magazine Yacht at Comic-Con (are they playing a GoT game? Who's winning??).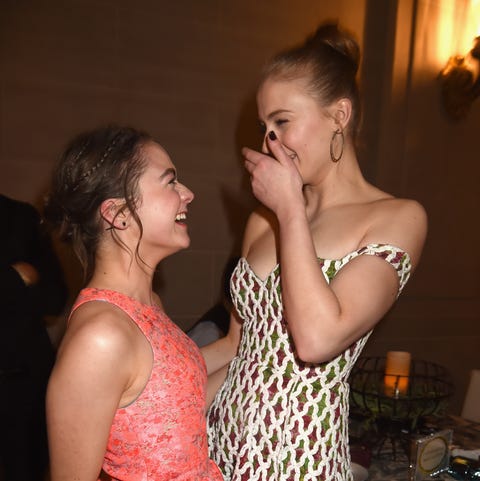 March 23, 2015
Honestly, I would kill to be a fly on the wall for this convo. The BFFs share a secret laugh during the after party for HBO's GoT Season 5 (is it about Jon Snow? Tell me!!).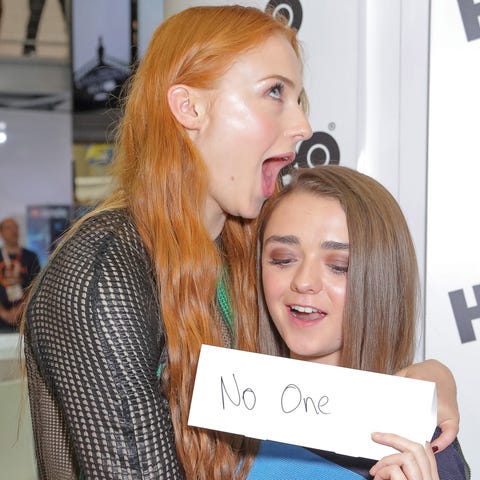 Chelsea Lauren
Getty Images
July 10, 2015
At Comic-Con in San Diego, Maisie shows off her nametag, which is a clever GoT reference, and Sophie attempts to...eat her friend's hair? I dunno.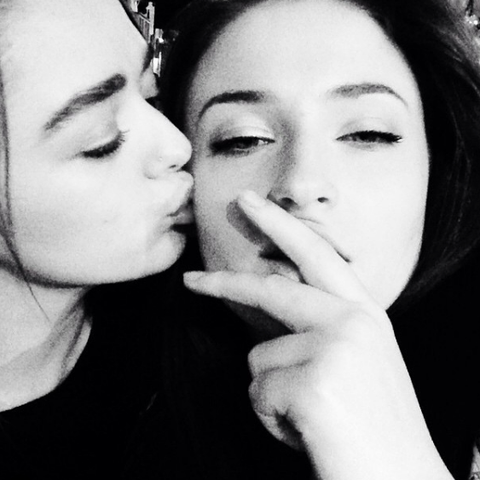 July 31. 2015
Maisie and Sophie have featured on each other's social media for a loooooong time. Their IRL chemistry (i.e., they're not just happy to do appearances together) is so strong.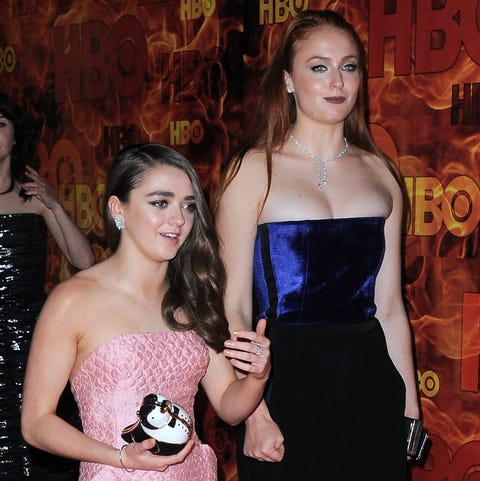 Albert L. Ortega
Getty Images
September 20, 2015
Makin' moves! At this point, Maisie and Sophie are embracing their edgier style at the HBO 2015 Emmy after party. Also, the show had really hit its stride, and both girls had become household names.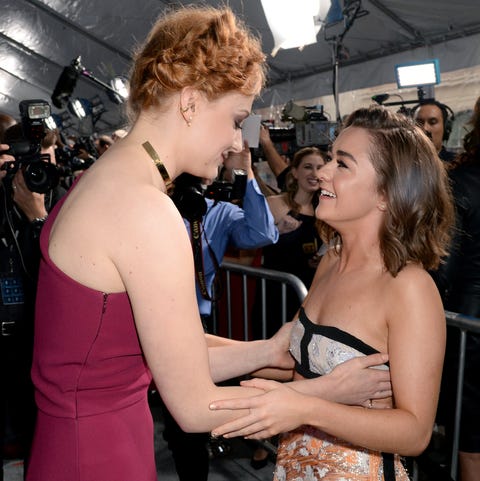 April 10, 2016
At the GoT Season 6 premiere TCL Chinese Theatre, Sansa gets sweetly handsy with her friend (hey, maybe she's trying to help her with her strapless bra. That's friendship!).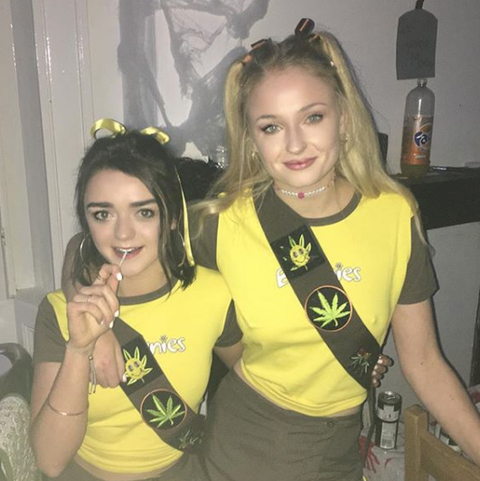 October 31, 2016
Coordinated, silly-sweet-naughty Halloween costumes? Yes please! (I think they're R-rated scouts?? Update: hash brownies!) Either way, I'm here for the coordination and silliness.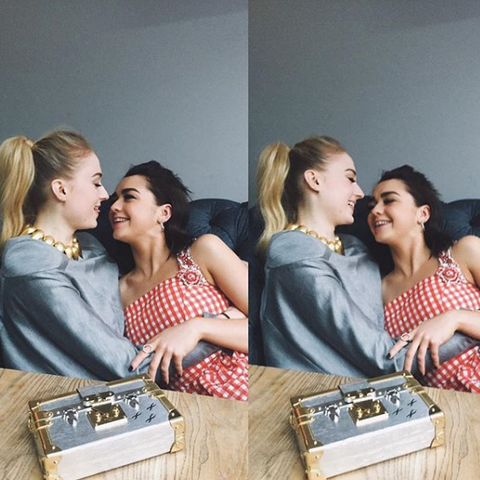 January 7, 2017
Either before or after the BAFTA Tea Party (they're still wearing their outfits, lol), the two snuggle up together. I mean. Just check that adoring look they're giving each other.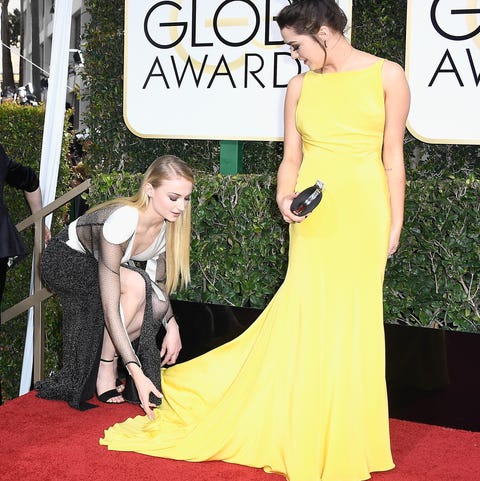 Frazer Harrison
Getty Images
January 8, 2017
You know what a BFF does? A BFF helps you wrangle your train. Sophie was more than happy to help Maisie avoid a wardrobe malfunction at the Golden Globe Awards in Beverly Hills.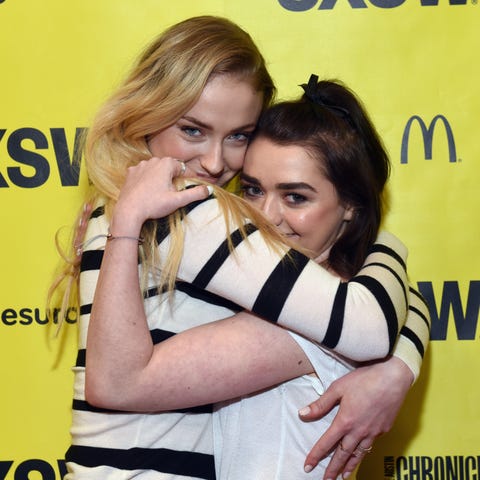 March 12, 2017
At a SXSW 'Featured Session: Game of Thrones,' the two snuggle up close—you can never break up the Stark girls, no matter how hard you try.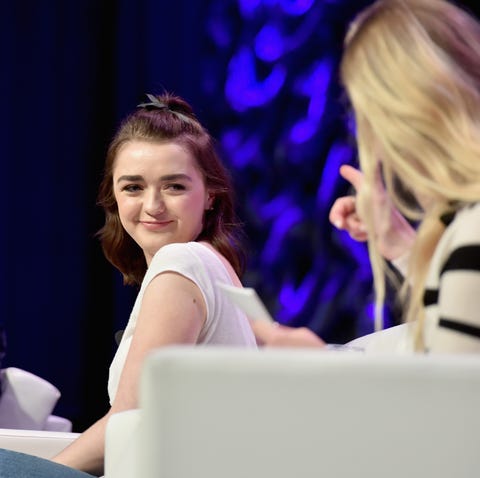 March 12, 2017
At the same event, Maisie gives a smirk to Sophie, who mimes something to her BFF (some kind of inside joke, probably). The drinky drinky motion? I dunno.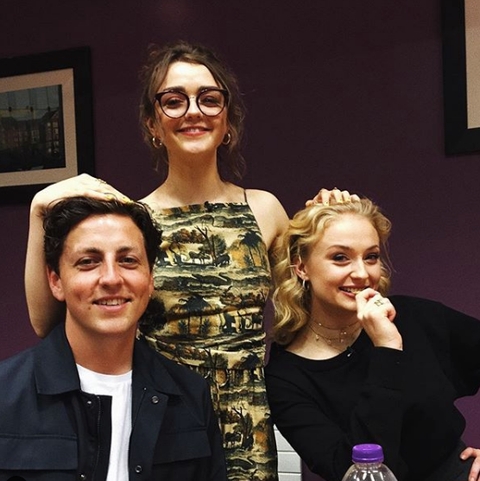 June 9, 2018
Sophie and Maisie are both supportive of each other's significant others, too. Here, Maisie's with Sophie and her boyfriend Ollie Jackson, and she captioned the photo, "my husband and my wife." Bawww.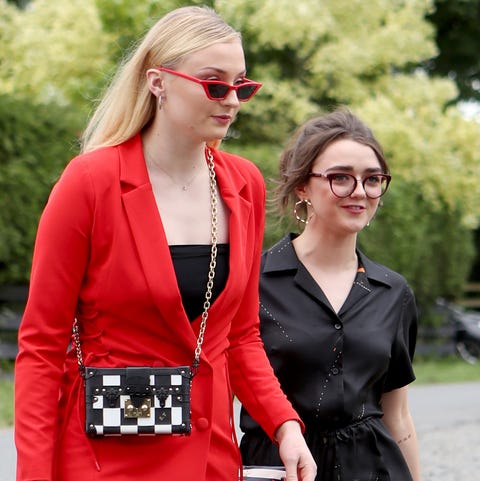 Jane Barlow - PA Images
Getty Images
June 23, 2018
They're even each other's wedding dates! In this case, they were headed to GoT costars Kit Harington and Rose Leslie's wedding—in fabulous glasses, no less—so it was a reunion of costars and friends.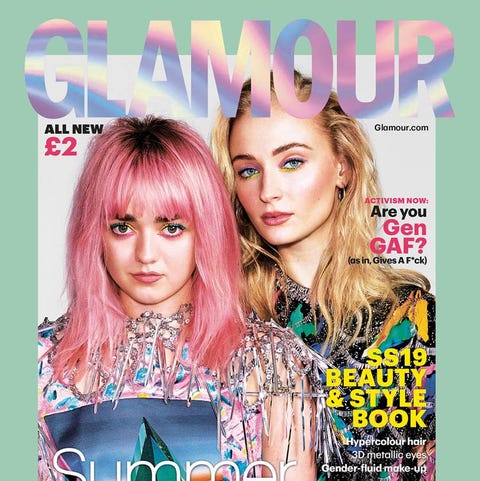 March 7, 2019
They're even on magazine covers together. That's how iconic their friendship is. Here they pose for Glamour UK, showing off some very non-GoT hairstyles now. "People always think Maisie and I are a couple. I mean, I am obsessed with her, so you never know," Turner says. "She's my drug. I've got an addiction to Maisie Williams."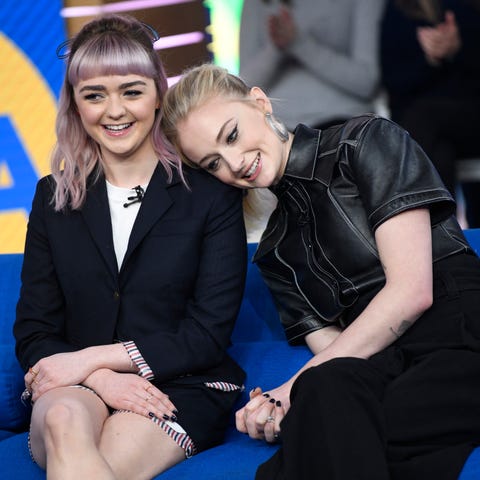 April 2, 2019
As they do their last big promotional push (this is an appearance at Good Morning America) they genuinely seem to delight in each other's company the more they spend time together. It's no coincidence Maisie is one of Sophie's maids of honor.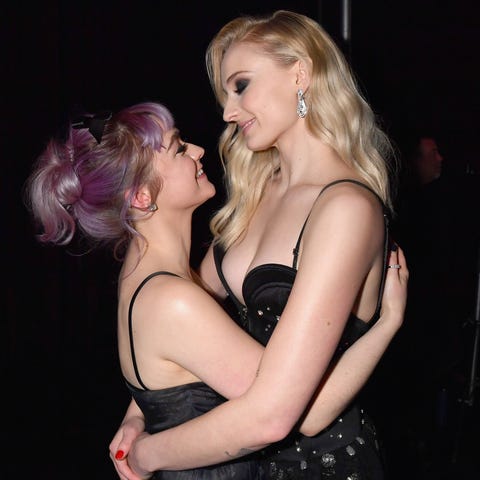 Jeff Kravitz
Getty Images
April 3, 2019
They're in the final stretch of the show—this is at the GoT Season 8 NY Premiere—but their love continues strong. Maisie says she's the luckiest girl in the world. "She's my best friend. I mean like, who else gets to go to work with their best friend?"
This content is created and maintained by a third party, and imported onto this page to help users provide their email addresses. You may be able to find more information about this and similar content at piano.io