It's a Lipstick Jungle in Here
We challenged Kim Raver to take control of Marie Claire for a day. Did she feel the power or the heat?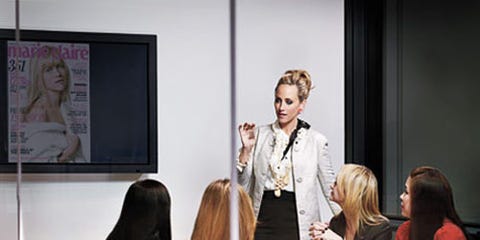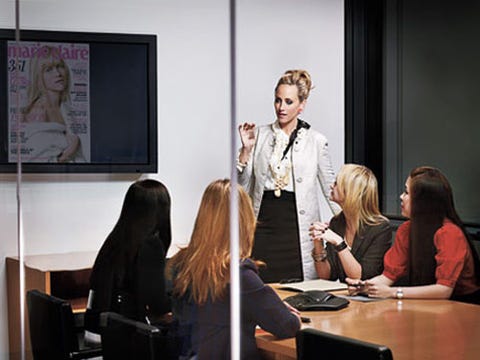 Lipstick Jungle at Marie Claire
MARKETING CONFERENCE ROOM, 9:00 A.M.: The features staff gets an earful as Raver raves on about the importance of punchy cover lines. Next month, there should be 356 Hot Looks, not 351 Hot Looks, she advises. "I find a woman who knows what she wants to be very sexy," says Raver, ruling the meeting with a pretty fist. "They come in, look beautiful, and still make tough choices without being hard and aggressive."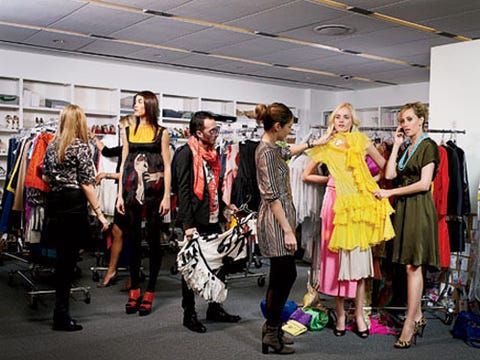 Lipstick Jungle at Marie Claire
FASHION CLOSET, 10:07 A.M.: Model meltdown! "Can I move in?" gushes Raver, dashing into MC's famed fashion closet for a Gisele-size emergency. Behind the designer racks, a colossal shoot hangs in the balance as our scowling beauty feigns "exhaustion" (after a Page Six-worthy bender the night before). "It's a beehive in here," muses Raver, serenely selecting a frilly frock sure to lure the model to the set.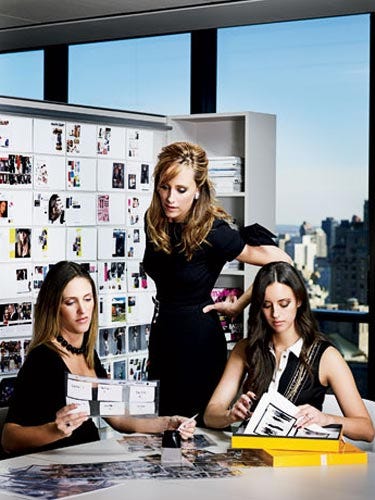 Lipstick Jungle at Marie Claire
ART DEPARTMENT, 1:22 P.M.: Selecting film with photo editors Kristen Schaefer (left) and Andrea Volbrecht, Raver goes green with issue-board envy. "The one I have on the show is so small!"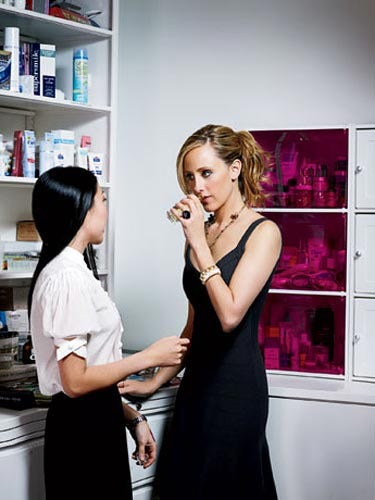 Lipstick Jungle at Marie Claire
BEAUTY CLOSET, 2:43 P.M.: Driven to drink already? Nope, just getting a whiff of a new designer fragrance with beauty director Ying Chu during a product run-through. Fearlessly facing more appointments, Raver is no stranger to multitasking. "People always ask me, 'What do you do in your downtime?'" she says. "And I'm like, 'Downtime? Are you kidding me?'"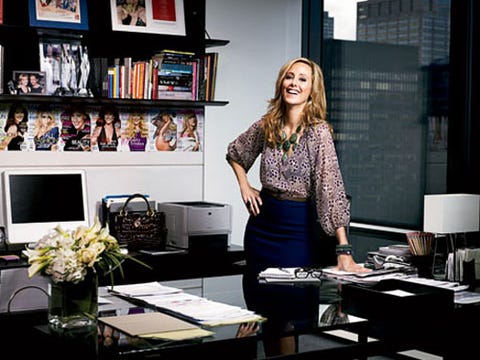 Lipstick Jungle at Marie Claire
THE EDITOR-IN-CHIEF'S OFFICE, 3:27 P.M.: Sure, she's smiling -- she found a Gucci invite for Milan fashion week mistakenly buried under a heap of manuscripts. "To be a woman in power, you have to go for it -- no second-guessing," says Raver, who edits stories with a Sharpie. Talk about getting the last word -- permanently.
This content is created and maintained by a third party, and imported onto this page to help users provide their email addresses. You may be able to find more information about this and similar content at piano.io