Dakota Fanning's Red Carpet Style Evolution
See how the 16-year-old former child star's style has transformed through the years.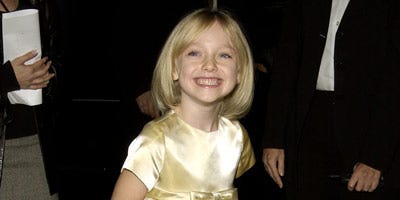 See how the 16-year-old former child star's style has transformed through the years. For more, read the Marie Claire cover story and go behind the scenes of her cover shoot!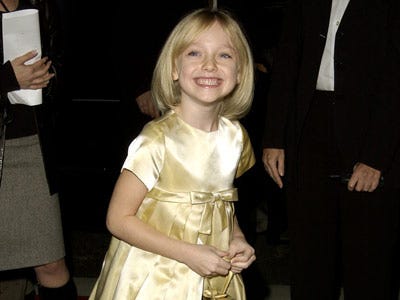 December 2001
Born Hannah Dakota Fanning, the young star's first red carpet appearance — at the premiere of her breakout film, I Am Sam — was when she was just seven years old. Even then, she didn't leave home without her purse, or in this case, a gift box clutch that matched her pleated dress.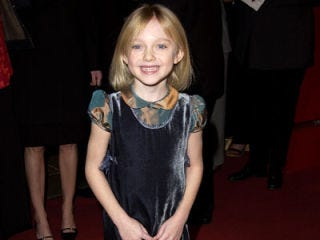 January 2002
The adorable tot showed off her layering skills — she topped off her iridescent blouse with a navy velvet jumper — at the Seventh Annual Broadcast Film Critics Awards.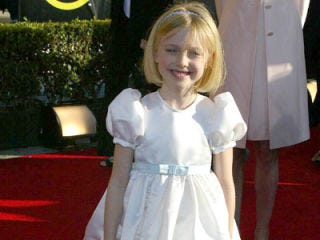 March 2002
Dakota — in an all-white puffed-sleeve dress — attended the Eighth Annual Screen Actors Guild Awards when she was eight years old herself. But by this point, she had already been acting for several years, first appearing in a Tide commercial when she was five.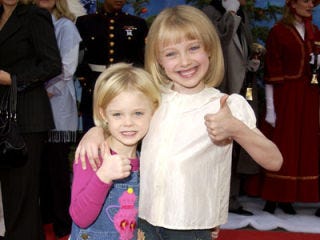 October 2002
The budding actress brought a date to The Santa Clause 2 premiere: her younger sister, Elle, four years old. Elle, also an actress, starred as the younger version of Dakota's character in I Am Sam.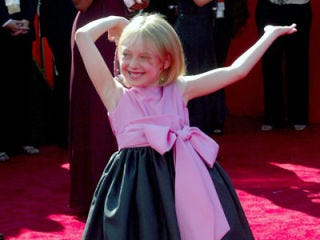 Kevin Winter/Getty Images
September 2003
The star, at nine years old, was clearly quite excited to walk the red carpet at the Emmy Awards in L.A. In 2003, she starred in two more major film roles: as an uptight child opposite the late Brittany Murphy in Uptown Girls and as Sally in the live-action version of The Cat in the Hat.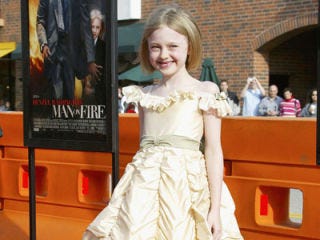 Frederick M. Brown/Getty Images
April 2004
Dakota, at the premiere of Man on Fire in an off-the-shoulder dress likely inspired by a Disney princess, got critical raves for her role. Roger Ebert wrote that she "is a pro at only 10 years old and creates a heart-winning character."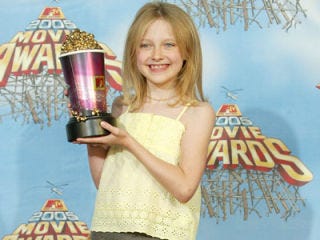 Frederick M. Brown/Getty Images
June 2005
Dakota — in a more casual skirt and tank top combo — certainly didn't have stage fright when accepting her popcorn bucket trophy at the MTV Movie Awards for Most Frightened Performance for her role in the psychological thriller Hide and Seek.
September 2005
Dakota joined the ranks of 2.8 million girls when she was inducted into the Girl Scouts of America council. Wearing the trademark uniform and sash — with a few patches already — the star followed in the footsteps of her mom, who was also a Girl Scout.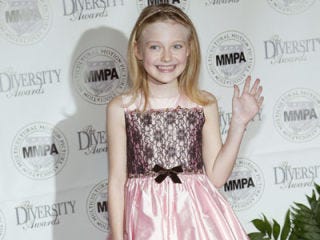 Frederick M. Brown/Getty Images
November 2005
In a pink gown with black lace trim, Dakota waved to fans at the Multicultural Motion Picture Association's 13th Annual Diversity Awards Gala.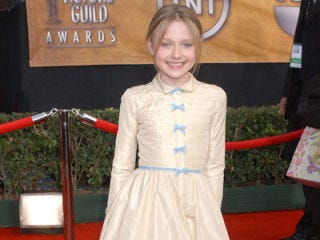 January 2006
Perhaps auditioning for a spot in a potential remake of Little House on the Prairie, Dakota wore a high-collared peasant dress to the 12th Annual Screen Actors Guild Awards, where she presented a lifetime achievement award to her idol, Shirley Temple.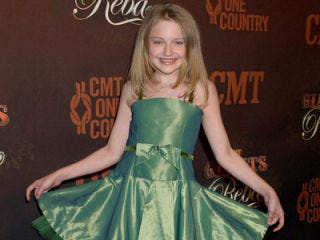 October 2006
A little bit country, Dakota displayed her green gown and flats at the CMT Giants Honoring Reba McEntire event. By the end of 2006, she became the youngest member in history to join the Academy of Motion Picture Arts and Sciences and, with an income of $4 million, also made the top 5 in Forbes's list of highest-earning stars under age 21.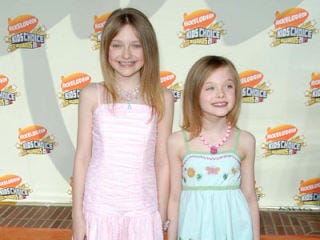 March 2007
Officially a teenager, Dakota still took her younger sis, Elle, as her date to Nickelodeon's 20th Annual Kids' Choice Awards. It was around this time that she began developing the red carpet pose — looking straight ahead while crossing one leg in front of the other — that she has used at nearly every star-studded premiere since.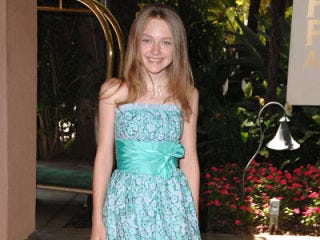 July 2008
It seemed as though the child actress grew up overnight in mid-2008, when she appeared in a strapless dress at the Hollywood Foreign Press Association's Annual Installation Luncheon.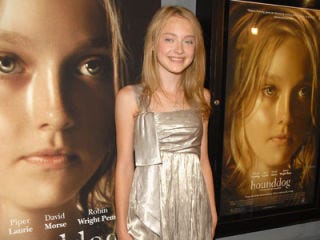 September 2008
Dakota came out to support her role in Hounddog at the premiere in New York City. Her parents were criticized for allowing their daughter to film a scene in which her character was raped. Dakota's response? "It's not really happening," she had said. "It's a movie, and it's called acting."
September 2008
The 14-year-old star proved she was red hot in a one-shoulder bubble dress at the Washington, D.C., premiere of The Secret Life of Bees.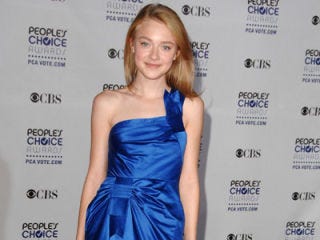 January 2009
Dakota looked all grown up as she presented at the 35th Annual People's Choice Awards in a blue BCBG minidress. Since then, she began wearing a series of sparkling designer minis by the likes of Marchesa, Valentino, and Elie Saab.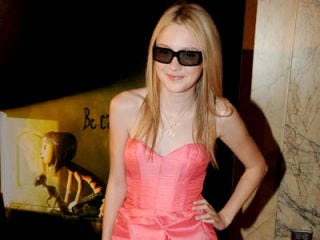 February 2009
The starlet added a popular new accessory to her look at the premiere of Coraline: 3D glasses. Dakota lent her voice to the title character in the stop-motion fantasy feature.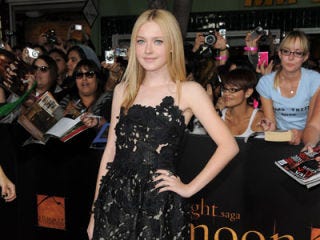 Jordan Strauss/Getty Images
November 2009
Although she didn't don her vampire character's trademark cape and Mary Janes, Dakota did get into the spirit of The Twilight Saga: New Moon L.A. premiere. She vamped it up in a short black lace Valentino dress for the festivities surrounding the teen-obsessed sequel.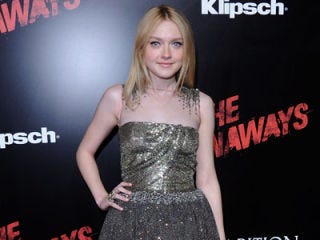 March 2010
Fresh off her 16th birthday, the star promoted The Runaways — the biopic in which she plays Cherie Currie opposite real-life pal Kristen Stewart — at the Hollywood premiere.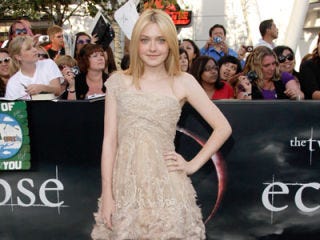 Todd Williamson/WireImage
June 2010
Now a real force in fashion, Dakota walked the red carpet at the L.A. premiere of Twilight's Eclipse in a beige lace Elie Saab Couture cocktail dress and a towering pair of Christian Louboutin studded heels.
This content is created and maintained by a third party, and imported onto this page to help users provide their email addresses. You may be able to find more information about this and similar content at piano.io