Mary-Kate Olsen's Style Retrospective
Take a look at the budding designer's best red carpet outfits yet.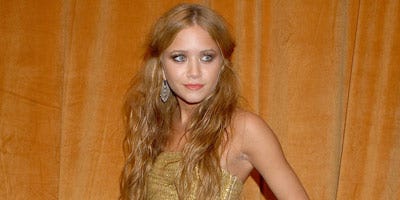 Take a look at the budding designer's best red carpet outfits yet.Plus, see our cover shoot with Mary-Kate and go behind the scenes of the shoot!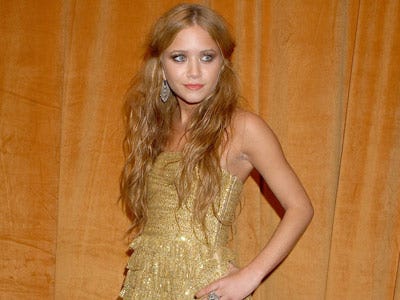 January 2006
The star emulated the red carpet with shiny apple stilettos and a tiered gold getup at the 2006 Golden Globe after-party in Beverly Hills.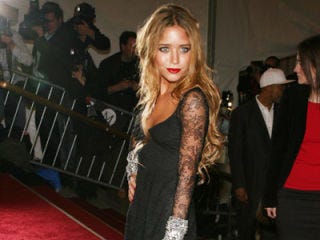 Sylvain Gaboury/FilmMagic
May 2006
Bronzed and bright-eyed at the Metropolitan Museum of Art's Costume Institute Gala in New York City, Mary-Kate paired her full-length black lace gown with oversized sparkling cuffs and a white feather clutch.
August 2006
Ever the bohemian, she heated up the Teen Vogue Global Warming Dinner in Los Angeles by wearing a belted red and cream cover-up with matching manicure.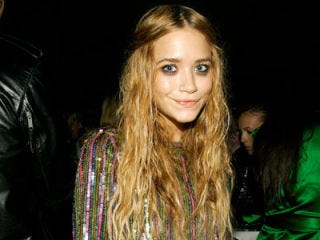 Mat Szwajkos/Getty Images
September 2006
Mary-Kate loves those minis! The designer dared to bare some leg in a short striped sequin frock and mixed bangles at the Olympus Fashion Week after-party in New York City.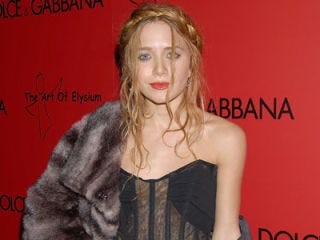 Charley Gallay/Getty Images
December 2006
Along with a plumage purse, shoulder-skimming wrap, and sheer corset top, Mary-Kate rocked a messy retro braid at the announcement of the charity collaboration between Dolce & Gabbana and Penélope Cruz to benefit The Art of Elysium in Los Angeles.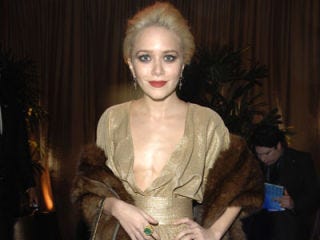 January 2007
Draped in plunging metallic and swathed in her signature fur, Mary-Kate's milky skin and translucent updo were the real focal points at the Golden Globe after-party in Beverly Hills.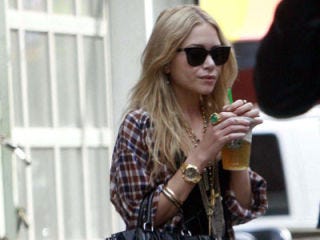 April 2007
While making a Starbucks run, the trendsetting twin donned a baggy plaid top, a fringed tote, and two-toned platform wedges in New York City's West Village.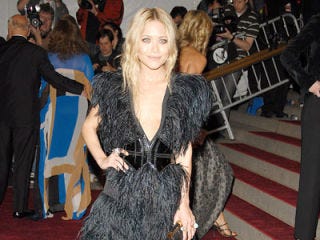 Rabbani and Solimene Photography/WireImage
May 2007
Shaggy chic! Mary-Kate made a serious statement in a raven-colored gown and pointed gothic belt at the Costume Institute Gala at the Metropolitan Museum of Art in New York City.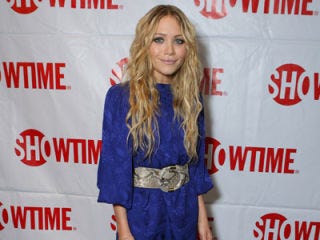 Eric Charbonneau/WireImage
July 2007
The star offset a basic blue shift dress with a waist-cinching snakeskin accessory at a Showtime event in Beverly Hills.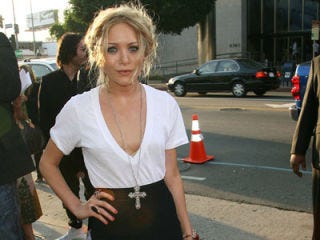 Michael Buckner/Getty Images
August 2007
Going gothic? Mary-Kate paired a sinfully low V-neck cotton tee and skirt with a belly-button-grazing cross at the premiere of Showtime's Weeds.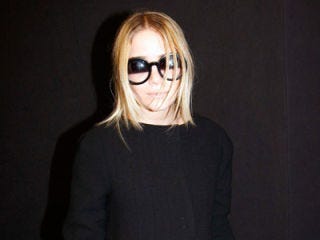 February 2008
If her goal was to go unnoticed in head-to-toe black while at the Giambattista Valli Fashion Show in Paris, it didn't work. Her half-tinted sunglasses and gem-studded clutch kept her from fading into the background.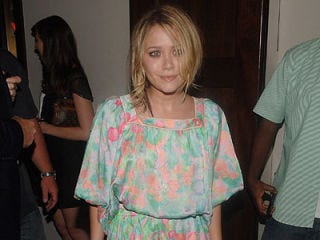 June 2008
The twin's summery pastels worked from day to night with coal-colored peep-toe pumps at a screening of The Wackness in New York.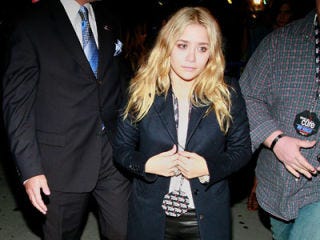 Charles Eshelman/FilmMagic
September 2008
Mary-Kate stepped out in leather leggings and a navy blazer at the Stand Up for a Cure event in New York City's Madison Square Garden.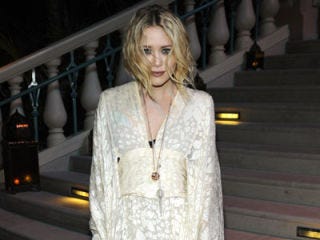 November 2008
When in Dubai! While in the United Arab Emirates, the designer fit in with local fashion by dressing up in a sarong-style draped dress at the grand opening of the Atlantis resort.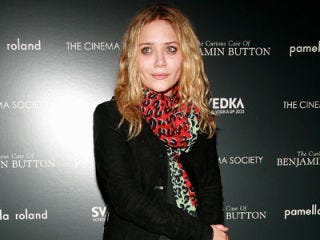 Charles Eshelman/FilmMagic
December 2008
Mary-Kate stayed warm in a black trench and leopard-printed scarf at a screening of The Curious Case of Benjamin Button in New York City.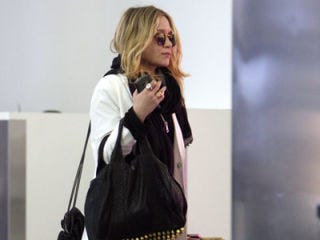 Jason Mitchell - Kevin Carmona/FilmMagic
February 2009
En route to Los Angeles, Mary-Kate sported skinny jeans and toted her travel essentials in a black, grommet-base bag.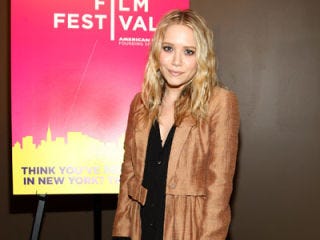 Alberto E. Rodriguez/ Getty Images
March 2009
Mary-Kate dressed down in a brushed bronze trench with contrasting teal tote at a cocktail reception for the Tribeca Film Festival in New York.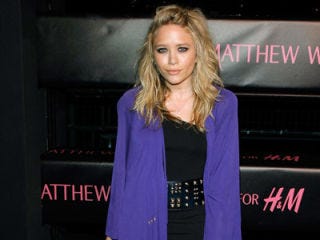 April 2009
Bold in blue! At the launch of the Matthew Williamson for H&M collection, Mary-Kate balanced basic black with a studded belt and saturated purple-blue jacket.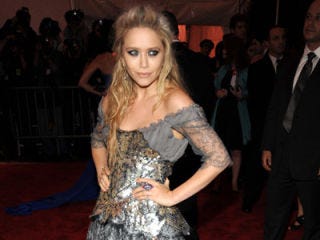 May 2009
Mary-Kate got the royal treatment in the bare-shouldered, tinsel-toned gown at the Costume Institute Gala at the Metropolitan Museum of Art in New York.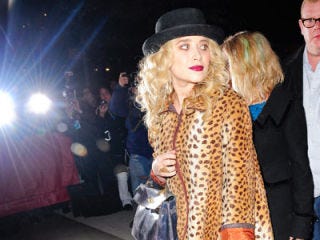 November 2009
Turning away from the paparazzi's camera flashes while entering the Museum of Modern Art in New York, the leopard-printed star shows that she matched her jewel-toned peep-toes to her magenta lips. Fierce indeed!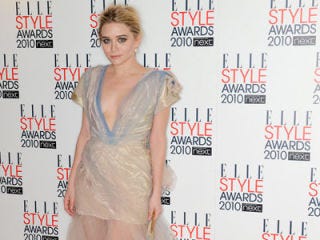 February 2010
Prim and polished in shimmering tulle with sea-toned accents, Mary-Kate's minidress took her to new heights — as did her taupe shoes — in London.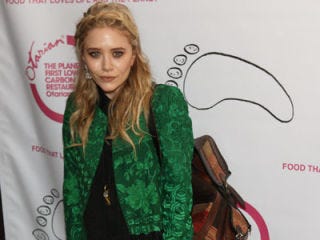 April 2010
The star rocked dark-wash skinny jeans, a Kelly green blazer, and a retro leather satchel bag while at a restaurant opening in New York.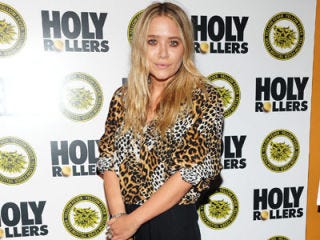 May 2010
Mary-Kate put on one of her favorite patterns, leopard print, and baggy black trousers at the premiere of Holy Rollers in New York.
This content is created and maintained by a third party, and imported onto this page to help users provide their email addresses. You may be able to find more information about this and similar content at piano.io