From Posh Spice to Victoria Beckham: A Style Retrospective
Take a look at the fashion icon's style evolution over the years.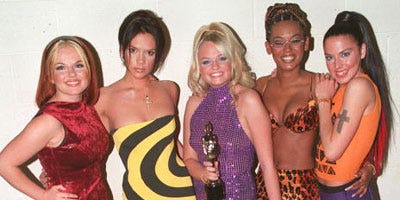 David Hogan/Getty Images Entertainment
Take a look at the fashion icon's style evolution over the years.Plus, see our cover shoot with Victoria and go behind the scenes of the shoot!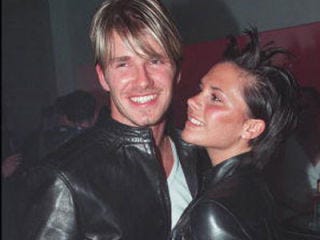 Dave Hogan/Getty Images Entertainment
June 1999
Power couple Victoria Beckham and David Beckham look smitten at the Versace store party in London. Victoria's sculpted hair and all-black leather outfit evokes Catwoman.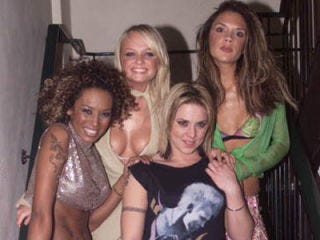 Dave Hogan/Getty Images Entertainment
November 2000
Right around the time the Spice Girls went their separate ways in November of 2000, Posh Spice, Sporty Spice, Baby Spice, and Scary Spice pose for a picture. Victoria looks more like she's in Miami than in London wearing a bikini top.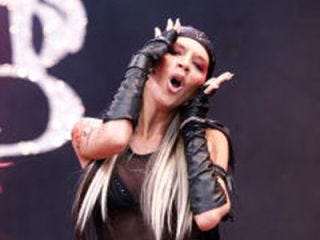 Dave Hogan/Getty Images Entertainment
September 2001
Long blonde hair and biker gear isn't Victoria Beckham's usual look, but it works for stage performances. The pop star performs at One Big Sunday radio show in London in 2001.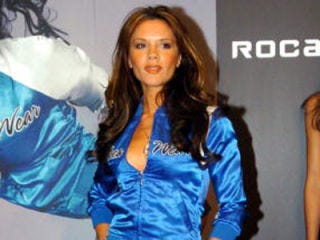 December 2003
Sporting a youthful look, long loose locks, jeans, and a shiny sky blue jacket, Victoria Beckham poses for the camera at the U.K. launch of Rocawear.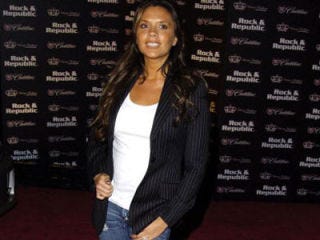 October 2004
Victoria Beckham lets down her hair with this casual look — a white top and jeans — but keeps it professional with a pin-striped black blazer at L.A.'s fashion week.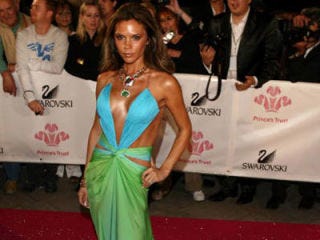 Daniele Venturelli/WireImage
October 2005
While she might look more like a siren of the sea than a siren of the stage in this aqua blue-green gown, Victoria Beckham shows off her toned figure at a red-carpet event.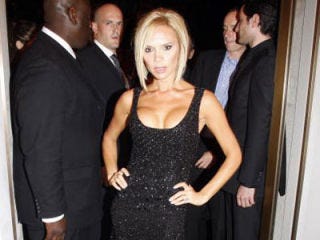 Eric Ryan/Getty Images Entertainment
October 2007
This sexy, slinky dress screams hot (blonde!) mama, and proves you don't have to give up the little black dress after you have children.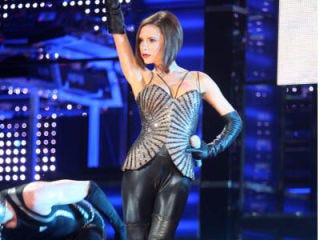 MJ Kim/Spice Girls LLP/Getty Images Entertainment
February 2008
In full stage gear, Victoria Beckham performs on the Spice Girls World Tour.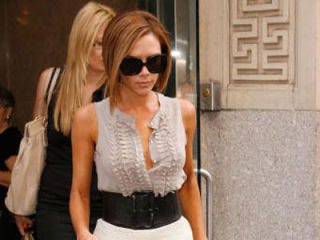 June 2008
Wearing a modern spin on a classic look, Victoria Beckham highlights her tiny waist with a thick black belt.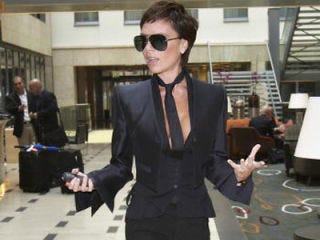 MJ Kim/Beckham Brand/Getty Images Entertainment
October 2008
In a sexified Men in Black outfit, Victoria Beckham arrives in Düsseldorf, Germany, for the launch of her dVb denim collection.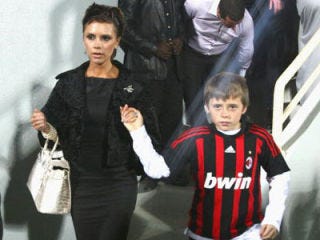 Alexander Hassenstein/Bongarts
January 2009
For Victoria Beckham, a "football match" is no occasion to dress down. In full mom mode, Victoria Beckham wears this ultraposh ensemble with her son, Brooklyn, at the Dubai Football Challenge between AC Milan and Hamburger SV.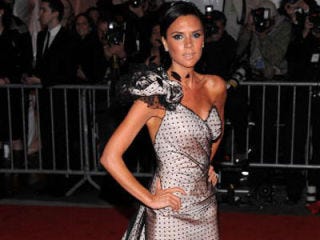 Dimitrios Kambouris/FilmMagic
May 2009
Victoria Beckham is also not afraid to take chances. She wears this short silhouette with a considerable train to a gala at one of New York's most grandiose institutions, the Metropolitan Museum of Art.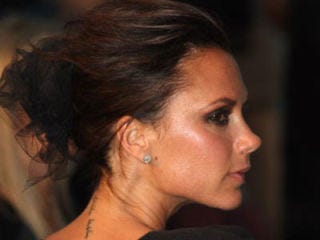 Chris Jackson/Getty Images Entertainment
September 2009
Although she's now a mother of three and wife to soccer superstar David Beckham, the former pop star turned fashion icon doesn't try to hide her tattoo.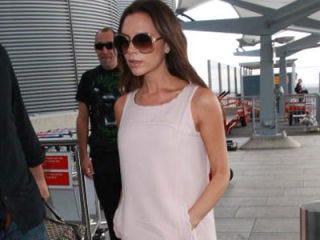 September 2010
Just across the pond at London's Heathrow Airport, Victoria Beckham is seen wearing a modern adaptation of a classic style. Her more recent wardrobe pieces look very much Jackie O. inspired.
This content is created and maintained by a third party, and imported onto this page to help users provide their email addresses. You may be able to find more information about this and similar content at piano.io